Rain paralyses life in 4 dists
Over 100 villages, 50 coastal islands flooded in Patuakhali and Barguna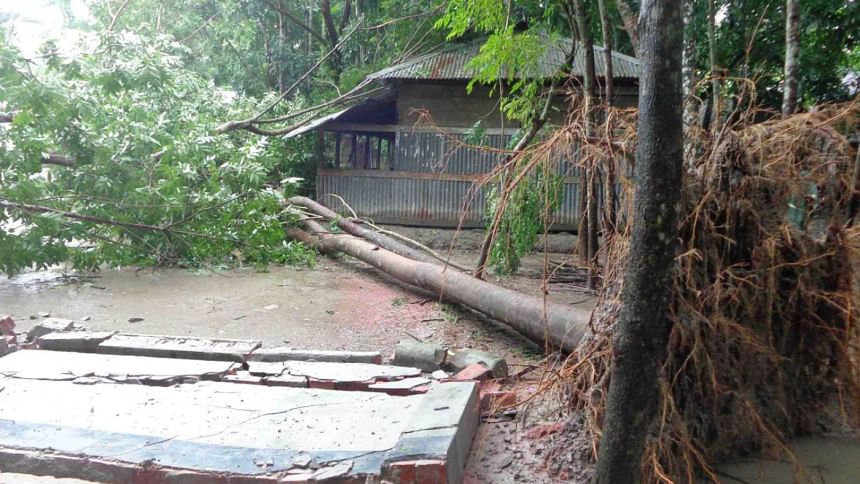 Heavy downpour during the last two days caused massive flooding in vast areas of different districts and disrupted daily life.
The people of coastal districts Patuakhali, Barguna and Pirojpur bore the brunt of the natural calamity as tidal surges accompanied by gusty wind made the situation all the more worse.
Our Patuakhali correspondent reports: Over 100 villages and around 50 coastal islands in Patuakhali and Barguna districts got flooded due to heavy rainfall and tidal surges from the Bay and its adjacent rivers and canals.
A large number of dwelling houses and earthen roads in these areas went under water while fishes worth several crore taka were washed away as thousands of ponds, ditches, and enclosures were over flooded.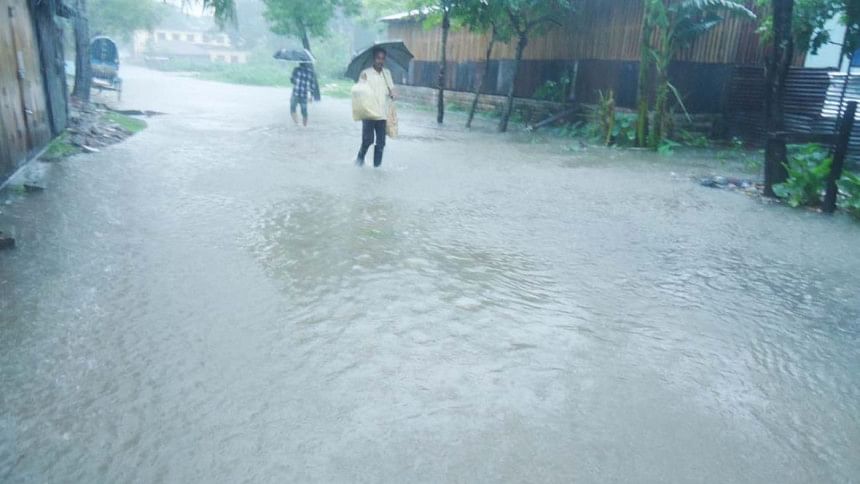 Patuakhali Met office recorded 256.8 mm of rainfall in 36 hours from 6:00am on Sunday to 12 noon yesterday.
In Patuakhali district, around 80 villages were flooded by tidal water as flood control embankments in different areas collapsed.
Of the affected villages, 25 are in Kalapara upazila, 15 each in Galachipa and Dashmina upazilas, 10 each in Baufal and Mirzaganj upazilas and five under Patuakhali Sadar upazila.
Over two lakh people of 12 villages in Lalua union and over 50,000 people of five villages in Mohipur union under Kalapara upazila are facing untold sufferings as most areas went under water due to tidal surges from Ramnabad and Andharmanik rivers, said chairmen of the union parishads concerned.
"Our houses remain under water in every high tide during the new moon and the full moon," said local resident Boni Amin.
Abul Khayer, executive engineer of Water Development Board (WDB) in Kalapara, said a donor team from Japan has already visited different areas to see the situation of the flood control embankments.
"After end of rainy season we can start repairing the embankments to save villagers from tidal surges," he said.
Md Shahnewaz Talukder, executive engineer of Patuakhali WDB, said they visited the affected areas and planned to build alternative embankments after the rains are over.
In Barguna, at least 30 villages under Amtali, Taltali, Pathorgata, Bamna and Betagi upazilas got flooded due to heavy rainfall and tidal surges from nearby rivers Payra, Boleswar and Binshkhali.
Our Pirojpur correspondent reports: Continuous heavy rain from Saturday night has flooded different areas in seven upazilas of the district, causing damage to fish enclosures, vegetable gardens and trees.
Normal life was disturbed as people could not go out for work. Schools, colleges and madrasas saw thin attendance of students.
Electricity connection remained mostly suspended in the district from 10:30am yesterday.
Md Shahidul Islam Sarder, district fisheries officer in Pirojpur, said fishes from different enclosures were washed away.
"We recorded 262 mm of rainfall from Saturday till today [Monday] afternoon. Rainwater has flooded vegetable gardens and paddy fields in different areas of the district," said Md Abul Hossain Talukder, deputy director of the Department of Agriculture Extension in Pirojpur.
"Vegetables will be affected by floodwater. However, paddy fields are likely to remain safe as there are many canals and rivers for release of water," he said.
It was raining as of yesterday evening.
A Correspondent adds from Jessore: Continuous downpour from early Sunday to 8:30am yesterday disrupted life in Jessore town.
Different area of the town including Shankarpur, Barandipara, City Collegepara, Shastitola, Shekhhati, Khorki, Karbala area, Stadiumpara and the areas on the Bhairav River went under water.
The rainfall recorded in Jessore on Sunday was 120 cm, Met office sources said. Most of the shops were shut up due to heavy downpour. Most students could not attend classes.
Some people were seen catching fish with the nets on the flooded roads and fields in the town.