6 members of int'l trafficking gang held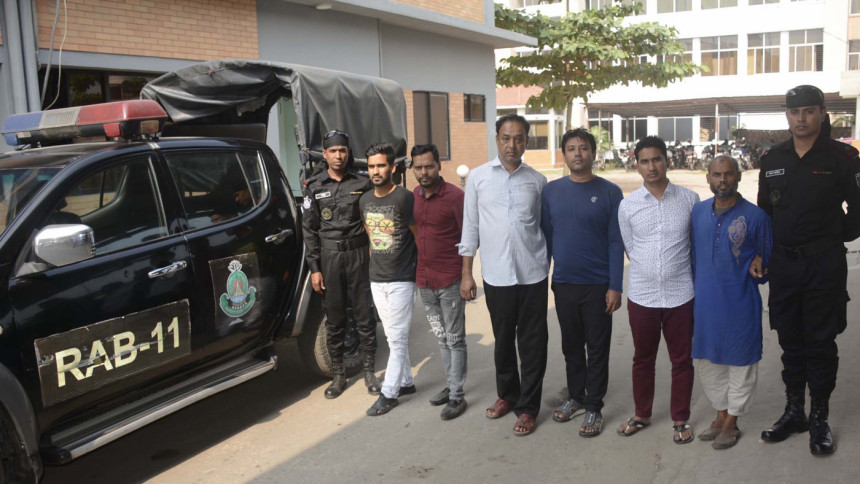 Rapid Action Battalion today claimed to have arrested six members of an international human trafficking gang and rescued four women from their possessions in Narayanganj.
The arrestees Anik Hossain, 31, Akhter Hossain, 40, Aftaul Islam alias Parvez, 37, Monir Hossain alias Sohag, 30, Abdul Hannan, 52 and M Akash, 29 are active members of an organised international human trafficking gang, our correspondent reports quoting Rab.
Tipped off, a team of Rab-11 launched a drive at a restaurant in Tarabo area under Rupganj upazila last night and arrested the six criminals, said Squadron Leader Eng M Rezaul Haque, acting commander of Rab-11, at a press briefing.
During the drive, the elite force also rescued four women from the possessions of the human traffickers, the Rab official said.
The Rab team also recovered 70 passports, Tk 1.58 lakh, photocopy of 200 passports, 50 plane tickets and photocopies of 50 tourist visas and a microbus during the drive, he said.
During the primary interrogation, the arrestees confessed that they were involved in trafficking beautiful girls, aged between 15 and 25, by hoping them to provide good job with high salary abroad, he said.
The girls rescued by the elite force alleged that they were forced to do unsocial activities in the name of modern dance saying that they will be provided good salary and benefit.
According to Rab, they have already trafficked 729 women including 200 in Narayanganj abroad.