5 Years into Taqi Murder: Rab still sitting on charge sheet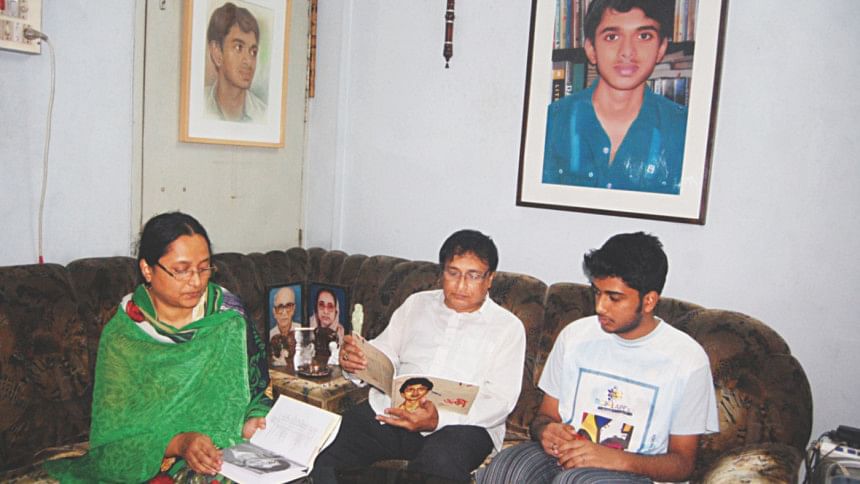 For Taqi's parents, the last five years have been a long, agonising wait for justice. And they have no clue as to when that wait would be over.
Taqi's father Rafiur Rabbi, who had been to countless demonstrations and public events to talk about his grievances, said people in his hometown now called him Taqi'r Baba. It has even drowned his identity as a cultural activist.
"Trial starts after charges are pressed in a case. But that has not happened in five years. Charges have not been pressed. Sometimes I call Rab officers, who are investigating the case. They tell me that the investigation is going on. That's all," he said.
Seventeen-year-old Tanwir Muhammad Taqi went missing after he had left home for Sudhijon Pathagar, a library in Narayanganj city, around 4:00pm on March 6, 2013.
His A-level results were out the next day and he emerged as the highest scorer in the world in physics.
Taqi's body was found floating in the Shitalakkhya on the morning of March 8.
The day Taqi went missing, Rabbi filed a general dairy with Narayanganj Kotwali Police Station. He filed a murder case with the same police station on the day the body was found.
He submitted a complaint to the Narayanganj superintendent of police 10 days later accusing seven people, including Shamim Osman and his son Ayon Osman and 8-10 unnamed others, of murdering Taqi.
Sitting at her home on Shayesta Khan Road in Narayanganj, Taqi's mother Rawnak Rehana remembered last week that her son never wanted to leave the country to study abroad.
"I taught him to love his country.  He did. He wanted to stay here for the people. He did not want to go abroad.
"I failed to give my child a safe country, a terror-free city. It is our utter failure," she said.
Rabbi remembered that Taqi loved wearing black. "He was wearing a black shirt when he left home for the last time. He was still in that shirt when they took his body to the morgue.
"I know his killers are haunted by the hangman's noose. They will never escape this."
The murder triggered a huge public outcry. People of Narayanganj formed "Santrash Nirmul Taqi Mancha", vowing to fight for justice and against criminal activities, and also to keep the memory of the murdered schoolboy alive.
A draft of the investigation report was leaked before the first death anniversary of Taqi on March 6, 2014. Different newspapers ran stories based on the draft with quotes from top-ranking Rab officials about involvement of around a dozen people in the murder.
In March 2014, Rab's then additional director general Col Ziaul Ahsan told a newspaper that they found involvement of Ajmeri Osman and his 10 accomplices in Taqi murder. He had also said that the charge sheet would be submitted any day.
Ajmeri is the son of ex-Jatiya Party MP Nasim Osman and nephew of ruling Awami League MP Shamim Osman.
Contacted, Commanding Officer of RAB-11 Lt Col Kamrul Hasan told The Daily Star that their "investigation is going on".
"The case is very important. So it is being investigated. No such work can be done on a fixed deadline."
However, the officer told the same thing around a year ago on the fourth death anniversary of Taqi.
Prosecution lawyer Pradip Ghosh Babu told The Daily Star that all eight suspects in Taqi murder case are on the run.
After the incident, four suspects were arrested.  Two of them, Yusuf Hossain Liton and Sultan Shawkat Bhramor, gave confessional statements.
"On the basis of the statements, we appealed to Narayanganj Chief Judicial Magistrate's court on February 5 this year for arresting the other accused.  The appeal also sought to unearth how Taqi was killed, who else were involved, how the body was dumped," Pradip added.
On November 12, 2013, Sultan Shawkat Bhramor, one of the arrestees, gave confessional statement. But 16 days later, he applied to the court for withdrawing his statement. Bhramor was released on bail on March 20, 2014. After he failed to appear in court on multiple occasions, the court issued an arrest warrant for him.
Of the other arrestees, Saleh Simanto is in jail and Rifat Bin Osman, Tayeb Uddin Jackie and Yusuf Hossain Liton are on bail.
The hearing on the prosecution appeal of February 5 is scheduled for April 17.
The court of Narayanganj Judicial Magistrate Ashek Imam on February 1 directed the investigation officer of the case to submit the probe report quickly.
Meanwhile, leaders of different socio-political and cultural organisations expressed dissatisfaction over the lengthy investigation.
Narayanganj City Corporation Mayor Selina Hayat Ivy told The Daily Star she expected that trial of Taqi killing would be held soon.
"I firmly believe that the prime minister will give directive for trial of this murder. Truth never concedes to injustice," she added.
Taqi's mother Rawnak Rehana believes injustice cannot continue forever.
"Our children will, one day, make the country safe for themselves, for children of the future."