Students to boycott classes, exams until quota gazette published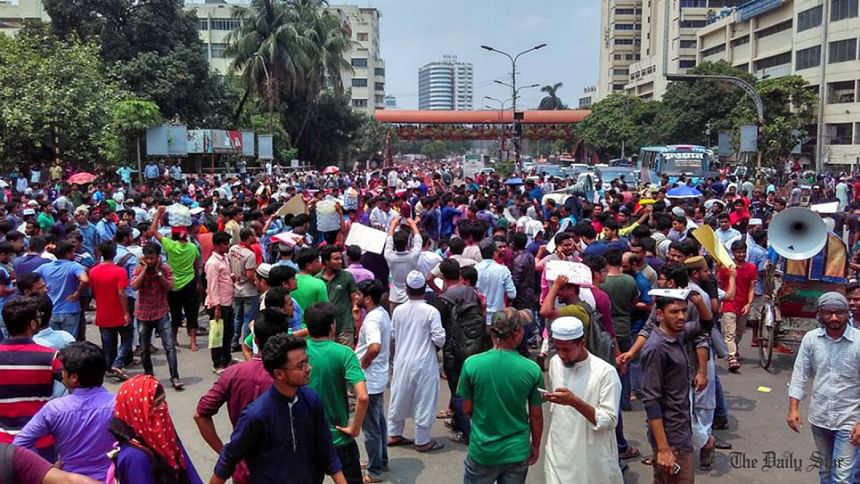 The students demonstrating for quota reform today vowed to boycott their classes and examinations across the country until the gazette notification abolishing the quota system in government jobs is published.
The protesters also announced that they would refrain from staging any demonstration or forming any human chain on the streets.
Nurul Huq Nur, joint convener of Sadharan Chhatra Adhikar Sangrakkhan Parishad, came up with the announcement at a press conference after ending their today's agitation at Shahbagh intersection in Dhaka this evening.
"We have been given a special message on behalf of Prime Minister Sheikh Hasina assuring us that her (PM) announcement will be implemented soon," he said.
The prime minister has told the parliament that she would abolish the existing quota system though the movement has been waged demanding reformation to the existing quota reservation system, he said.
"Whatever it is, we want gazette immediately," he said.    
The parishad began the movement placing five-point demand including reduction of the quota privilege to 10 percent from 56, he said.
He also alleged that the quota reformists have been victimised in attacks at different parts of the country, he said.
Earlier in the day, the protesters blocked Shahbagh intersection, suspending vehicular movement in and around the area. Around 3,000 protesters joined the blockade programme by bringing out a procession from in front of the DU Central Library around 11:00am.
The protesters withdrew their blockade programme around 7:00pm.
In Jahangirnagar University, around 200 students brought out a procession on the campus to press home their demands, reports our JU correspondent.
They also carried banners that read "No more delay, issue the gazette notification."
In Chittagong University, students staged a sit-in on the rail tracks, blocking CU shuttle train service around 8:00am, our CU correspondent reports quoting Sub-Inspector Jakir Hossain of Sholoshohor Police Outpost.
No train left the port city for the campus since the morning, the correspondent said quoting authorities.
In Rajshahi University, more than 300 students brought out a procession on the campus around 2:50pm boycotting their classes, reports our RU correspondent.
In April, students of public and private universities across the country took to the streets demanding reform in the quota system in government service.
Police charged truncheons and fired tear gas shells on the demonstrators on DU campus, injuring at least 163.