Gazette on Quota: Decision to boycott exams postponed
Protesters will stay away from attending classes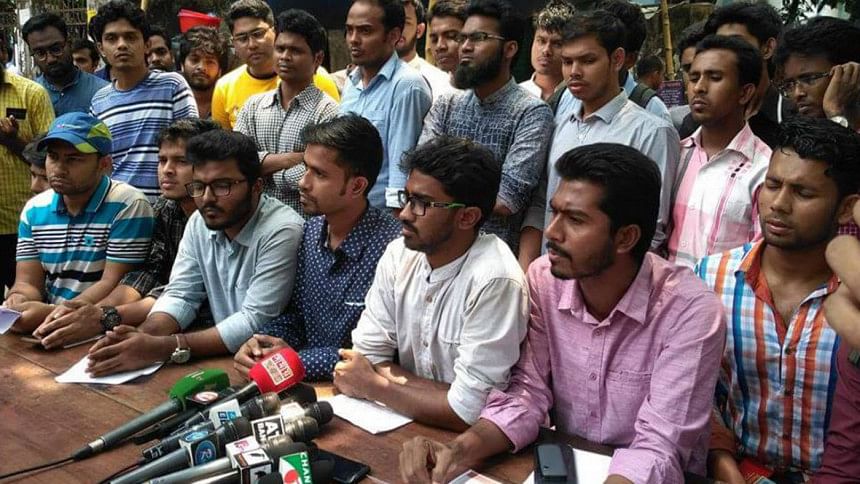 The quota reformists today postponed their decision of boycotting examinations at all universities and colleges across the country considering Ramadan and session jam following the strike.   
"We have postponed the decision for an indefinite period considering the session jam and the ongoing Ramadan," Nurul Haque Nur, joint convener of Bangladesh Sadharan Chhatra Adhikar Sangrakkhan Parishad, said at a press conference on Dhaka University campus.
However, they will continue to boycott classes, Nurul Haque said.
Demanding issuance of a gazette notification abolishing the quota system in government jobs, the students started boycotting classes and examinations from May 14 in all universities and colleges across the country for an indefinite period.
The decision of boycotting examinations and classes came as the government did not publish the gazette notification by the deadline given by the protesters that expired at 5:00pm on May 13.
In April, students of public and private universities across the country took to the streets demanding reforms to the quota system in government jobs. Police charged truncheons and fired tear gas shells on the demonstrators on DU campus, injuring at least 163.
The protesters blocked key points in the capital and roads and highways elsewhere.
As per the quota system in government jobs, 44 percent were reserved for candidates from merit list and the rest for various quotas. Of the 56 percent, 30 percent is kept for freedom fighters' children and grandchildren, 10 percent for women, 10 percent for people of districts lagging behind, 5 percent for members of indigenous communities, and one percent for physically-challenged people.
The quota reformists demanded that the government recruit job seekers based on merit.
In the wake of mass protests, Prime Minister Sheikh Hasina in parliament on April 11 declared that the quota system would be scrapped.