Govt working on Bangabandhu-2 satellite already: PM
The government has started the process for preparing the country's second communication satellite Bangabandhu-2 so that it can replace the current satellite when it will become obsolete, Prime Minister Sheikh Hasina says.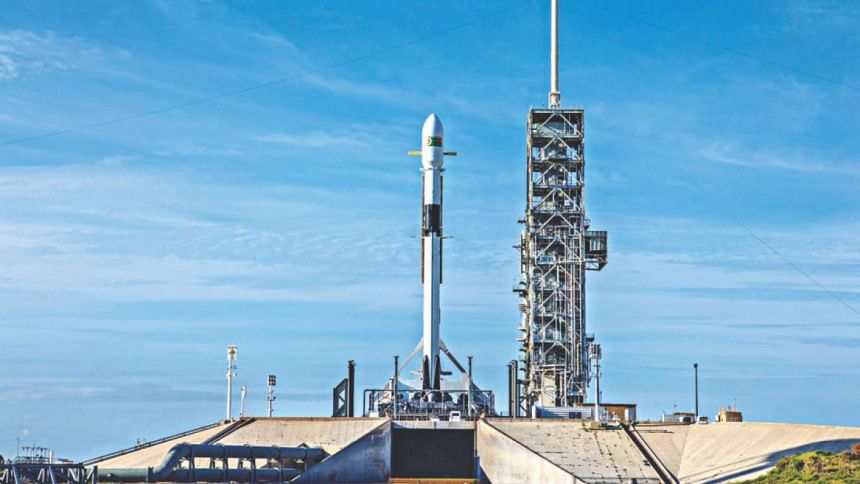 Prime Minister Sheikh Hasina in parliament today revealed that the government has already started work to launch the country's second satellite--'Bangabandhu-2' so that it can operate before 15-year expiry time of the 'Bangabandhu-1'.
"The government has started the process to launch the second satellite—Bangabandhu-2 ahead of the expiry of Bangabandhu-1. It takes five to six years to prepare a satellite. That's why we've already started work to build another satellite--Bangabandhu-2," she said in reply to lawmakers' queries.
"We're taking preparation for the second one to be launched during the lifespan of the current satellite."
Saying that the lifetime of a satellite is 15 years, the premier also informed the House: "When the lifespan of the second satellite will come to an end, we'll go for Bangabandhu-3 and this process will continue."
She said her government would certainly continue research in space technology and make best efforts to cope with any new technology in future.
"We'll adopt the technology which will come to us...this the era of satellite and we launch ours, let's see what comes next, we'll surely think about the next one when it comes," she said.
The Bangabandhu-1 was successfully launched from the historic Launch Complex 39A at NASA's Kennedy Space Center in Florida of United States 16:14 local time (02:14 BST) on May 11. Most modern rocket "Block 5" version of the Falcon 9 of SpaceX has lifted the BS-I for the orbit located at 119.1 degree east.
In reply to a query by Jatiya Party MP Fakhrul Imam whether the Bangabandhu-1 satellite would be able to take clear image due to its position in orbit, prime minister said the location of the satellite at the 119.1° East longitude geostationary slot would not hamper getting clear footage.
About the performance of the satellite, PM unequivocally said, "It [Bangabandhu-1] has already reached its orbit and has started sending some signals. There is no confusion or nothing to be worried [about its performance]."
PM LAMBASTS BNP
Lambasting BNP for raising questions about the ownership of Bangabandhu-1 that it was sold to two persons, PM said Bangladesh government is the owner of Bangabandhu-1 satellite.
Hasina mentioned that the Information Ministry has allowed two people to run Direct Television to Home (DTH) business in the country using the satellite.
PM said there are 40 transponders of the satellite and Bangladesh can use at best 20. "The rest of the transponders can be used by Saarc member countries and Indonesia, the Philippines, Turkmenistan and Uzbekistan."
"If anyone takes any of the transponder of the satellite on rent then that person could use a specific space."