Bangabandhu-1 debuts with SAFF Championship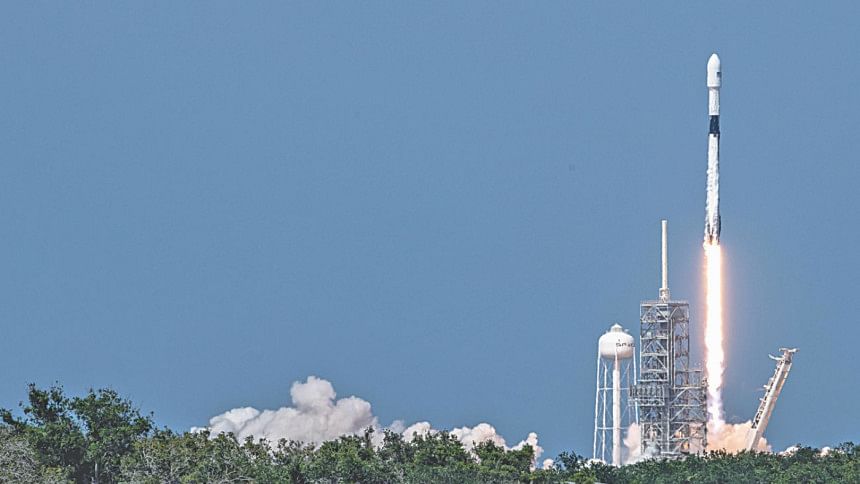 Bangabandhu-1, the country's first ever communications satellite, today made its debut with the live coverage of the South Asian Football Federation (SAFF) Championship 2018 on test basis.
The government decided to deliver live coverage, despite opposition from the France-based company that launched the satellite on May 11.
The SAFF Championship is taking place in Dhaka with seven South Asian countries participating in the tournament.
The test coverage will continue throughout the tournament, Telecom and ICT Minister Mustafa Jabbar told The Daily Star today.
So far, the performance of the broadcast is very good, the minister added.
"We have decided to broadcast the SAFF Championship on a test basis," Shahjahan Mahmood, chairman and chief executive officer of the Bangladesh Communication Satellite Company Limited (BCSCL), told The Daily Star on Thursday.
According to the plan, BCSCL is collaborating with local private television station Channel 9, which has bought the TV rights of the tournament.
BCSCL will take a feed from Channel 9 and will broadcast it with state-run BTV to test the process, said Shahjahan.
He said other private television channels in the country will also test the process by getting this feed from BCSCL.
However, the Bangabandhu-1 launching company, Thales Alenia Space, and project officials were not in favour of this "test broadcast" saying that it would not be proper before conducting the final technical test scheduled to be held in the third week of next month.