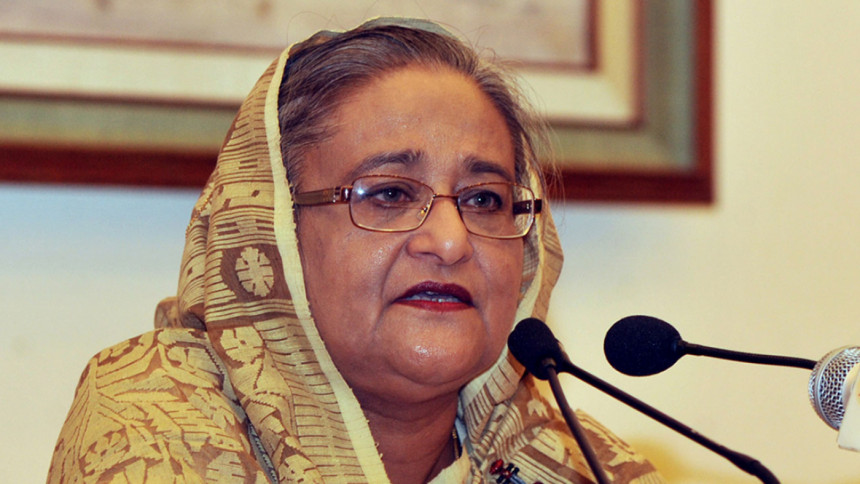 Blasting The Daily Star for publishing DGFI-supplied corruption reports against her during the last caretaker regime, Prime Minister Sheikh Hasina today said the newspaper's editor could not show "courage" in resigning from his post by admitting his faults.
"Though Mahfuz Anam admitted his mistakes, he could not display his courage in resigning from the post of the editor of Daily Star by admitting his faults...he must have tendered his resignation had he any self-dignity," she said.
For such a mistake, the premier said, everybody including the common people as well as the Awami League leaders and workers, business people and the students' community had paid unbearable prices.
"I and my family had also paid the dividend very dearly for the mistake as the daily wrote against me," she said.
The prime minster said this while addressing a discussion on the occasion of the Amar Ekushey and the International Mother Language Day. Bangladesh Awami League arranged the discussion at Bangabandhu International Conference Centre.
Deputy leader of the House and Awami League Presidium Member Syeda Sajeda Chowdhury chaired the function.
Those also addressed discussion were AL Advisory Council Member and Commerce Minister Tofail Ahmed, Presidium Member and Agriculture Minister Begum Matia Chowdhury, General Secretary and Public Administration Minister Syed Ashraful Islam and Disaster Management and Relief Minister and Dhaka City AL General Secretary Mofazzal Hossain Chowdhury Maya.
Besides, AL Joint Secretaries Mahbub-ul Alam Hanif and Jahangir Kabir Nanak, Organizing Secretary Abu Sayeed Mahmud Al Swapan, Central Committee Member SM Kamal Hossain and Dhaka city AL Vice-President Kamal Ahmed Mazumdar, MP addressed the function. Awami League Publicity and Publication Secretary Dr Hasan Mahmud and Deputy Publicity and Publication Secretary Ashim Kumar Ukil conducted the discussion.
At the outset of the discussion, a one-minute silence was observed as a mark of profound respect to the memories of Father of the Nation Bangabandhu Sheikh Mujibur Rahman, four national leaders, martyrs of the War of Liberation and the Language Movement.