35 dignitaries seek withdrawal of cases against Star editor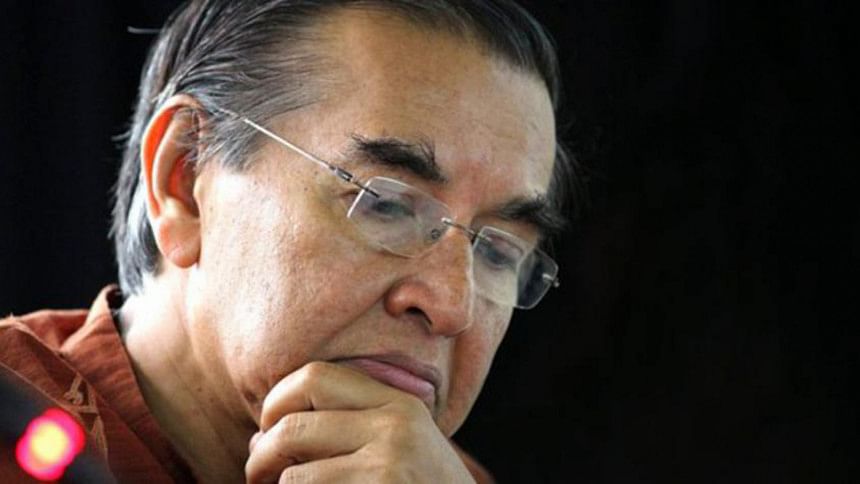 Thirty-five eminent personalities of the country today demanded immediate withdrawal of all the cases filed against The Daily Star Editor and Publisher Mahfuz Anam.
The move came a day after nine other eminent citizens expressed grave concern over the filing of more than 50 cases and issuance of summons against Anam.
The 35 also issued a statement condemning the recent barrage of cases filed against Anam.
They said Anam should be highly-praised for a rare display of professional values after he apologised for reporting some unverified news sent by state intelligence agency during the military-backed caretaker government in 2007.
"These incidents to harass him [Anam] in different ways are unexpected, sad and frustrating," the statement said, adding that this would in future discourage journalists and any other professional to spontaneously admitting mistakes.
The eminent citizens also called for structured discussion on how legal and administrative actions could be taken to stop interference of state intelligence agencies in free media.
"We think the discussion should also include the logic behind the current practice in news media of publishing unverified confessions apparently given in custody of intelligence agencies and police," reads the statement.  
The eminent citizens said the defamation cases filed asking crores of taka in compensation are disparaging attempts to use the legal and judicial system for individual gains.
They expressed grave concerns at such attempts to use the legal and judicial system as political tool and game-plan.
The statement also pointed out that such disparaging activities against Mahfuz Anam would cause the international arena to critically question the freedom of speech in Bangladesh and cause irreparable damage to the country's image. 
The dignitaries are: M Hafiz Uddin Khan, Dr Akbar Ali Khan, Barrister Rafiqul Haque, Dr ATM Shamsul Huda, Dr Hamida Hossain, Syed Anwar Hossain and Dr Hosain Zillur Rahman, Dr Shahdeen Malik, Dr Jafarullah Chowdhury, Dr Iftekharuzzaman,  Brig Gen (retd) M Sakhawat Hossain, Dr Badiul Alam Majumdar, Barrister Manzoor Hasan,  Md Nur Khan, Sadaf Nur, Dr Ferdous Azim, Swapan Adnan, Masud Khan, Syed Abul Maksud,  Dr Tofayel Ahmed, Syeda Rizwana Hasan, Khushi Kabir,  Barrister Sara Hossain,  Dr C R Abrar, Shirin Haque,  Dr Shahnaz Huda, Dr Ahmed Kamal,  Asif Nazrul , Ruby Ghaznavi,  Lubna Mariam, Farida Akter, Maj (retd) Akter Ahmed Bir Protik, Anusheh Anadil, Dr Naila Zaman Khan and Zakir Hossain.