PM assures Japanese investors of full security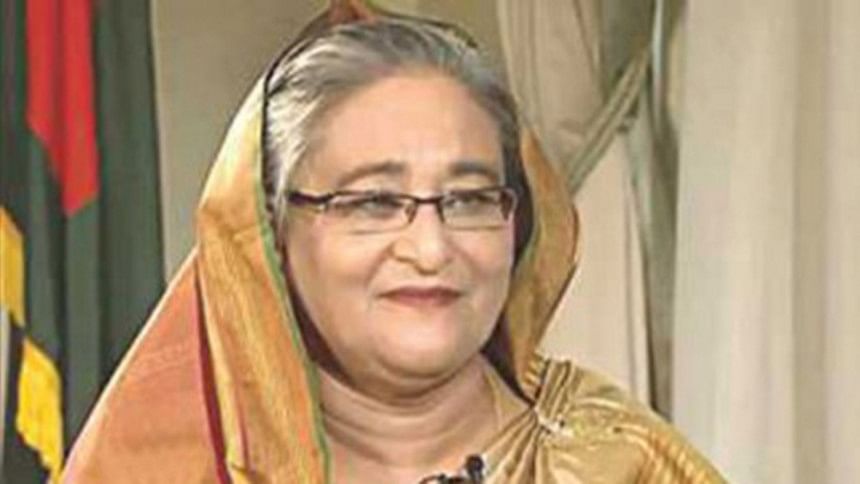 Prime Minister Sheikh Hasina today reassured that the door of Bangladesh is open for the Japanese investors as she said that some recent incidents won't frustrate investment climate.

Addressing a breakfast meeting with the Japanese business leaders here this morning, the premier also urged the Japanese entrepreneurs to invest in various sectors by taking advantages of huge youthful workforce and emerging opportunities in Bangladesh.

"Let me again assure you: my door is open for you .... I want our Japanese friends to take advantage of our youthful workforce and emerging opportunities in Bangladesh," she said.

In this connection, Sheikh Hasina informed that she has instructed the authorities concerned to ensure the highest possible security for the Japanese individuals and installations operating in Bangladesh.

"You surely are pondering about safety and security of investors and foreign nationals because of some incidents in Bangladesh in recent times .... I would assure you that my government has a zero tolerance for any form of terrorism or extremism," she said.

The prime minister also highlighted the scopes for effective collaboration between Bangladesh and Japan in various sectors.

"The readymade garment and agricultural sectors as well as in developing industries, infrastructure and collaboration in energy, water resources and waste management are major explorable areas," she said.

As the Japanese society moves into a "robotic evolution", she said, Bangladesh economy will have much to collaborate in areas like 'imaginative software', 'shared/cloud-based processing', evolving generic computing architecture.

"Our pharmaceutical and shipbuilding sectors are new frontiers that may interest you . . . our 'Blue Economy' offers a large menu of opportunities," she said.

Drawing reference to her conversation with Prime Minister Shinzo Abe on Japanese Revitalization Strategy and the Partnership for Quality Infrastructure, the prime minister said Bangladesh's young population, their skills and innovation, country's strategic location, development ambition and industrialization plans can complement Japan's Revitalization Plan.

"I believe, Bangladesh's young population, their skills and innovation, country's strategic location, development ambition and industrialization plans can complement Japan's Revitalisation Plan," she said.

Pointing out that Bangladesh is basically opening up new production possibility frontiers, the PM said her government has planned to establish 100 Special Economic Zones and several IT Parks. "The work on 33 of those is already in progress," she said.

In four years' time, she said, the government expects to have additional 10 million of Bangladesh population in industrial manufacturing, she said.

On this front, she added, that Japan remains one of Bangladesh's most tested friends and the people of Bangladesh hold Japanese investors in high esteem for work ethic.

The premier mentioned that Bangladesh's light-engineering products could be fed into Japanese heavy industries and ancillary commodities that can help the position for markets in India and around.

At present, she said, the government is working to upgrade some of other existing economic segments - like jute,fishing, textile manufacturing.

Elaborating potentiality of the country's RMG sector, Sheikh Hasina said, there are opportunities for collaboration in this sector as it goes for up-scaling and her government is encouraging the RMG factories to become green.

She said Japan may also collaborate with Bangladesh in developing its eco- friendly, advanced industrial lines - globally and in Japan. So much potential is there in developing value chain for jute.

Noting that many factories and infrastructures will need retro-fitting where Japan is a global leader, the prime minister said that Japan can also step in meeting needs for Bangladesh's energy-intensive, climate resilient,water-intensive, solid waste-processing and low-wastage power distribution.

She said currently, Bangladesh is working on launching its Sovereign Bond while more debt and equity instruments are coming up.

One way forward could be for more Japanese banks in Bangladesh, Japanese investments in Bangladesh businesses, she opined.

The prime minister said the government is also working on establishment of an effective "one stop service" facility.

"I will be happy to respond to your requests for incentive packages, connection and supply of energy and utilities, relaxation of certain tax provisions," she said.

Among the Japanese business leaders, Terau Asada, chairman, the Japan Bangladesh Committee for Commercial and Economic Cooperation, Hiraoki Otani,director and executive vice president, Fastening Products Group, YKKCorporation, Kazuyuki Inoye, president and director of Shimizu Corporation,Hiroyaki Ishiqa, chairman and CEO of Japan External Trade Organization,Masahi Munoshi, director and CEO of Toshiba Corporation and Shnizi Ayenua,operating officer and director, Honda Motor Corporation, spoke at the meeting.