Padma bridge won't affect other projects: PM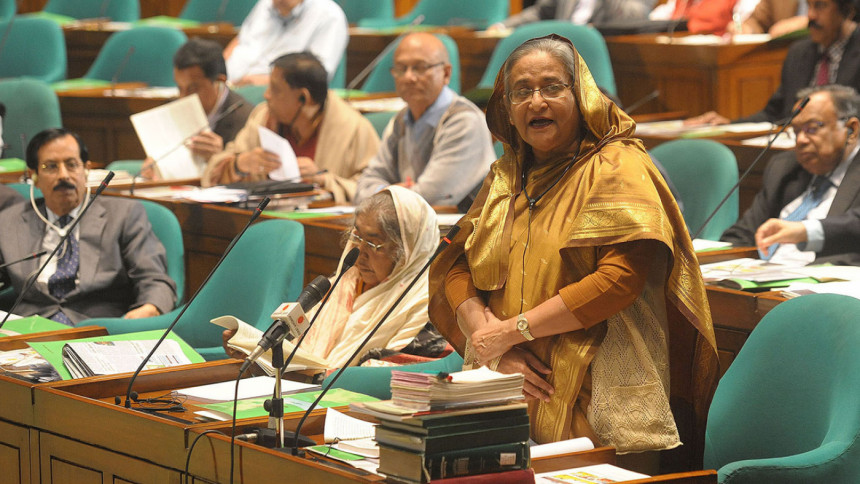 Prime Minister Sheikh Hasina today ruled out the apprehension of any affect to other ongoing development projects for construction of the multi-billion dollar Padma Bridge scheme.
"Bangladesh has achieved economic capability of undertaking big projects like Padma Bridge. So I can assure you that no other projects would be affected due to the Padma Bridge scheme...we must take Bangladesh forward Insha Allah," she said.
The prime minister quite confidently came up with the remarks while replying to a supplementary from Jatiya Party lawmaker Peer Fazlur Rahman (Sunamganj-4) during her question-answer session in the House.
The Leader of the House also said that works on many other projects that her government undertook for the country's socio-economic development have already been completed, while some are under implementation. "These projects are not facing any financial problem anyway," she said.
The premier asked the lawmakers to monitor the implementation works of the development schemes to see the peoples' money is being spent properly. "The country's development would be accelerated further if they do it," she remarked.
Sheikh Hasina informed the House that work on the Padma Bridge project is going ahead satisfactorily and it would be possible to declare the bridge open by 2018 for the movement of vehicles.
"It is a must to build this bridge in the greater interest of the socio- economic development of the people of the southern region....that's why the present Awami League government has started the Padma Bridge's implementation work with own finance in persuasion of a brave and firm decision," she said.