Was arrested after returning in 1983, never bowed nor begged: PM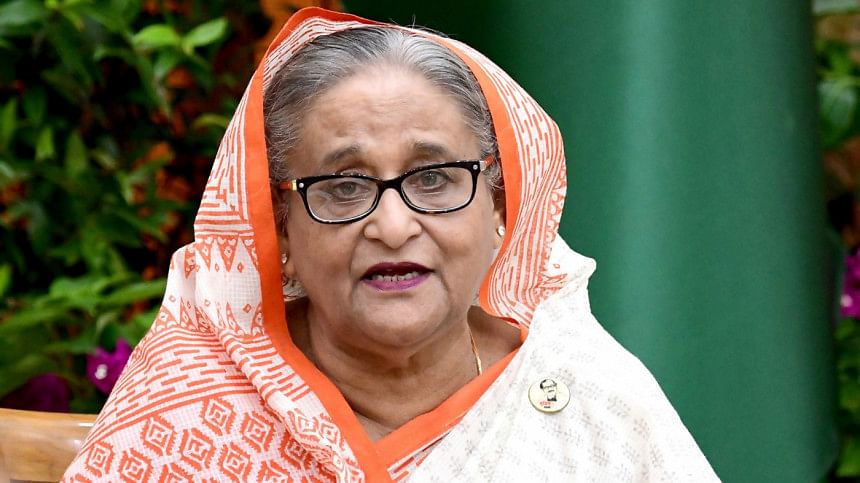 Prime Minister Sheikh Hasina today said she never bowed down or begged anyone.
"I never bowed down to anyone and never begged from anyone. I got the lesson from my father and family not to bow to injustice," she said.
She said that in 1983 she was arrested after her return to the country. At that time she was taken to the DGFI office.
The premier was addressing while leaders of Awami League and its associated bodies greeted her at Gono Bhaban marking the 14th anniversary of her release from prison.
It was because of the Awami League that Bangladesh could attain over five percent GDP growth during the pandemic when many developed countries saw negative growth.
"We have given a budget for FY2022-23 when many developed countries are having negative GDP growth, Bangladesh maintained its growth over five percent," she said.
On this day in 2008, Hasina was released from the special sub-jail set up on the premises of the Jatiya Sangsad (parliament) Complex after remaining captive there for nearly 11 months.
The Awami League president was arrested from her Sudha Sadan residence at Dhanmondi on July 16, 2007, during the military-backed caretaker government, which assumed power in the political changeover of 1/11 in 2007.
She recalled that the caretaker government was compelled to free her due to the movement and pressure from her party. They were surprised when they saw that Awami League collected 25 lakh signatures in just 15 days.
"This is Awami League, people are our strength," she said.
Recalling her jail days during the army-backed caretaker government she said that she noted down how the country will be governed and how the party will be run.
"I noted down how we will develop the country, as a result, there is electricity connection now in every house," she said.