Tk 1.25cr seized from N'ganj businessman's house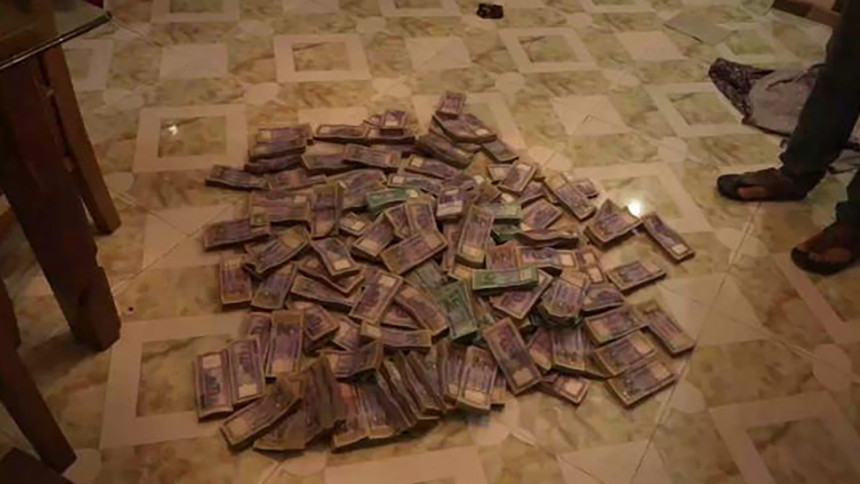 Detectives recovered Tk 1.25 crore from of a businessman's house in Rupganj upazila of Narayanganj early today and arrested him along with his two associates.
The arrestees are business man Jamal Hossain and his associates -- Mostafa Kamal and Manik Miah--, our Narayanganj correspondent reports quoting Harunur Rashid, superintendent of police (SP) of Narayanganj district.
They also seized 2,000 yaba tablets from the house, he said.
On secret information that a consignment of a huge amount of money and yaba pills will be delivered at a house in Rasulpur area, a team of Detective Branch of police cordoned off the area since yesterday afternoon, said DB police Inspector Md Mizan.
"Finally, we conducted a drive on the third floor of a four-storey building and recovered the cash from a trunk and an almirah," Mizan said, adding that they also recovered 2,000 pieces of yaba at Jamal's office housed on the ground floor.
Harunur Rashid, superintendent of police (SP) of Narayanganj district said Jamal claimed that he owns three coal factories but could not show any license in this regard and also failed to show the income source of the cash.
Police primarily suspect that the arrestees stored the cash to send it abroad through hundi, the SP said.
Jamal was running a drug peddling operation under the guise of his business, he added.
"We will seek their remand to dig out more", the official said, adding that three cases will be filed against them on charge of money laundering, drug peddling and operating coal factories illegally.