3 areas in Narayanganj declared as red zones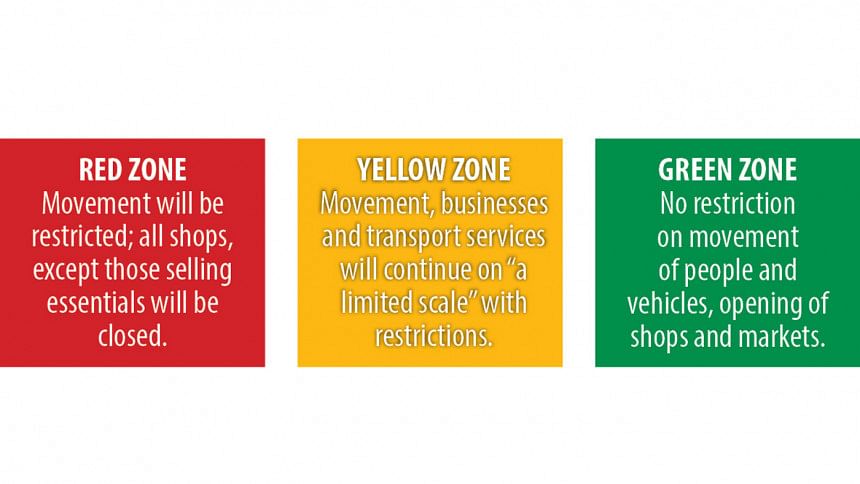 Local administration declared three areas in Narayanganj to be red zones, and imposed lockdown for the next 15 days starting today, to contain the growing number of coronavirus cases in those areas.
Amlapara, Jamtala and Rupayan City under the Sadar Upazila have been declared as "red zones", while Sasthapur and Kotalerbag area are marked as green zones.
Narayanganj Deputy Commissioner (DC) Jasim Uddin made the announcement at a press conference held at his office in Chandmari area in the city today noon, reports our local correspondent.
Jasim Uddin said no one will be allowed to come out of or go into red zones, unless they can show it is for an emergency.
The plying of all public transport and running kitchen markets in the areas will be halted, while access of people except staffers to places of worship will be restricted, Jasim said.
Kitchen markets will be arranged on a temporary basis to shoulder the burden of people living in the area, the DC said at the press conference.
Narayanganj Civil Surgeon Dr Md Imtiaz said the red zones will be declared where there are more than 10 positive cases among one lakh people; vulnerable or yellow zones will be declared where nine to three positive cases are found; and green zones will be designated where positive cases are less than three people among one lakh people.
Local authorities are now imposing lockdown in vulnerable areas and based on experience, the entire area of Narayanganj will need to be put under the lockdown to contain the spread of the virus, he said.
"Our target is to turn the red zones into yellow zones," he said, adding that they will work so that the green zones cannot turn into yellow zones.
The authorities will take steps to facilitate the movement of jobholders in the area, but legal action will be taken against rule violators, he added.