She fights on, 24 years later
Septuagenarian Kanon Bala Devi hopes to get back ancestral home that was taken away over two decades ago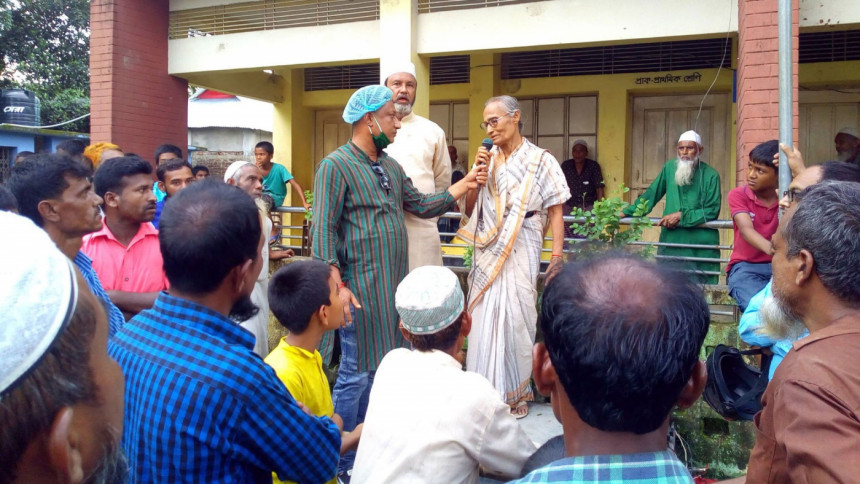 It has been 24 years since retired school teacher Kanon Bala Devi, now 71, her sister Basona Devi and their widowed relative Nayan Rani fled from their village home -- in Shahbazpur village of in Netrakona's Purbadhala upazila -- where they had everything.
The 140-decimal inherited property included the sisters' ancestral house -- about 150 years old -- vast croplands, a pond and a cremation ground on two decimals of land. 
The three women had no choice but to abandon their property in order to save themselves and their family members from the wrath of an influential local, Abdul Mazid Khan.
Mazid, a member of the executive committee of Netrakona District Sramik League, had been creating tremendous pressure on the women to hand over their property to him for years, especially after Kanon and Basona's father Kashinath Pandit passed away.
The man had been threatening her and her family members with severe consequences including implicating them in a barrage of legal cases unless they conform to his demands, said Kanon Bala.
Finally, in 1996, when the three families moved out to Netrakona town, Kanon transferred out from Shahbazpur Government Primary School, where she taught for 25 years, and took a new teaching job at another school in the town. 
But no sooner had they left for the town, their property went in the clutches of Mazid and his henchmen. 
Kanon Bala, as a last resort, filed a lawsuit with the Netrakona court to seek legal action against the encroachment. But Mazid soon afterwards filed consecutive counter cases against her.
Kanon's husband, Kalidas Goswami, a devout priest, was busy with religious duties at the temple and there was no other able bodied adult male member in the family who could shoulder the responsibility during the tumultuous time.
Besides, both her sister and she had their young children to look after and the families could not afford an arduous legal battle.
Considering the underlying threat conveyed through the counter suits as well as the overall situation, Kanon was compelled to put off her legal battle for her rightful share of the property. "I was so afraid that I could not continue...," she sighed.
Kanon retired from her school in 2006 and her husband passed away the same year. Her sister Basona had also passed on.
Kanon and Basona's father Kashinath Pandit, a homoeopath, inherited the property from his father. He later brought widowed Nayan Rani in their home and gave away 18 decimals of the property to her.
Kashinath was known for his generosity and his love for local culture, said many senior citizens at Shahbazpur village.
Freedom fighter Abdur Razzaq, aged 71, said Kashinath always provided free treatment to the poor and helpless.
He or his family, especially Kanon, never turned down anyone in distress, said Kanon's former classmate Nawab Ali, another elderly resident, who is now an imam at a mosque in neighbouring village of Shankhola.
By a twist of fate, the lawful successors -- Kanon's son and her nephews -- of her father's property are banished from the very village that he loved so dearly, lamented Kanon.
Her son and nephews are all grown up now and they long to see their ancestral home. But their every attempt to visit their home village in recent time was thwarted by Mazid's goons, she said, adding, "What more could an old person like me want except for spending time with her family and grandchildren at her own home?"
Her son Sujit Goswami said, "We recently lodged complaints with the local police station and the administration [about the encroachment of 140 decimals of our land by Mazid]."
Assigned by Netrakona Superintendent of Police Akbar Ali Munshi, Additional Superintendent of Police (ASP) Morsheda Khatun of Netrakona Sadar Circle has already visited the area as part of her investigation, he also said.
ASP Morsheda said she finished recording accounts of both parties concerned and she was in the process of submitting her report following examination of relevant documents.  
Contacted, Purbadhala Upazila Nirbahi Officer Umme Kulsum said she completed her investigation in this connection and submitted a report to the deputy commissioner (DC) of Netrakona.
Netrakona DC Kazi Md Abdur Rahman said since Mazid Khan could not produce any valid document to corroborate his claim on the property, "I will sit with both the parties to resolve the longstanding dispute."
However, rebutting the allegation of encroachment, Mazid told this correspondent that the land that Kanon and Basona inherited from their father was only 40 decimals, not 140 decimals, and he paid Tk 28,000 to the sisters for the property in 1996.
When asked whether he has any land deed to validate the claim, he said the sisters could not furnish a deed for him in 1996 when their sons -- the lawful heirs of the property under Hindu property succession law -- were not of legal age.
Introducing himself as a member of the then Netrakona sub-division unit of the Awami League in 1972 and the president of Narandia union unit of the party for 25 years, Mazid, 72, said a quarter with vested interest is making false claims about him to tarnish his image.