'Organic village' of female farmers
Maheshwarchanda village in Jhenidah's Kaliganj upazila reaps health and financial benefits of chemical-free farming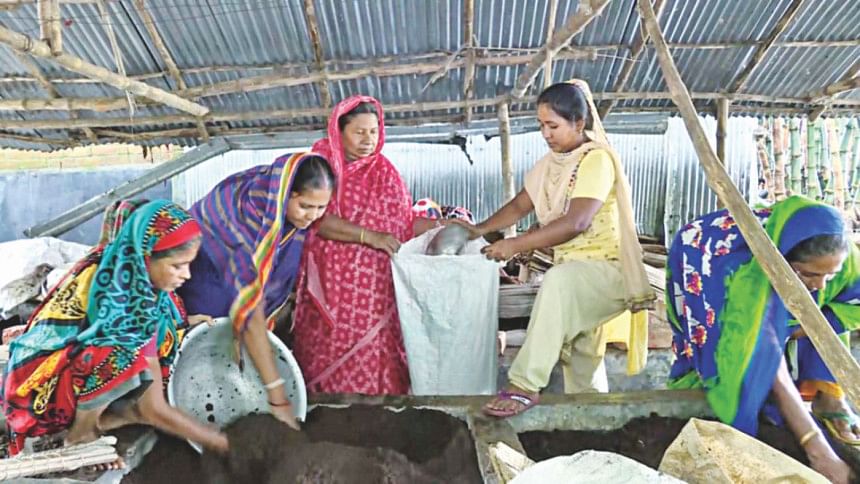 This year's theme of International Women's Day -- "Think equal, build smart, innovate for change" aptly fits with the achievement of women farmers at Maheshwarchanda village in Jhenidah's Kaliganj upazila, where the change-makers' innovative steps help promote gender equality and women's empowerment.
Kaliganj is very rich in agricultural diversity. Walking beside the Chitra river, one would see fields covered with various crops. Winter vegetables, sugarcane, betel leaf, guava, baukul (Bau variety of plum) are on fields. Large patches of land are covered with marigolds. Boro paddy is planted in relatively low lands. Farmers are earning well by cultivating different varieties of fruits and crops here. Farmers know that soil is the source of their livelihood. And so, they are conscious enough to take care of the soil. They are encouraged to use organic fertilizer more and reduce the use of chemical fertilizers.
Dear readers, today, I will take you to a village of organic farming. The village is known as Maheshwarchanda. 
The commercial production of vermicompost or worm fertilizer in this village and some nearby ones has already generated great response in the country.
Poet Kazi Nazrul Islam wrote in a song of his, "The soil of my country is purer than pure gold." But that soil is losing its purity due to unplanned cultivation, excessive tilling and massive use of chemical fertilizers. Thus, fertility of the soil is gradually decreasing. Currently, there is about 79.46 lakh (7.9 million) hectares of arable land in the country. And the organic components of these cultivable lands play the most effective role in maintaining quality of the soil. Ideally, the amount of organic compound in the soil is supposed to be five percent. But in most areas of Bangladesh, the amount of organic compound has dropped below one percent, which is a matter of great concern. The main reason for this is the increased intensity of high yielding crops and excessive use of chemical fertilizers. Various types of programmes, both public and private, have been taken to find a solution to this problem. Campaigns to encourage production of organic fertilizer are being conducted in rural areas to signify the importance of organic fertilizers. Maheshwarchanda village of Jhenidah's Kaliganj upazila has become a role model. Here, in every household, farmers are making vermicompost, which is truly a rare example in the country.
The commercial production of vermicompost was unknown to the common people and rural masses even a decade ago. Readers, I remember that in the '80s, from the time of 'Mati O Manush' on Bangladesh Television, I used to continuously broadcast programmes, explaining to the farmers about the importance of organic fertilizers and later on with 'Hridoye Mati O Manush' on Channel i, I have been inspiring farmers to do it from the very beginning. Vermicompost production has spread across the villages of Fulbaria, Shivalaya, Belabo and Raipura, mainly through the hands of rural women. And now it is being produced more or less all over the country.
In rural areas, women have joined this work. They are producing poison-free crops. It meets the nutritional needs of the family. And they are earning money by selling additional crops. For this reason, vermicompost is playing a very important role in socio-economic changes of rural livelihoods.
I went to Maheshwarchanda village earlier, quite some time ago. Then I saw how creative their idea of protecting the soil was. When I came here again after seven or eight years, everything looked different. It seems that the soil, nature, farming and people of this village understand each other's language. I have to add again, women farmers have played a pivotal role in this change. 
When I reached Maheshwarchanda, the sun had tilted to the west. Homemaker Shahnaz Parvin of this village was then busy working with tools for producing vermicompost at her courtyard. I talked to her. She mentioned how vermicompost changed her life. Once very poor, Shahnaz Parvin changed her life by producing vermicompost. She now lives in a concrete house with tiled floors. In front of the building, stands her vermicompost producing plant.
Shahanaz said she earns about Tk 10,000 (approximately USD 118) on average in a month by selling vermicompost. She produces 600 kg of vermicompost a month. And she sells about 10 kg of worms per month. Shahanaz said, she uses vermicompost with her own land. As a result, the land needs less irrigation on 24 kathas (approximately two acres) of land.
Shahnaz Parvin's mother-in-law Rebecca Begum was present there. She has been able to bring solvency to the family by producing vermicompost. She has received social recognition for this organic farming campaign. She has been honoured with certificates, crests and awards from public and private organisations.
Like Shahnaz and Rebecca, by producing vermicompost Sultana, Mariam, Mili, Sahiron, and many other women have become self-reliant. Ninety-three families among of a total of 96 families in Maheshwarchanda village have engaged in the production of vermicompost. Vermicompost is being produced on large clay-made containers kept on courtyards, cattle farms or empty places. It has created employment opportunity for rural women, at the same time villagers have got back the fertility of soil and getting organic crops. This has decreased production cost too.
I saw a cattle farm near a rice mill. The cow dung is used for biogas production which meets the rice mill workers' need of cooking fuel. And the slurry of the cow dung is used to produce vermicompost. Altogether, the production cycle is great here.
Dear readers, tomorrow (March 8) is International Women's Day. It is a time to reflect on progress made, to call for change and to celebrate acts of courage and determination by ordinary women who have played extraordinary roles in their communities and countries, says UN. 
This year's theme, "Think equal, build smart, innovate for change" focuses on innovative ways in which we can promote gender equality and the empowerment of women, particularly in the areas of social protection systems, access to public services and sustainable infrastructure.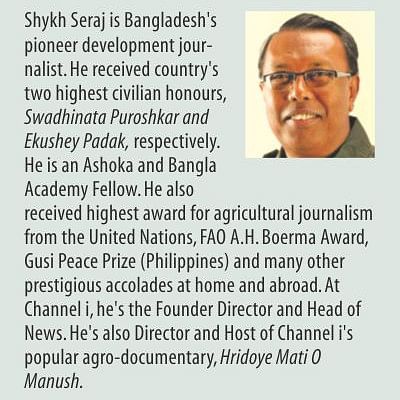 The achievement of the ambitious Sustainable Development Goals (SDGs) requires transformative shifts, integrated approaches and new solutions, particularly when it comes to promoting gender equality and the empowerment of all women and girls. And, I firmly believe the women and girls of Maheshwarchanda have just done that and the world has to know it. 
The need of organic farming and safe food production has been recognised by all farmers of this region. Women have predominantly come forward while men are following. Each woman will turn into a successful farm entrepreneur in the near future in this village by making vermicompost, I am pretty much sure. The soil of this region will be much more productive with their contributions. Financial solvency will reach every household. More importantly, producing safe food is the key to ensuring good health and these women have done this. I hope that day is not far when no farmer of the country will depend on excessive pesticides or chemical fertilizers. Rather, they will be encouraged to protect the health of the soil and produce pure, fresh, healthy and organic crops for the people of Bangladesh.