Homemaker to trendsetter
Tangail woman growing organic food for over a decade; fondly called a 'model farmer'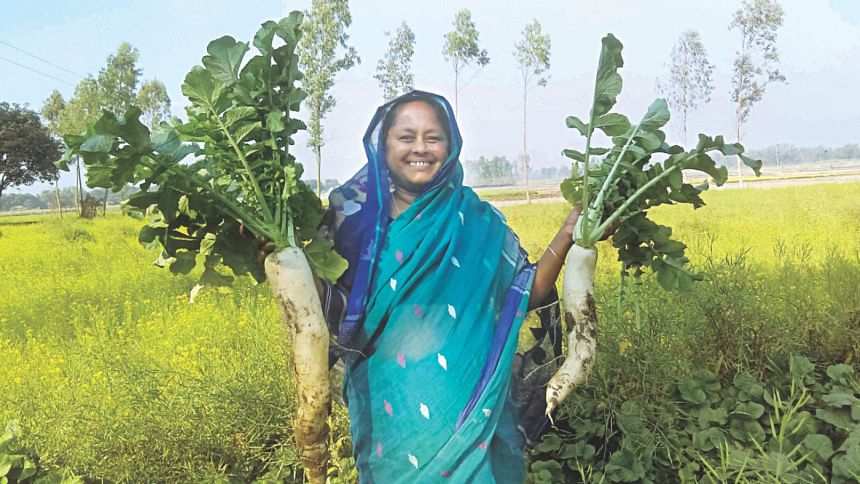 Once a homemaker, Rina Begum is now revered as an agricultural trendsetter in her village Mamudpur in Tangail.
The 48-year-old has been into organic farming for over a decade.
Rina is fondly known as "the model farmer" in her locality. Through hard work and dedication, she has been leading "poison-free" agriculture in the area.
She uses compost fertilisers and natural methods like sex pheromone and perching method to prevent pest attacks on crops and vegetables. Her composts are made of cow dung, leftovers of banana plants, shrubs, creepers, and herbs.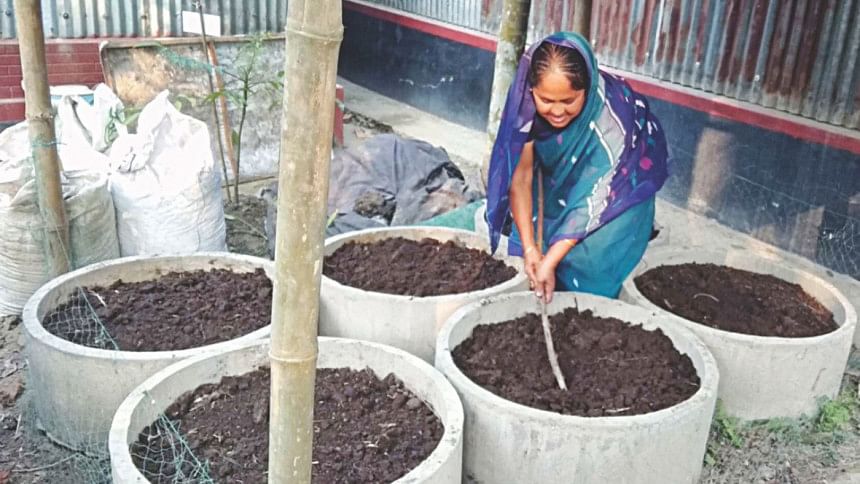 Two years ago, she and 19 other women in the upazila received trainings from the local agricultural department on the usage of vermicompost (a nutrient-rich organic fertiliser and soil conditioner relatively easy for plants to absorb) in order to get better harvests.
"Actually, it is not possible to fully cut-off usage of    chemical fertilisers. But compost fertilisers, especially vermicompost increases the fertility of the soil keeping its qualities intact. It also reduces the cost, brings in more harvest and profit," Rina told this paper.
Following in her steps, other farmers of the area were also getting better results, said Shoyeb Mahmud, upazila agriculture officer in Delduar.
Rina produces six maunds of vermicompost every two months and sells them to farmers of the village as well as of adjacent villages at Tk 25/kg, he added.
Moreover, the energetic lady had developed a seed bank with about a hundred varieties of vegetables, spices, and near-extinct varieties of paddy, the officer noted.
"Most farmers do not preserve seeds of the crops they grow. I sell my seeds to them and sometimes I give it to them on condition that they will preserve their seeds and give those to me in exchange," Rina told this correspondent.
"Rina apa [elder sister] taught us the techniques of sowing seeds and usage of fertilisers for better yields. We take advice from her over various problems that we face during farming," said Amena Khatun, another female farmer of Mamudpur.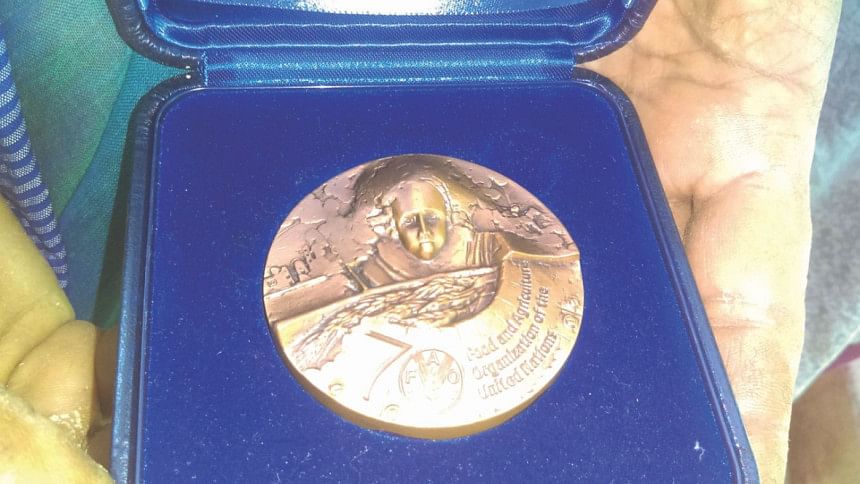 In 2004, Rina received training under project "Naya Krishi Andolon" ran by a local NGO Unnayon Bikolper Neeti Nirdharanee Gobeshana Kendra.
The training taught her organic farming and natural methods to control pests, Rina recalled.
Born in Hinganagar village of the upazila in 1971, Rina was married to local farmer Main Uddin in 1985 when she was a student of class-VII in school.
Rina and her husband received 130 decimal of land and a home on 20 decimal land by inheritance.
"My husband and I applied the techniques to cultivate crops and vegetables on our land," Rina said while recalling her initial days in farming.
She not only gained solvency and reputation but also improved the lives of her family members. Her two children, a daughter and a son, completed higher education and have jobs.
Rina's daughter Bipasha Akhter is proud of her parents.
"When my father goes to nearby market to sell vegetables, they are sold within the blink of an eye because people know that the products are produced by my mother and are free of chemicals and pesticides," said Bipasha. 
Nominated by the Department of Agricultural Extension, Rina went to Bangkok in 2015 on the occasion of 35th World Food Day.
FAO Regional Office for Asia and the Pacific organised the programme where Rina was honoured with a crest, certificate, and cash for her contribution to organic farming and leading female farmers in her locality.