KSA keen to invest in Bangladesh
Saudi crown prince tells PM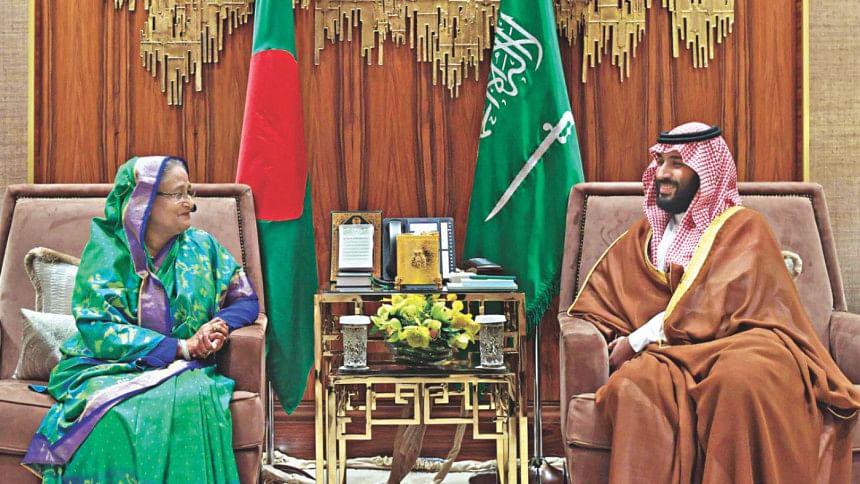 Saudi Crown Prince Mohammed bin Salman bin Abdulaziz Al Saud has said his country is keen to be Bangladesh's development partner by investing in different sectors.
Mohammed bin Salman, also the deputy prime minister and defence minister of Saudi Arabia, said this during a meeting with Prime Minister Sheikh Hasina at the Royal Palace here on Wednesday evening.
Foreign Secretary Shahidul Haque briefed reporters about the meeting.
Mentioning that a very good collaboration in defence sector was continuing between the two countries, the Saudi crown prince hoped it would be strengthened further.
He instructed the Saudi authorities concerned to visit Bangladesh to identify the prospective sectors for investment.
"Saudi Arabia now invests in different countries of the world. We will do so in Bangladesh as well," Shahidul quoted the Saudi crown prince as saying.
Hasina hoped a large Saudi business delegation would visit Bangladesh soon.
Talking about Muslim Ummah, she said the unity among the Muslim countries is very essential so that they don't fight against each other.
Agreeing with her views, Mohammed bin Salman said he wanted to see peace and happiness in the Muslim world.
The crown prince accepted Hasina's invitation to visit Bangladesh.
'SCOPE CREATED FOR EXPATS'
Prime Minister Sheikh Hasina yesterday said the government was creating scope for Bangladeshi expatriates to invest in the country's economic zones. 
She was addressing a programme after laying the foundation stone of the chancery building of the Bangladesh Consulate in Jeddah on its own land. 
The PM said the expatriates can deposit their money in Prabashi Kalyan Bank to have an income to meet their family expenses. 
"At the same time, they [expatriates] can invest part of the deposited money in the economic zones," she said, adding that the government was building 100 economic zones across the country for the local and foreign investors. 
Hasina urged the expatriates to create awareness among the overseas jobseekers so that they don't go to brokers for going abroad. 
She said the overseas jobseekers should have proper training from the government training centres before going abroad. 
She called upon the Bangladeshi expatriates to uphold the country's image abroad by abiding by the local laws. 
PM AT PROPHET's (PBUH) MAZAR
The prime minister on Wednesday night offered ziarat at the Rawza Mubarak of Prophet Hazrat Muhammad (PBUH) at Masjid Al-Nabawi in Madinah.
She offered Esha prayers at the holy mosque and sought divine blessings for the people of Bangladesh and peace and prosperity for the Muslim Ummah.
Earlier on Wednesday night, Hasina arrived in Madinah from Riyadh by a special flight of Saudi Airlines.
The PM reached Riyadh on Tuesday on a four-day bilateral visit to Saudi Arabia. She is expected to leave Jeddah for home today.