I'm not completely well: Nur
The Ducsu VP claims after his release from DMCH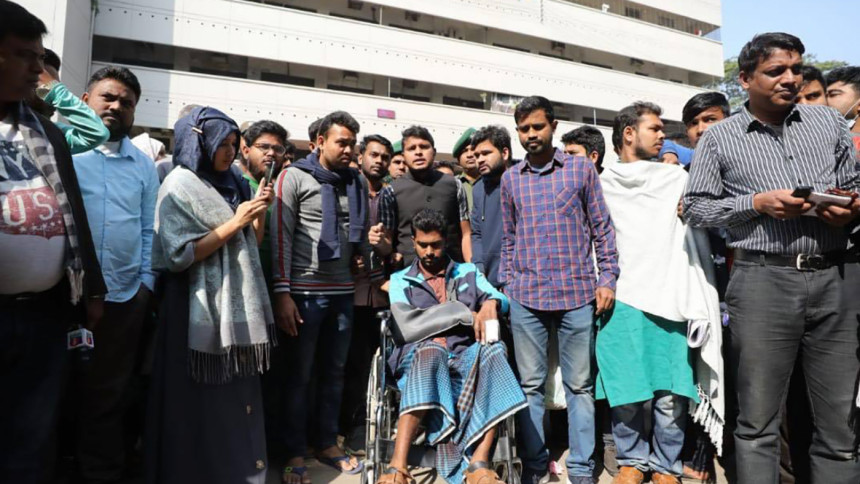 Ducsu Vice President Nurul Haque Nur today claimed that he has been released from Dhaka Medical College Hospital though his physical condition is completely recovered yet. 
"My physical condition deteriorated three days after my admission at the hospital. I have been released by the hospital authorities hurriedly," Nur said.
Nur came up with the allegation while briefing journalists in front of DMCH emergency gate at 12:30pm after being discharged from the hospital.   
Meanwhile, the DMCH authorities claimed that Nur and three of his followers--Faruk Hasan,Farabi Rahman, Nazmul Islam-- have been released from the DMCH on Monday night as their condition was improved significantly.
However, Nur also alleged that a conspiracy has been hatched to kill him as he protested the wrongdoings of Chhatra League.
He also claimed that the arrest of three leaders of Muktijuddho Moncho is just an 'eyewash'. If justice is not ensured even after the attack, similar incident will take place again in future, he added.
Hasan Al Mamun, convenor of Bangladesh Sadharan Chhatra Adhikar Sangrakkhan Parishad, told The Daily Star that Nur and the three others have been shifted to a privet hospital for better treatment.
Talking to The Daily Star, DMCH director general (DG) Brig Gen AKM Nasir Uddin said they released Nur as the 13-member medical board, which was monitoring Nur and others' treatment, recommended to release Nur.
On December 22, Nur and his supporters came under attack from a faction of Muktijuddho Moncho, mostly comprised of BCL men, at his office at the Ducsu building.
Nur and at least his 26 supporters were wounded in the attack. Eight of them are still undergoing treatment at Dhaka Medical College Hospital.