Fresh areas flooded as rivers continue to swell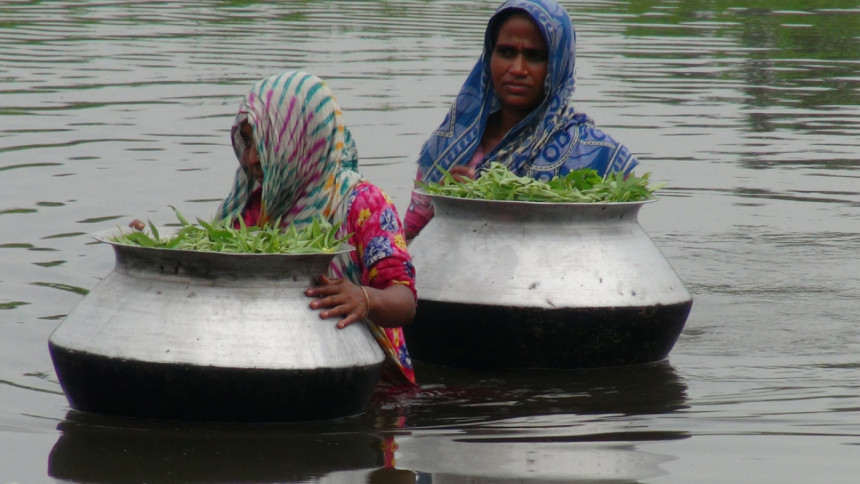 -- Over 1 lakh affected in Lalmonirhat

-- Acute crisis of food, drinking water, sanitation

-- Rivers continue to swell in Lalmonirhat, Sirajganj, Moulvibazar

-- Flood victims demand permanent solution
Heavy rain and onrush water from upstream for last couple of days have worsened flood situation in Lalmonirhat and inundated many areas in Sirajganj and Gaibandha.
Water of the Dharla River is flowing 45 centimetres above danger level ‍at Shimulbari point while the Teesta River's water is flowing just below the danger mark at Teesta Barrage point but 2 centimetres above danger level at Kawnia point this morning, inundating new areas in the district, our Lalmonirhat correspondent reports quoting Bajle Karim, sub-divisional engineer of Water Development Board in Lalmonirhat.
"Teesta's water level is fluctuating and if no onrush of water from upstream comes across the border then the flood situation in Teesta shoal would develop in next 24-hrs," the WDB official said.
Over one lakh people are affected by the flood in 90 villages of five upazilas in the district amid health risk and acute crisis of food and drinking water. Their houses, tube-wells, latrines, and the roads in the affected areas went under the floodwaters.
The flood water washed away many houses, livestocks and crops in many areas in the last few days.
"Now we are under the open sky as our houses were washed away by flood water from Teesta river," said flood victims Amela Bewa and Apia Bewa of Khuniyagachh village in Lalmonirhat Sadar upazila.
"Letter has been sent to the ministry concerned seeking more relief assistance as per requirement," UNO Joyoshree Rani Roy of Sadar upazila told The Daily Star.
"Flood victims urgently need relief materials, especially dry food items, but they are demanding for permanent solution to save them from floods by building dam on left bank of Teesta river," she said.
"We don't want relief. Every year we are hit by flood. We want a permanent solution to this crisis. Building a dam on Teesta's left bank will help us live safer," said Quader Ali, 67, a flood-hit farmer of Khuniyagachh village.
"Relief materials are not permanent solution to save us from floods and for our better living we want a dam on Teesta River bank," said Jabbar Miah, 62, another flood-hit farmer of the same village.
District Primary Education Officer Jahangir Alam and District Education Officer Azizul Islam told this correspondent that teaching activities at 31 primary schools and 11 high schools have been suspended after the schools went under flood water. Flood victims have taken shelter in many schools in the affected areas.
"Until the flood water recedes from affected areas, the teaching activities would remain suspended," said Jahangir Alam adding that he is monitoring other schools in the affected areas.
In Sirajganj, the water level of Jamuna River was flowing 20cm above the danger level this morning, inundating different areas in the district's Belkuchi, tarash and Sadar upazila, reports our local correspondent.
"In the last two days the water level rose by 20-25 centimetres, while it went up by 32cm since yesterday," said Md Rafikul Islam, assistant engineer of WDB in Sirajganj.
Due to continuous downpour and onrush of water from upstream, the water level in river is rising and will continue to rise further in the next three or four days, he also said.
The areas in the downstream of the river in the district are flooded, the WDB official added.
While visiting different areas of Belkuchi, Tarash and Sirajganj Sadar upazilas, this correspondent found that most of the people have already left their homes for evading flood water. Many low-laying areas have been inundated, with flood water entering into the houses.
"Flood water rapidly increased in last couple of days. The cultivated land has already been inundated, now the flood water is entering into the houses," said Md Abdus Sattar of Sahapara village under Belkuchi upazila.
In Moulvibazar, water in the Monu river, Dholai river and Kushiyara river has continued to flow above the danger level today.
At Railway Bridge point, the water of Monu river was flowing at 58cm and at Chadni Ghaat point it was flowing at 79cm, which are both above the danger level, our Moulvibazar correspondent reports quoting Ronendra Shankar Chakrabarty, executive engineer of the WDB in Moulvibazar.
Water level of the Dholai River has come down since last night but still continues to flow above the danger mark at 19cm while water level of Kushiyara river was flowing at 51cm, according to the executive engineer.
In Gaibandha, flood situation in Brahmaputra basin is alarming, as the river at Balashi point flowing 112 centimeters above danger mark, flooding fresh areas in Sadar, Fulchhari and Shaghata upazilas.
At least 135 villages in the upazilas have been affected by the flood water, according to district administration.
Around one hundred medical teams have been working in the affected areas and supplying oral saline and medicine among the flood victims, Civil Surgeon Dr ABM Abu Hanif told our Gaibandha correspondent.