3 lakh flood-hit people face drinking water crisis in Kurigram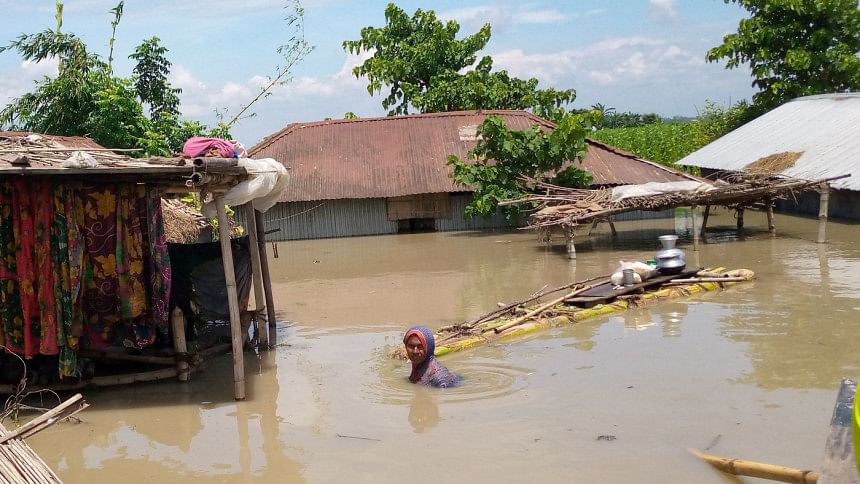 The flood situation in Kurigram deteriorated this morning as the Brahmaputra, Dharla and Dudhkumar rivers are flowing above the danger level.
More than three lakh flood-affected people in 400 villages of 56 unions in nine upazilas are living misery as they face an acute shortage of food, pure water and toilet facilities.
Ariful Islam, executive engineer of Kurigram Water Development Board, told The Daily Star that the water level at Brahmaputra River in Kurigram has been flowing 73 cm above the danger level at Chilmari point, 58 cm above danger level at Nunkhawaghat point, while Dharla River is flowing 47 cm above danger at Kurigram Bridge point since 6:00am today.
The water of Dudhkumar River has been flowing 51 cm above danger level in Kurigram since morning, he said.
Saleha Begum (48), a flood-affected resident of Brahmaputra river's nearby char Shankar Madhabpur at Kodalkati union of Char Rajibpur upazila in Kurigram, said they have been living a subhuman life for the past eight days; no one came forward to help them. There is an acute shortage of food and drinking water, she said, adding that the tube wells are submerged and they are forced to drink water from the river.
Flood victim Ahela Bewa, 65, of Heliboard at Thanahat union of Chilmari upazila in Kurigram, said their houses went under floodwater and they took shelter on a higherground. Hundreds of families like her have taken shelter there. But there is an acute shortage of food, pure water and toilet facilities. Women in particular are facing increased difficulties, she added.
Uttam Kumar Singh, an engineer of Chilmari Upazila Public Health Engineering Department, told The Daily Star that the department was installing makeshift toilets and tube-wells in flood-hit areas. Most of the areas of the upazila have been affected by floods and they are having a hard time, he said.
Chilmari Upazila Nirbahi Officer (UNO) Rayhan Shah told The Daily Star that he has been monitoring the temporary flood shelters and is taking steps to install tube-wells and toilets there.  He is visiting the flood victims and necessary assistance is being distributed among them, the UNO said.
Meanwhile, the overall flood situation has improved in Lalmonirhat as the Teesta and Dharla rivers are flowing below the danger level. The flood victims have returned home from the government roads and WDB dykes where they took shelter.
However, they are also facing an acute food crisis, the affected dwellers said.