'Ensure Dalits' representation in JS'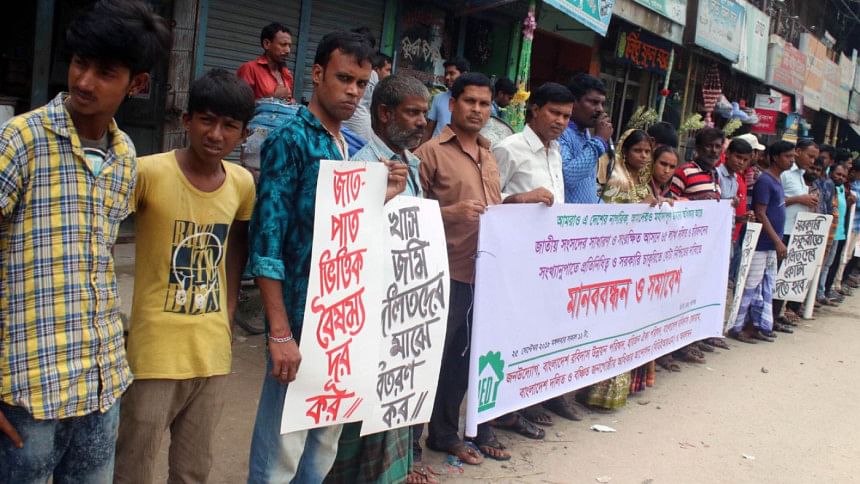 People belonging to backward Dalit and Harijan communities formed a human chain along DB Road in the town yesterday demanding their representation in parliament and quota in government services.
Bangladesh Dalit and Excluded Rights Movement (BDERM), Janouddog, Harijan Oikya Parishad, Bangladesh Rabidas Unnayan Parishad, Abalambon and Bangladesh Rabidas Forum jointly organised the programme.
There are over 56 lakh people of nearly a hundred Dalit and Harijan communities including Telgu, Kanpuri, Harijan, Rabidas, Wrishi, Bede, Paundra, and tea garden labourers living in different areas of Bangladesh, but they have no representation in the parliament to speak in their favour, speakers said in the programme.
Despite being citizens of Bangladesh, the people of such communities remain deprived of equal rights in the society, they said.
They cannot attend any social activities of the mainstream, even enter hotels and restaurants.
People of the said communities belonging to lower caste and engaged in some neglected professions are the victim of social negligence and disparity but they cannot seek any justice, as there is no law for the protection of their rights, the speakers said further.
They demanded equal rights for the downtrodden communities to enable them to play vital role in the national development.
Lasen Khan Rintu, president of JSD's Gaibandha unit, Probir Chakravarti of Janouddog, Sontosh Basfore, secretary of Harijon Oikya Parishad, Gaibandha, Dilip Basfore, president of BDERM's Gaibandha unit, its secretary Khilon Rabidas, Rajesh Basfore, convener of Bangladesh Harijan Jubo Oikya Parishad, Rangpur region, Sunil Rabidas, president of Bangladesh Rabidas Forum, Gaibandha, Sohag Basfore, Shafali Rani Devnath and Lalmohan Rabidas spoke on the occasion.