'Emergency exits were locked'
Says a fire service official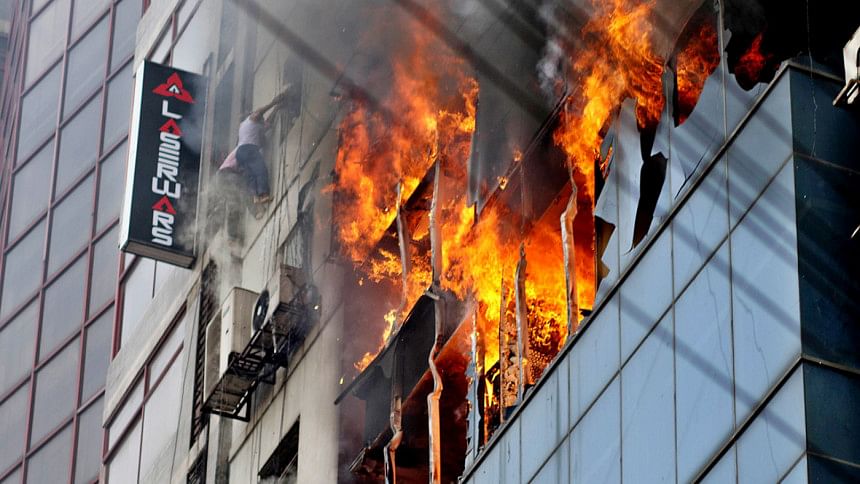 The people, who were trapped inside the FR Tower in Dhaka's Banani area during the deadly fire incident yesterday, could not come out of the building as its emergency exit points were closed, a fire service official said.
"We found many emergency exit points of the FR Tower were just eyewash," Saleh Uddin, assistant director of the Fire Service and Civil Defence, told The Daily Star this noon.
"No demonstration on how to use emergency exit points of the building was held ever, and those were kept locked on different floors. As a result, the trapped people could not come out of the building using the emergency exits," the fire service official said.
"There are two staircases. The authorities claimed the narrow one as the fire exit but it has no facility of being a proper fire exit. Even, this exit was locked on different floors used by separate owners," said Shahjahan Sikder, a senior station officer of Fire Service. 
If these staircases were open then the casualties could have been less, he said.   
As soon as a man enters into a properly designed fire exit, he is supposed to be safe from fire, heat and smoke but it was not like that, he added.
Around five to six people died after jumping off the building while most of the people met the tragic end of their lives due to suffocation from the huge smoke inside the building, he said.
The eighth, ninth and 10th floors of the 22-storey building were badly affected in the fire, but most of the bodies of victims were recovered from the 11th floor, a source of the fire service said.
Without finding alternative exit points, the trapped people climbed to the eleventh floor to save their lives but failed as the emergency exits were locked, the source told our correspondent seeking anonymity.
The building, built on an eight-katha plot, has 6,000 square feet space for commercial purposes on each of its floors, according to its website.
But there was no fire-protected exit in the building that houses a restaurant, a coffee shop, a branch of state-run Pubali Bank, a buying house, a freight-forwarding company, and many other firms, the fire service source said.
The tragic incident saw 25 people met their end while around 100 others were injured.