Brother assaulted for protesting sister's harassment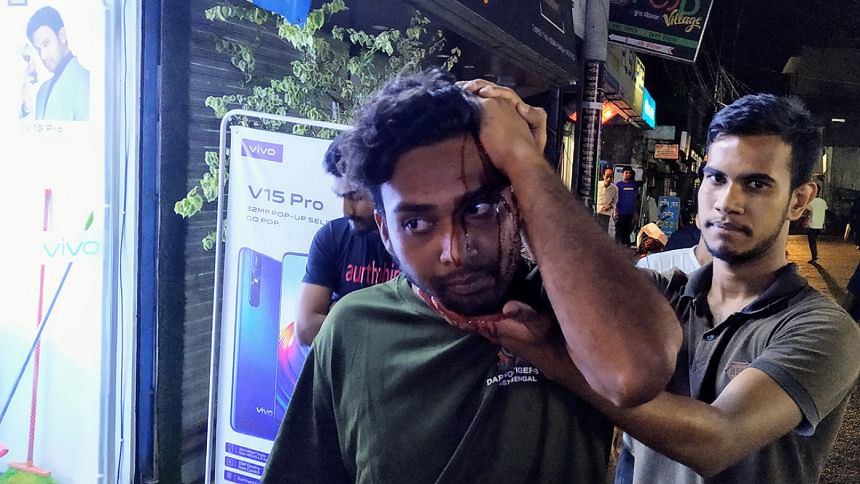 Miscreants assaulted a youth in Manikganj allegedly for protesting harassment of his sister this evening.
The incident took place around 8:15pm beside the Manikganj district Awami League office on Shaheed Rafiq Road in the district town, reports our correspondent.
The victim was identified as Shariful Islam Babu, 25, son of Abdur Rahman of Baliabeel village in Sadar upazila. He is a worker at a shoe store beside the AL office in the district town.
This noon, Shariful and his sister went to have coffee at a nearby restaurant where one Md Nabin, a worker of another shop there, tried to hug her. As Shariful protested against this, Nabin spoke vulgar words at the siblings and also tried to beat Shariful, said Shariful's employer Md Rana Mia.
At one stage, Shariful slapped Nabin and left the spot.
Later this evening, Nabin along with a cohort attacked Shariful and hit him on his head with a lock, leaving him injured, Rana Mia said.
He was rushed to Manikganj 200-bed hospital and is now being treated there.
Resident Medical Officer of the hospital Dr Md Lutfor Rahman said the victim is now out of danger.
Contacted, Rakibuzzaman, officer-in-charge of Manikganj Sadar Police Station, said they are yet to receive any complaint in this connection.
Steps will be taken once a complaint is lodged with the police station, he added.