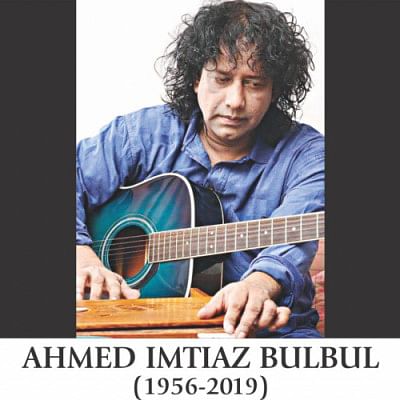 "So that you don't forget me … I am reminding you of my face by posting a photo."
Legendary musician and freedom fighter Ahmed Imtiaz Bulbul wrote this on his Facebook profile on January 2. In the image, he sat holding a green passport.  
"Bulbul Bhai, how can we forget you!" wrote a Facebook user in response.
READ more: Reminiscence-Ahmed Imtiaz Bulbul talks about his Liberation War days
"You are the Bulbul [songbird] of Bangla music, a proud freedom fighter of an independent country. As long as the red-green will fly, you will live forever in our hearts."
So will his musical gems embellished with the cultural legacy of this land. Shob Kota Janala Khuley Dao Na, the song he composed with the lyric of Nazrul Islam Babu, himself a freedom fighter, will remain a timeless elegy for martyred freedom fighters of 1971.
The protagonist of the song asks all to wipe out their tears and not to sing a heart-breaking song as now is the time to celebrate the victory, while the tune of Bulbul expresses unbearable feelings of losing someone very close. 
The man behind many such evergreen patriotic songs, as well as numerous popular numbers, passed away at his Aftabnagar residence in Dhaka yesterday morning. He was 63.
Bulbul was taken to Universal Medical College and Hospital around 6:15am yesterday, where the doctors declared him dead.
He had suffered a cardiac arrest and died before he was taken to the hospital, according to doctors.
His body will be taken to the Central Shaheed Minar around 11:00am today and kept there till 12:30pm for people from all walks of life to pay their last tributes to the maestro.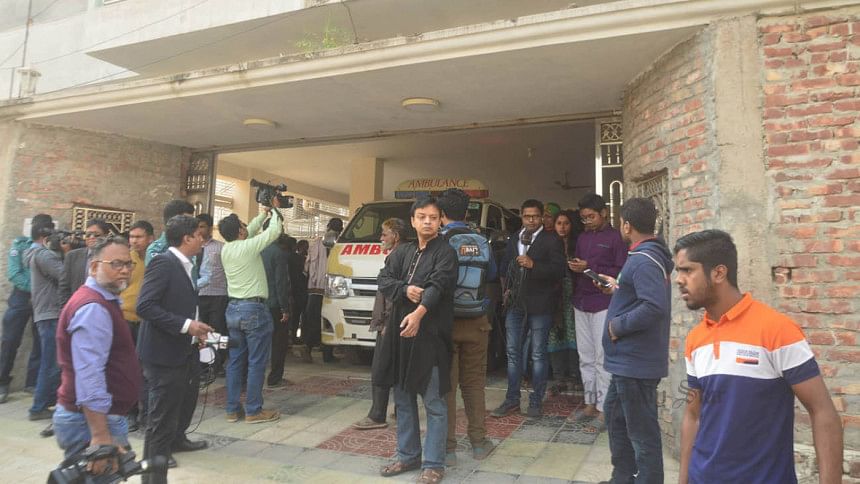 His namaz-e-janaza will be held at the Central Mosque of Dhaka University after Zohr prayers. The freedom fighter will be given a guard of honour, according to Golam Kuddus, president of Sammilito Sangskritik Jote, a platform of cultural organisations.
The musician will be buried at Martyred Intellectuals' Graveyard in Mirpur.
President Abdul Hamid, Prime Minister Sheikh Hasina, Jatiya Sangsad Speaker Shirin Sharmin Chaudhury and State Minister for Cultural Affairs KM Khalid expressed profound shocks at the death of the acclaimed composer.
In a condolence message, the prime minister recalled Bulbul's outstanding contributions to the Liberation War as well as the music industry.
"The country has lost a valiant freedom fighter and prominent singer and music composer," she said, adding that his death was an irreparable loss to the country's music industry.
The president and the prime minister also prayed for the departed soul and conveyed deep sympathy to his bereaved family members, reports UNB.
Bulbul received various awards for his contribution to music industry, most remarkably the Ekushey Padak, the President's Award, the Shikha Anirban Award (the highest honour conferred by the Bangladesh Armed Forces) and the Bachsas Award (11 times).
He won the National Film Award for music direction in critically acclaimed films Premer Tajmahal and Hajar Bochhor Dhorey.
Starting his career as a music director in the film Megh Bijli Badol, he composed numerous songs for films.
His famous works include O Majhi Nao Chhaira Dey, Shei Rail Liner Dharey, Sundar Suborno Tarunya Labonya, Amar Sara Deho Kheo Go Mati and Amar Babar Mukhey Prothom Jedin.
FROM GUERRILLA WAR TO GUITAR
 Bulbul was in his early teens when he joined the war in 1971. Initially, he took part in a number of guerrilla operations in Dhaka and subsequently joined Sector 2.
He was arrested twice by the Pakistani occupational forces and their local collaborators. He was tortured behind bars but miraculously escaped death at the time.
Quazi Ziaul Islam, known as Mahbub, a fellow freedom fighter and a childhood friend, yesterday gave a vivid narrative of Bublul's heroics in an emotional tribute.
"In 1971, his elder brother Tultul Bhai was part of the Crack Platoon, receiving orders directly from Khaled Mosharraf and ATM Haider. Bulbul was in school and Sarwar and I were in College. Tultul Bhai supplied us with grenades to carry out an operation in New Market, which we did together," Mahbub told The Daily Star.
He also recalled those turbulent days starting from Bulbul's participation in military training in Agartala's Baghmara to being captured twice.
"After the training, Bulbul, Manik and I had been sent to carry out a reconnaissance mission in Brahmanbaria. We were successful in gathering information but was ambushed and caught on our way back to Dhaka. From there we had been taken to a local jail where we were held captive and tortured for 17 days.
The army was executing all freedom fighters they had caught. On the 17th day, the Pakistani Army was transporting us to another location. I knew the area very well, and we found the opportunity to flee from captivity.
"We made it back to Dhaka and sought shelter in Mushurikhola. The army carried out a raid there as they found we had been sheltering there. Bulbul and his father were caught and taken to Ramna Jail. At that time, he went through extreme torture.
On December 17, we were finally able to retrieve him. He was in a terrible condition but he pulled through because he was a true warrior."
Bulbul was a great friend, a great companion, who has done a lot for his country, family and friends. The country has lost a loyal son, an incredible musician and a pride of the nation, said Mahbub.  
The experience in the Liberation War left an indelible impression on Bulbul's artistic career that he mentioned in many interviews.
"After independence, I composed patriotic songs for BTV. Those songs were rendered by Sabina Yasmin ... In the 1980s, for eight years, BTV used my composition Shob Kota Janala as a prelude to the news bulletin," Bulbul told The Daily Star in an interview.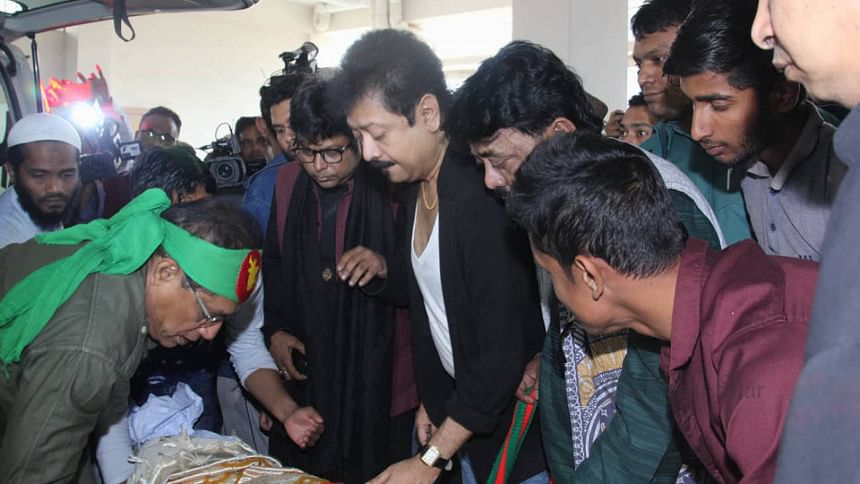 THE 'COST' OF COURAGE 
In 2012, he became a witness before the war crimes tribunal.
"With courage, I had to present my testimony of the mass murder that took place in Brahmanbaria prison in 1971. I am one of the five who survived the mass murder. There, 49 freedom fighters were killed together," Bulbul wrote in a Facebook post on May 15, 2018.
"But, I could never believe that my innocent younger brother Miraz will be murdered because of my testimony. I sought justice from the government but did not get it."
He further said that he was living in virtual confinement under 24-hour police protection at his home with his only child. "This is an unprecedented sad chapter."
"I have been living an isolated life for the last six years and now I am very sick. Eight blocks have been found in my heart and there is no treatment left but bypass surgery."
He said he had been admitted to the CCU of Ibrahim Cardiac for four days, but did not inform anyone. He said he was ready to go through his bypass surgery within the next 10 days.
"I don't need any help from my colleagues or co-artists. I, myself, am enough (just want to hold the flag of Bangladesh and the Quran close to my chest for 10 seconds ahead of the surgery).
"And you all pray for me. Don't worry."
In another post about a month later, he said he was feeling much better, thanks to the initiatives of Prime Minister Sheikh Hasina.
"I could have gone abroad for my treatment if I wanted to. The honourable prime minister had given me that option too. But my love for my country did not allow me to leave," he said.
"Everything began just the way I wanted. The national flag on my chest and the holy Quran on the flag."