Emerging singer, Noble brought to fame with his soulful performances on Zee Bangla's musical reality show 'Sa Re Ga Ma Pa' has won the hearts of many in both Bangladesh and West Bengal. In a recent interview with Rafi Hossain, Noble opens up about his musical journey and his future plans.
RAFI HOSSAIN: Welcome to Uncensored with Rafi Hossain. Today we have with us popular singing sensation Noble. I don't think he needs an introduction, because within a very short span of time he has garnered much praise for his singing talent in both the Bengals.  Could you tell us about your journey with Sa Re Ga Ma Pa?
MAINUL AHSAN NOBLE: My cousin one day comes up to me and tells me about the Zee Bangla, Sa Re Ga Ma Pa audition. After she insisted I decided to go for the audition which was happening back then and that was the first stepping stone in the wonderful journey I have made so far with the show.
RAFI: When we watch Sa Re Ga Ma Pa, we feel that the judges Shantanu Moitra, Srikanto Acharya, Monali Thakur and the host Jisshu Sengupta really like you. How do you feel about that?
NOBLE: Shantanu Moitra is a talented composer and he has composed many unique and remarkable songs for Hindi films. I feel honoured and lucky to be able to spend time with a noted artist like him, and getting his guidance in the show is a huge achievement for me. Monali Thakur has a melodious voice and her songs have always mesmerized me. I really like getting compliments from her. Srikanto Acharya is an inspiration and his encouraging words have helped me gain confidence. Jisshu Da is more like a friend to me and gives me good suggestions. He may not be a singer but his understanding of music is vast and he is also a good drummer.
RAFI: How would you feel if you do not win the show?
NOBLE:  I will not be disheartened or sad if I don't win because the amount of love and appreciation I have received from my audience cannot overshadow the joy of winning. However, I only want to win for my fans because they have great expectations from me and I want to live up to that. I will happily accept what my fate has in store for me. The show has so many talented singers and I am glad to be amongst them. This platform is just the beginning of my musical journey and it has opened many avenues of better opportunities for me. I believe I still have long way to go.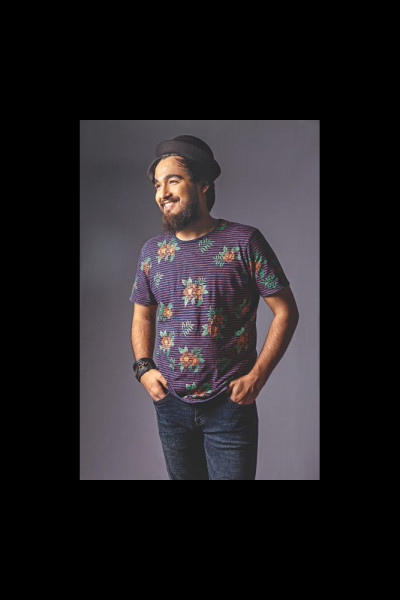 RAFI: You have received so much fame in such a young age. How do you feel about it?
NOBLE: I never imagined this would happen and now that I have received so much adoration and fame, I am trying my best to embrace them with humility. As mentioned earlier, I still dream big. I want to work all over the world. Back then, when I shared about my vision with my parents, they always laughed it off. But today, when I am living parts of it, I am hopeful for the future.
RAFI: Do you want to pursue your dream as a solo artist or form a band?
NOBLE: I want to go forward with a band as I do not see myself as a solo artist. If I had the opportunity I would have even performed with a band on the Sa Re Ga Ma Pa platform. I always wanted to do something together as a band, just like Miles, LRB, Nogor Baul etc. It is not about the fame and glory; rather I want to make better music, not just by myself but as a team.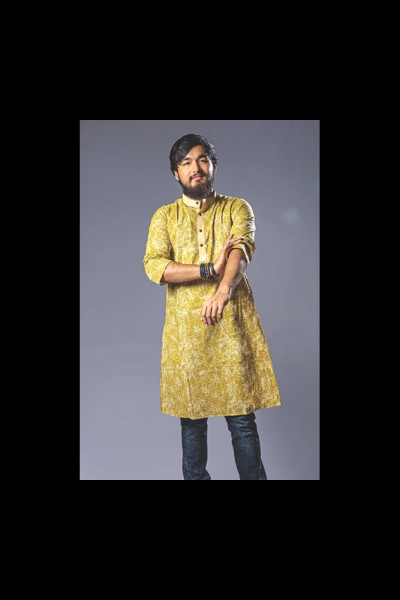 RAFI: How did your musical journey begin?
NOBLE: Since my childhood, I always had an appeal towards music. I used to plug my ears while singing at public places, because that way I could hear myself better. In 2012, I used to learn guitar from a trainer and that person introduced me to the songs of the band Dream Theatre. Every time I listened to them, I felt a different kind of drive in me. In 2015 while listening to Dream Theatre, I took the decision to do music more passionately. Later, when I came to Dhaka in 2016, I joined a band.
RAFI: Were you serious about the Sa Re Ga Ma Pa audition?
NOBLE: Honestly, I did not take it seriously. Everyone sleeps at night but in my case I do the opposite. I go to bed at 7 or 8 in the morning. The participants for the show went to stand in line for the audition at dawn and I woke up at noon that day. I was feeling very tired and wanted to skip it. Earlier, I told my mom about the audition and how people with musical background and proper training took part in this show. I told her that I have no chance of getting selected. But she motivated me and told me to at least take part in the audition just to grab the opportunity of singing on such a big platform.
RAFI: So your mother was your biggest inspiration for this show?
NOBLE: Yes of course.
RAFI: After you got selected, did you think it was a breakthrough for your career?
NOBLE: Initially after the audition process when I saw myself among the selected seven from Bangladesh, I was hopeful. Especially being someone with no musical background, I felt may be I do have some musical talent and I gradually gained confidence. During the first two episodes of the show, I was more self-conscious and lacked the poise of a singer. But when the audiences started to shower their love and blessings upon me I got my motivation to work hard for them. The audiences' reaction is the driving force behind my success. I shall continue to do music more efficiently only for them.
RAFI: The music industry in Bangladesh is now going through a rough time. New albums or songs are not being released frequently. What is your take on this?
NOBLE: I strongly believe that if we start releasing music albums more often, then this situation will change. We, the next generation artists, will continue doing what our legends like Ayub Bachchu has left us with to follow for the betterment of the industry.
RAFI: Now-a-days music videos are being produced and millions of viewers like these videos. Do you think currently music is more about seeing rather than listening?
NOBLE: No one can measure the quality of music through a video. Music is all about listening, so I don't think videos matter in this case. But yes, people should not compose or create anything that their audience will not like. I will only make good music with the objective to reach my audiences' hearts.
RAFI: How do you define good music?
NOBLE: A good music is a kind of music or song that can touch the soul of your audience. A song should be made in such a way that it will not only reach a certain group of people; rather it will reach the mass audience and make them feel the emotion of the song. A good song is created when we make music based on our culture and tradition. To create music rooted in Bangladesh we should be able to connect with and understand the taste of our local audiences. We must grab the soulful essence of music that our legendary singers have left us with.
RAFI: How do you manage to sing new songs without having any training in classical music?
NOBLE: I feel it is one of my biggest talents that I can learn new things very easily and I am a very good listener. I have the quality of grabbing a melody after hearing it twice or thrice. Besides, we get a lot of time to prepare a new song. So ultimately with ample amount of time for preparation, I get to learn each song by heart.
RAFI: What are your future plans?
NOBLE: I am releasing a new single next month and I plan to do something grand in July. I am looking forward to getting feedback and criticism from my audiences so that I can learn more and do better.
Transcribed by Joana Nomrata Mazumder