Rape-murder case accused killed in Cox's Bazar 'gunfight'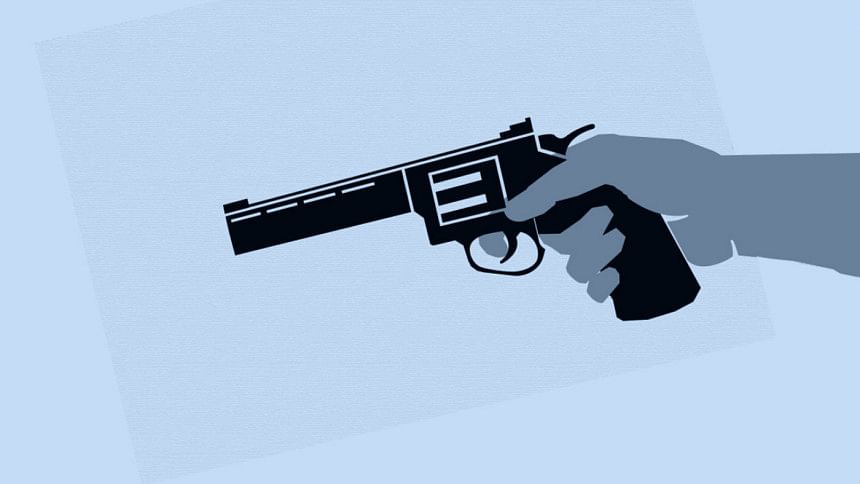 The alleged prime accused in a case of murder after rape was killed a "gunfight" with police in Chakaria of Cox's Bazar early today.
Villagers handed over Sazzad Hossain -- of Sheikher Killaghona village in Pekua upazila -- to law enforcers, our Cox's Bazar correspondent reports quoting police.
Upon primary interrogation, Sazzad admitted that he raped an 18-year-old girl at gunpoint and then killed her by pushing her off a running vehicle, said AKM Safiqul Alam Chowdhury, inspector (investigation) of Chakaria Police Station.   
Based on the accused's confession, police took him to Morongkhali area on Chakaria-Banshkhali regional road around 3:00am today to recover the gun, said the inspector.
Cohorts of the accused opened fire on the police team, forcing them to retaliate, triggering a gunfight that lasted for 20 minutes, said Safiqul. Police found the bullet hit body of Sazzad on the spot when his cohorts fled, he added.
Three policemen were also injured during the gunfight and they are undergoing treatment at Chakaria Upazila Health Complex, the police official said.
Two long barrel firearms and some ammunitions were recovered from the spot, he added.
The body was sent to Cox's Bazar General Hospital and filing of three cases in this regard was underway, Safiqul said.
The victim, Champa Begum of Jhilongiha union under Cox's Bazar Sadar upazila, was traveling home from Pekua upzaila by a CNG run auto-rickshaw on the night of May 6, police said.
Near a bridge, two auto-rickshaw drivers raped the girl at gunpoint and pushed her off a running vehicle, police added. They also ran one of their vehicles over the girl, according to police.
Rapid Action Battalion (Rab) arrested Sazzad's associate Joinal Abedin (22) two days after the incident.
Law enforcers came to know of Sazzad from his statement and conducted drives at his house to arrest him.
Upon knowing about Sazzad's involvement, locals caught him and handed him over to police yesterday morning, police added.
Sazzad was also accused in several cases filed over gender violence, criminal activities and yaba trading with Chakaria Police Station, said inspector Safiqul.