Two killed in 'shootouts'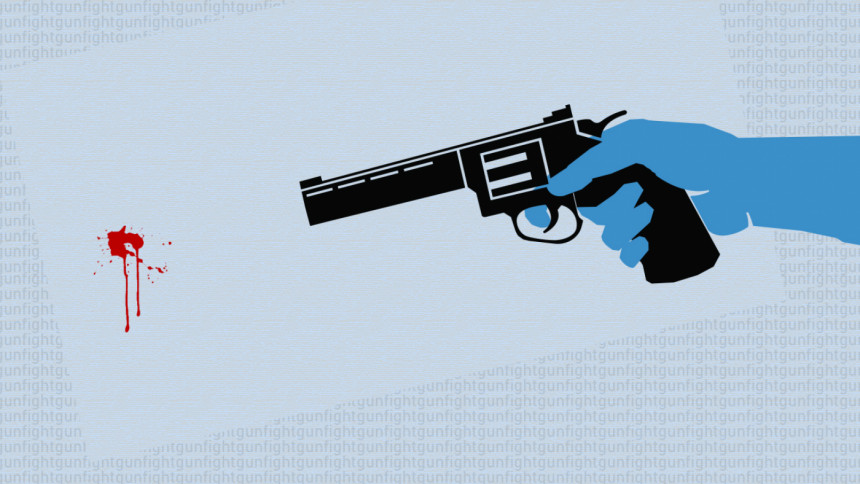 An alleged drug peddler and a suspected criminal were killed in "gunfights" with police in Mymensingh and Chapainawabganj yesterday.
The dead in Mymensingh is Rubel Mia, 31, of Jamirdia village in Bhaluka upazila.
Rubel's family claimed that he was not involved in drug trade. He had been missing since Thursday afternoon after some plainclothes men picked him up from the village, reports our Mymensingh correspondent.
Shah Kamal Akanda, OC of the Detective Branch of Mymensingh police, said they conducted a raid in Bhaluka's Dakshin Hobirbari area around 2:20am yesterday after being tipped off that some drug peddlers were trading narcotics there.
Sensing the presence of law enforcers, criminals opened fire on the DB team, triggering a "shootout". Police fired retaliatory shots.
At one stage, criminals left the place.
Finding bullet-hit Rubel lying on the spot, the DB men rushed him to Mymensingh Medical College Hospital (MMCH) where doctors declared him dead around 3:30am, the OC added.
Police claimed to have recovered 200 yaba pills and 100 gm heroin from the spot.
DB Assistant Sub-Inspector Sujon Chandra Saha, who was injured in the incident, received treatment at Mymensingh Police Lines Hospital, said police.
The OC said Rubel was accused in seven cases, including five for drug peddling, lodged with different police stations in Mymensingh and Gazipur.
Rubel's family said some people with vested interests might have implicated him in the cases.
Police sent the body to the MMCH morgue for an autopsy. A case was filed with Bhaluka Police Station in this regard.
FAMILY'S VERSION
Ayesha Akter, wife of the deceased, alleged that a nephew of her husband called him on Thursday afternoon. He took Rubel to the house of one Mazharul Islam in Jamirdia village.
She said they came to know from some local people that a group of plainclothes men went to Mazharul's home, put Rubel aboard a microbus and left the area.
Ayesha, 28, said they tried to reach Rubel over phone, but nobody answered calls after Thursday afternoon. His phone was found switched off since Friday noon.
"I along with my family members looked for my husband at the Bhaluka Police Station and the DB offices in Mymensingh and Gazipur, but in vain."
Yesterday morning, the family heard from local people that Rubel was killed in a "gunfight" with police.
Ayesha said they went to the MMCH morgue and identified the body. She demanded proper investigation into the "gunfight" incident.
Enquired by The Daily Star about picking up Rubel from his house, Mazharul kept mum. He hung up his phone citing poor network coverage.
OC Shah Kamal said they had no information about Rubel being picked up by some plainclothes men.
ANOTHER KILLED IN 'GUNFIGHT'
In Chapainawabganj, alleged criminal Tutul, 35, was killed in a "gunfight" with police in Moharajpur area yesterday afternoon, reports UNB.
Tipped off that some criminals were holding a secret meeting in Moharajpur to foil the upcoming upazila parishad election, police conducted a drive there around 1:00pm, said Idris Ali, inspector (operations) of Chapainawabganj Sadar Police Station.
Sensing the presence of law enforcers, criminals opened fire at them, triggering a "gunfight".
Police rescued bullet-hit Tutul after the "gun battle" and took him to Sadar Hospital where doctors pronounced him dead, the inspector said.
Law enforcers claimed to have recovered a pistol, a magazine, five sharp weapons and some empty bottles of Phensidyl from the spot.
Police said Tutul was accused in 17 cases, including for murder.