Jubo League Man Murder: Two more accused killed in 'gunfight'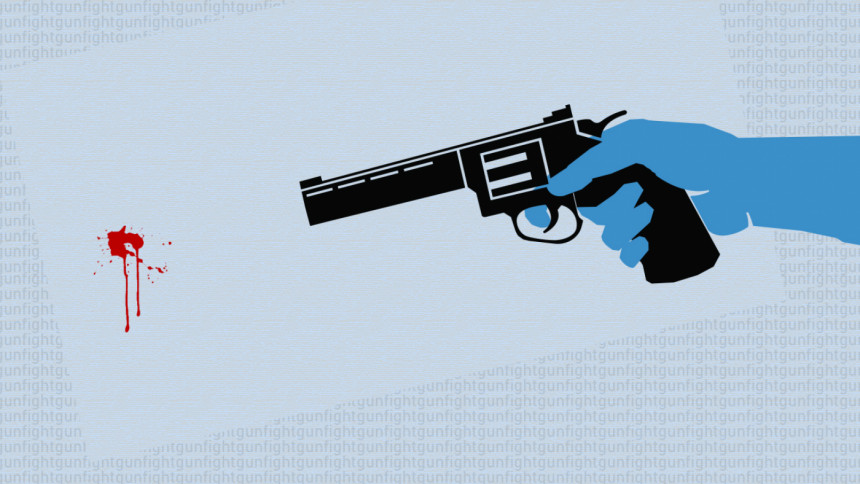 Two Rohingyas accused of a Jubo League leader murder and an alleged drug peddler were killed in "gunfights" with police in Cox's Bazar and Kushtia early yesterday.
With the two Rohingyas, five, who stood accused in Hnila union Jubo League president Omar Faruk murder case, were killed in so-called shootouts with the law enforcers. All the five were Rohingyas.
Faruk was shot dead allegedly by some Rohingya criminals in Teknaf upazila on August 22.
The Cox's Bazar "gunfight" took place in the upazila around 12:30am, reports our district correspondent.
The dead were Abdul Karim, 24, and Nesar Ahmed Prakash, 27, of Nayapara Rohingya camp, said Pradip Kumar Das, officer-in-charge of Teknaf Model Police Station.
He added that the two were accused in at least five cases, including Faruk murder, and they were on the run.
The OC said acting on a tip-off that some Rohingya criminals were hiding on a hill at Jadimura of Hnila, a police team, led by him, raided the spot.
Sensing the police presence, the criminals opened fire and the law enforcers retaliated in "self-defence", he claimed.
After the "gun battle", police found two bullet-hit men and took them to Teknaf Upazila Health Complex. As their condition was critical, on-duty doctors referred them to Cox's Bazar Sadar Hospital, said the OC.
They were declared dead after being taken to the hospital around 5:00am, he said.
Three policemen were hurt in the incident and they took first aid, the OC said, claiming that two homemade firearms and seven bullets were recovered from the spot.
Two cases were filed with Teknaf Police Station in connection with yesterday's incident, the OC added.
In Kushtia, suspected drug peddler Sujon Malitha, 30, of Takimara village in Sadar upazila, was killed in a similar incident, reports our correspondent there.
He stood accused in seven narcotics cases lodged with Kushtia Model Police Station, said its Officer-in-Charge Nasir Uddin.
The OC said on information that a "gunfight" between two groups of drug peddlers was going on, a team, led by Sub-inspector Mustafizur Rahman, went to the banks of GK (Ganges-Kabodak) canal in Mollateghoria village around 2:30am.
Sensing the police presence, the criminals started firing at the law enforcers, compelling them to return fire. Then a tripartite "gunfight" took place, the OC claimed.
During the "gun battle", Sujon was hit and he died on the spot, he said.
Police also claimed to have recovered 300 yaba tablets, 50 bottles of Phensedyl, and a firearm from the spot.