Land deal documents exchanged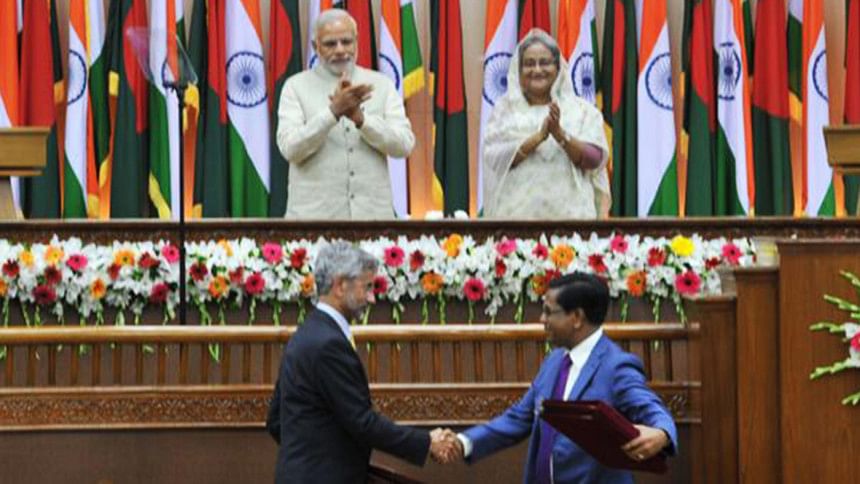 Officials of Bangladesh and India exchanged instruments of ratification of land boundary agreement at the Prime Minister's Office in Dhaka this afternoon.
Visiting Indian Prime Minister Narendra Modi and his Bangladesh counterpart Sheikh Hasina witnessed the event.
Bangladesh Foreign Secretary M Shahidul Haque and Indian External Affairs Ministry Secretary Dr S Jaishankar exchanged the document on behalf of their respective countries.
"History is made as the instruments of ratification of land boundary agreement are exchanged," Modi tweeted in minutes after the exchange.
Earlier, Modi, his Bangladesh counterpart Hasina and West Bengal Chief Minister Mamata Banerjee jointly inaugurated Kolkata-Dhaka-Agartala and Dhaka-Shillong-Guwahati bus services at the PMO.
This is Modi's first Bangladesh trip after he took over as the prime minister of India following the landslide victory of his party – Bharatiya Janata Party (BJP) – in Indian election last year.
Both countries are agog with unprecedented expectations that his 34-hour trip would take bilateral relations to a new level and exploit the economic and trade potentials keeping borders open for each other.
Capital Dhaka has already worn a festive look with streets adorned with life-size cutouts of Modi, Mamata and Hasina.
Unlike the trips to other countries -- Bhutan, Nepal, Sri Lanka and Myanmar -- that Modi made in the last one year, his Bangladesh visit is going to be special since with it the two closest neighbours are expected to get the sensitive connectivity (in rail, road and waterways) ball rolling for mutual growth.