Rohingya influx continues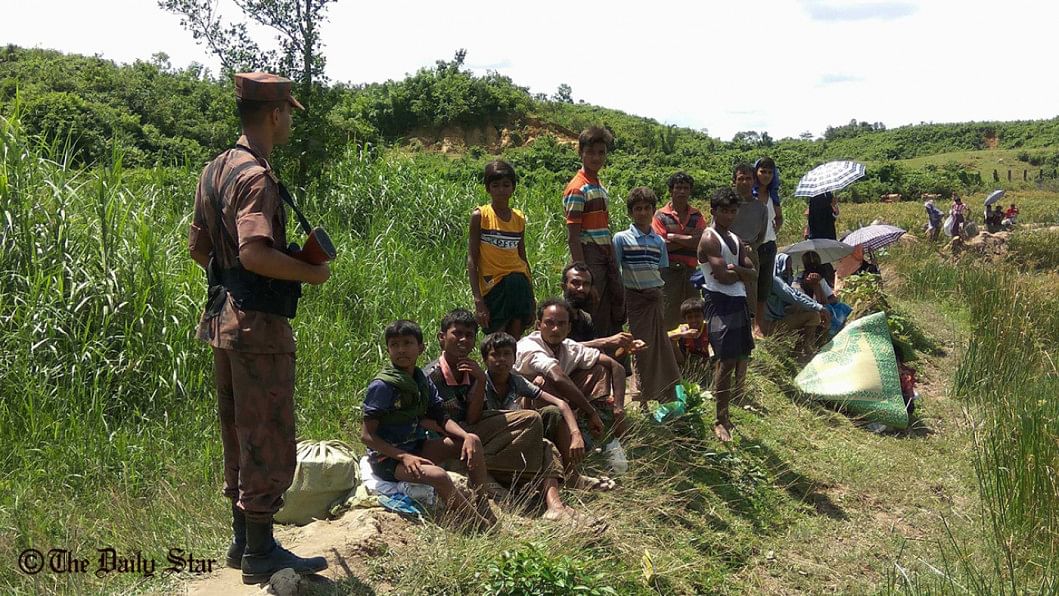 Following yesterday's mass exodus that saw nearly 2,000 Rohingya refugees entering Bangladesh territory from Myanmar, hundreds of Rohingyas were today seen at the no man's land at Ghumdhum in Naikhyangchhari upazila of Bandarban.
The number of Rohingyas heading towards Bangladesh saw a fresh increase as the bloodshed in the Rakhine State of Myanmar continues.
At least 89 people were killed as Rohingya militants besieged border posts in northern Rakhine State of Myanmar on Friday.
Read More: Crisis deepens
"We heard sounds of heavy gunfire near Toombro border under Naikhyangchhari upazila," our Cox's Bazar staff correspondent reports today quoting Zahangir Aziz, chairman of Ghumdhum union.
Quoting witnesses, the chairman told the correspondent that hundreds of Rohingya refugees were waiting near Toombro border trying to enter Bangladesh territory.
Read Also: 'Stop fresh exodus of Rohingyas'
In the evening, over "two thousand Rohingyas" entered Bangladesh through different points of Naikhyangchhari, according to a local public representative.
"Around 2,000 to 2,500 Rohingyas got into Bangladesh from Myanmar this evening [yesterday]," Md Zahangir Alam, chairman of Ghumdum Union Parishad, said yesterday.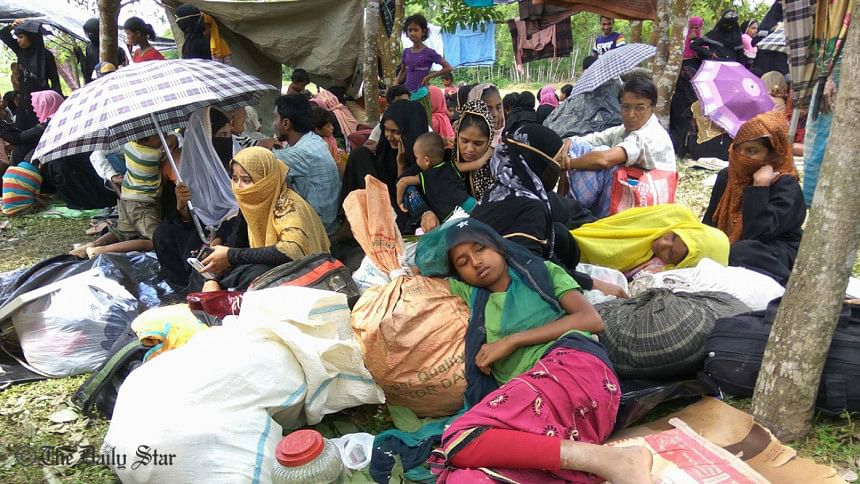 BGB members have cordoned them off and are keeping close watch so that they cannot proceed further into the country. Locals extended a helping hand to the refugees with food, water and other life-saving materials, he said.
'Myanmar army, BGP torching our houses, showering bullets'
Visiting the spot, our correspondent talked to some of the refugees who have entered Bangladesh to avoid persecution in Rakhaine state of Myanmar.
Mujibur Rahaman, 48, who has fled along with five family members from Dekibunia area of Maungdaw in Rakhine, said, "Myanmar army and Myanmar Border Guard Police (BGP) have been torching our houses and showering bullets."
"We have entered Bangladesh to save our life," he said.
Our deputy chief photographer, who is also visiting the spot, reports that a wave of Rohingya refugees gathering on the border and narrating the harrowing tales of torture and killings.