'Stop fresh exodus of Rohingyas'
Dhaka hands protest note to Myanmar envoy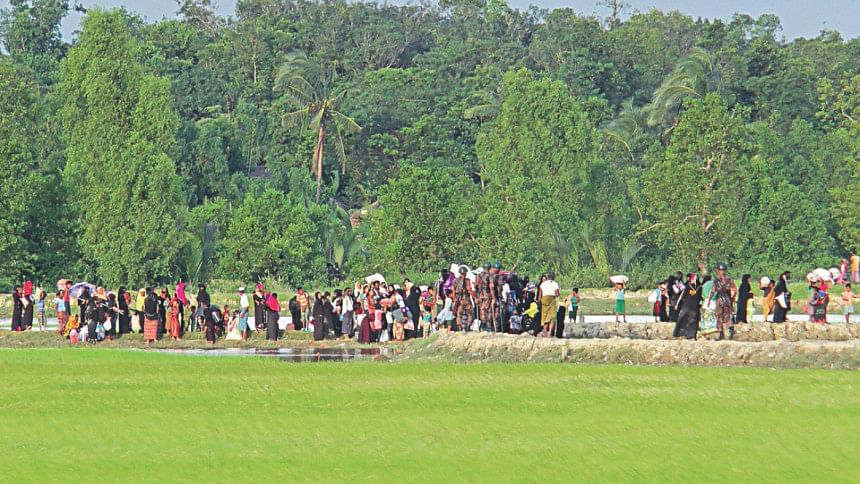 Dhaka yesterday handed over a protest note to the Myanmar envoy and called upon the neighbouring country to stop any fresh flow of Rohingyas towards Bangladesh, said foreign ministry sources.
The move came at a time when Bangladesh has seen a sudden influx of the Myanmar nationals in the wake of violence in Rakhine state and a statement from the Myanmar army has said "extremist Bengali insurgents attacked a police station in Maungdaw region".
Yesterday, the foreign ministry summoned the Myanmar envoy and expressed "serious concern" over the recent happenings, including the fresh entry of Myanmar nationals into Bangladesh.
Thousands of unarmed civilians, including women, children and elderly people from Rakhine, have assembled close to the border and were making attempts to enter Bangladesh, according to a foreign ministry press release issued yesterday.
Aung Myint Minister Counsellor of Myanmar met Secretary (Asia & Pacific) of the Ministry of Foreign Affairs Mahbub Uz Zaman yesterday afternoon at the ministry to discuss the evolving situation in the Rakhine State.
Zaman recalled the influx of Myanmar nationals into Bangladesh due to similar military operations in the aftermath of terrorist attacks on October 9 last year that resulted in about 85,000 civilians crossing over to Bangladesh.
Bangladesh has expressed "serious concern" at the possibility of recurrence of such a situation as the country already hosts about four lakh Myanmar nationals, said the foreign ministry statement.
The secretary also emphasised on addressing the underlying root of the prolonged problem through a comprehensive and inclusive approach.
Bangladesh has taken note of renewed clashes after attacks on the Myanmar Border Guard police posts in the Rakhine State on Friday, said the statement.
Bangladesh condemned the attacks on Myanmar forces and expressed concern at the loss of innocent lives in those clashes that occurred following recent deployment of forces in Ratheedaung-Buthidaung areas.
Bangladesh also stressed on the need for respecting the state responsibility to protect its civilian population and urged Myanmar to ensure appropriate protection and shelter for the unarmed civilians, especially women, children and elderly people.
Following her policy of "zero tolerance" towards violent extremism and terrorism of any form and manifestation, Bangladesh assured Myanmar of continued cooperation in dealing with these challenges, the statement said.
Bangladesh also pointed out that the terrorist attack and clashes occurred at a time when the Rakhine Advisory Commission, popularly known as Kofi Annan Commission, made recommendations towards durable solution for the Rakhine State.
At least 89 people were killed as militants besieged border posts in the Rakhine State on Friday.