Khirsapat wins GI tag
The mango variety would be recognised at home and abroad as a fruit of Chapainawabganj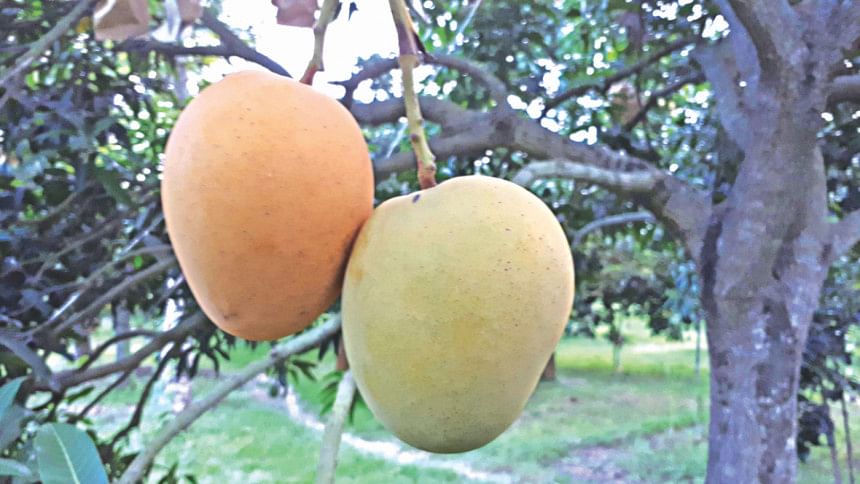 Khirsapat mango of Chapainawabganj, popularly known as Himsagar, yesterday got the Geographical Indication (GI) tag from the local intellectual property right authority -- a development that is expected to help growers get better prices and benefit consumers.
The popular summer fruit has become the third product after hilsa fish and jamdani to get the distinction.
The GI is a name or sign used on products to certify that it possesses certain qualities that are unique to its geographical origin.
"This will widen the opportunity for branding Bangladesh," said Industries Minister Nurul Majid Mahmud Humayun at the GI certificate handover ceremony in the ministry.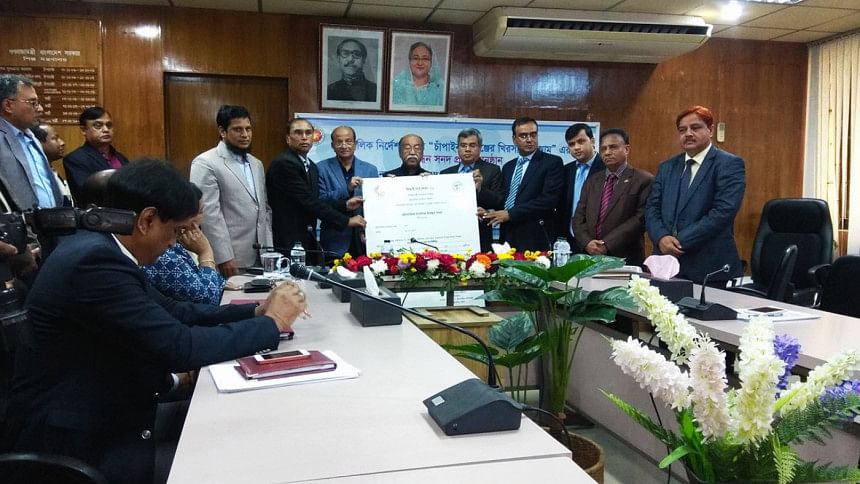 Humayun handed over the certificate to Madan Gopal Saha, director of Horticulture Research Centre (HRC) of Bangladesh Agricultural Research Institute (BARI).
The BARI applied to the Department of Patents, Designs and Trademarks (DPDT) under the industries ministry for GI certification of the mango variety in February in 2017 on behalf of the growers of Chapainawabganj, one of the main mango-producing districts.
All, including farmers and businesses, will be benefited for Khirsapat becoming a GI product, according to the minister.
"The mango economy will be strengthened," Humayun added.
The BARI has also applied for the GI for Ashwina, Langra and Haribhanga varieties of mango and officials of the DPDT said the applications were being processed.
The bid to get the GI tags for the popular mango varieties comes nearly nine years after India registered Laxman Bhog and Khirsapati (Himsagar) mangoes as GI products of West Bengal.
The neighbouring country also got the GI tag for the Fazli mango grown in West Bengal's Malda.
The Khirsapat got the recognition for its qualities at a time when an increasing amount of area is being brought under mango cultivation. Farmers are showing interest in commercial cultivation of the fruit to meet the growing domestic demand and cater to export markets.
Harvested between mid-April and mid-June, the popular fruit was grown on 103,000 acres in fiscal 2016-17, up from 93,000 acres the previous year, according to the Bangladesh Bureau of Statistics.
Khirsapat is the second most grown mango variety after Ashwina, said Sorof Uddin, a mango researcher at the BARI.
And the northwest divisions, mainly Rajshahi, account for 67 percent of the total mango production followed by the southwest division, Khulna, according to BBS.
Farmers would be able to use the tag by next year, said an official of the DPDT. If all the procedures are completed swiftly, the tag could be used from this summer too, said an official of the DPDT.
Mango farmers of Chapainawabganj will have to register with the DPDT to become authorised users of the Khirsapat GI tag. Once all the necessary procedures are completed, the intellectual property authority will issue certificates to growers to use the GI tag.
The tag will comprise the logo of the DPDT and a logo to be developed by the BARI, according to the official.