At a loss over heavy losses
Mango growers worried as prices hit record low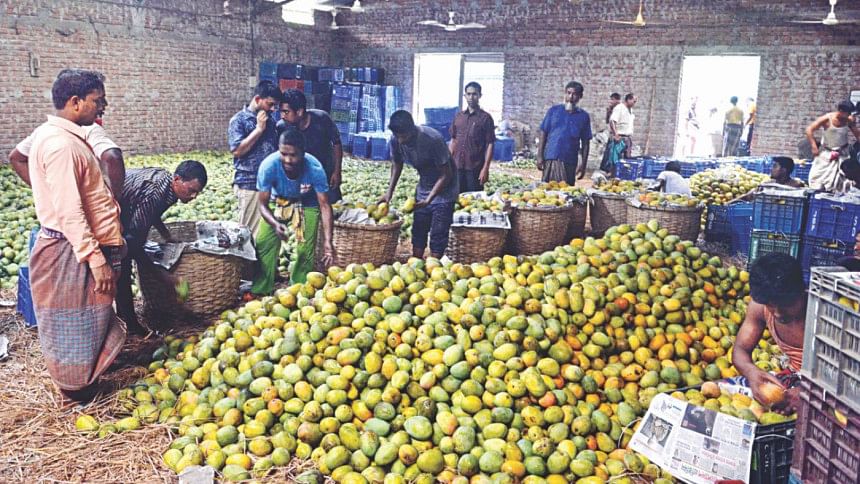 Mango farmers have been counting losses as prices slumped over the last couple of weeks.
Growers are being offered less than Tk 10 a kg for certain varieties of mangoes, a record low in recent years, orchard owners and traders in major farming districts said.
In Chapainawabganj and Rajshahi, two major mango cultivating districts, farmers said they never saw such dearth of buyers.
Shipment of mango to other countries also slumped to 215 tonnes until June 26 from 308 tonnes last year, according to the Department of Agricultural Extension (DAE).
"I cannot remember mango prices ever going down this low," said Akram Ali, a farmer who eyed profits in May when he noticed mangoes grew in abundance in his orchards.
The 45-year-old farmer in Rajshahi had to use bamboos to keep the branches from being snapped by the load of the fruit. He also hired people to look after the trees round the clock.
His heart began to sink early last month when he saw the prices go down. Not enough buyers from big cities and other parts of the country showed up.
The mangoes that he grew with care ripened on the trees, fell to the ground, and perished.
"Even children became tired of the fruits," he said.
In Rajshahi, growers have been offered Tk 10 for each kg of Lakhna, a variety of the fruit.
Each kg of popular varieties like Khirsapat is sold at Tk 15, Langra at Tk 20, Fazli at Tk 11, and Ashwina at Tk 8.75, said growers at Baneswar wholesale depot.
According to Akram, the prices, irrespective of varieties, never went below Tk 30 a kg in recent years.  He even sold each kg at Tk 100 two years ago.
"We are filled with grief," said Mohammad Mahbbul Alam Babul, president of fruit traders association at Karwan Bazar, one of the main wholesale markets for perishables in the capital.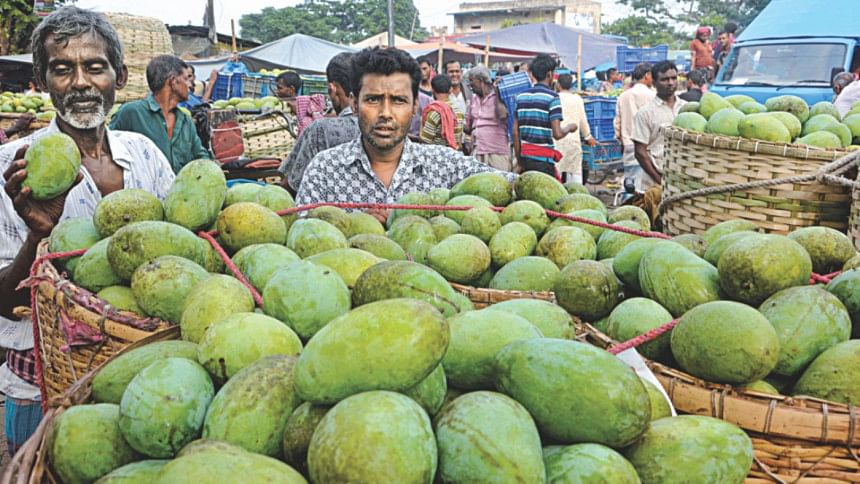 CAUSES BEHIND REDUCED DEMAND
Traders said mangoes began to hit the market on the eve of Ramadan when most people fast. As a result, the demand for the fruit remained low.
Many growers kept from plucking the fruit hoping that the prices would soar later.
Amid anti-adulteration drive by government agencies, some consumers didn't buy the fruit fearing chemical contamination.
A further blow was the Eid holidays in mid June, the peak harvesting period for a number of varieties.
The price of Langra fell to Tk 10-12 a kg at wholesale markets in Dhaka during the Eid, said Harun-or-Rashid, a trader at Karwan Bazar.
The prices started to rise after the holidays, but still remained lower than those of last year, he said.
He sold each kg of Langra at Tk 40 on Thursday. The farmers, however, are selling the fruits at half the price, he said.
Harun leased 186 mango trees this season and spent Tk 250,000 that included the lease money.
He could recover Tk 185,000 through sales of mangoes from the trees.
During a recent visit to Rajshahi's Baneswar, the second largest mango market after Chapainawabganj's Kansat, a number of growers were seen waiting with their produce for buyers.
Anwar Hossain Masud was one of them.  "I could not even enter the market last year. The fruits were sold on the way to the market."
He was offered Tk 350 a maund of mangoes, which was much lower than his expectation.
"I would be unable to recover production costs."
The picture was the same at Kansat.
Mosharrof Hossain, a grower, said he sold Fazli at Tk 750 a maund this season. It was Tk 1,500 last year.
Meanwhile, Bangladesh Bureau of Statistics data show that farmers grew 12.88 lakh tonnes of mangoes in fiscal year 2016-17, up from 11.61 lakh tonnes the previous year.
And production is thought to have increased by 5-7 percent this year, said Mizanur Rahman, director of Horticulture wing of DAE.
Sorof Uddin, a mango researcher at Bangladesh Agricultural Research Institute, said mango cultivation areas were expanding, thanks to growing demand for the summer fruit.
The fruit is commercially grown in 23 districts now, a sharp rise from 12 in 2005.
Domestically, the market size of the fruit is roughly about Tk 5500 crore, he said.
Babul of Karwan Bazar said the prices would gradually rise as the season ends.