Himsagor mangoes now going to UK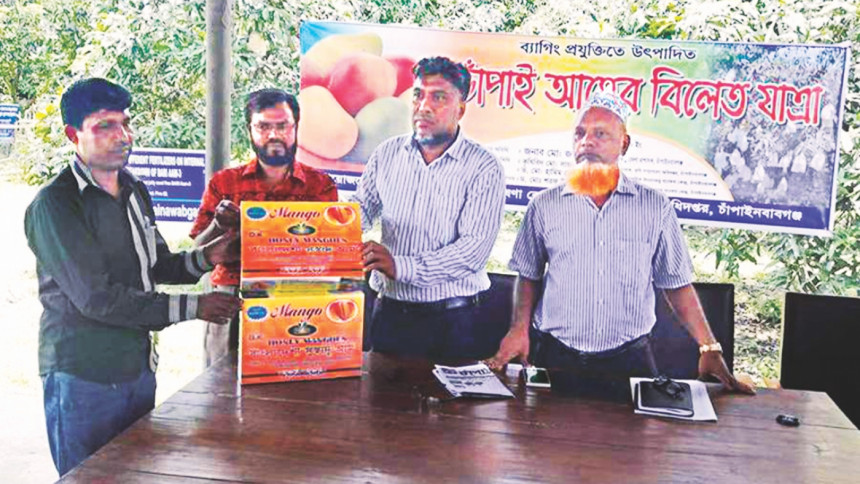 A consignment of mangoes from Chapainawabganj was sent to the capital on Monday for export to the United Kingdom.
Three Dhaka-based agro-product exporters -- Morison Enterprise, Jinnah Enterprise and Sonargaon International -- have sent three tonnes of (Himsagor) Khirsapat from the district for shipment to the UK.
Mango consignment holds great hope for the district, where the general population are heavily dependent on the summer fruit for their livelihood.
Agriculture officials and scientists expect that at least 2,000 tonnes of mangoes will be exported to the UK from Chapainawabganj this season.
Last year, a company exported four tonnes of mangoes to the UK from the district.
Dr Sharfuddin, senior scientific officer of Regional Horticulture Research Station, expressed excitement at the entry of Chapainawabganj mangoes to the UK. Scientists of the station extended their all-out support to the exporters to grow and export the product, he added.
According to them, fruit-bagging technology has opened up a new door for mango export, as farmers are using an environment friendly method now.
The environment friendly fruit-bagging technology has helped the farmers protect mangoes from pest attacks and harvest quality yield. Eco-friendly bagging provides an effective alternative to spraying pesticides on the fruits throughout the season.
The technology was first introduced primarily in 2014 at an orchard of the Regional Horticulture Research Station. When it was found effective, the technology was introduced commercially and has been gaining popularity among the growers since last year.
The alternative method appears as a blessing against the backdrop of random use of pesticides and insecticides that threaten the ecological balance and public health.
If the bags are used adequately, the use of harmful insecticides, fungicides and pesticides could be reduced significantly, said Dr Sharfuddin.
More than 25 lakh bags were brought for the mango orchards of the district. Mangoes are the most important agricultural product in the area that has a long tradition of producing around 350 varieties, said scientists and agriculture officials.
A large number of people are engaged in the production, from nursing to harvesting and packing, during the season every year.
According to the Department of Agriculture Extension, there are around 19 lakh mango trees on 24,470 hectares of land in the district. Officials expect that at least 2.5 lakh tonnes of mangoes would be harvested this season.