Drought-like Situation
Mango growers fear loss of production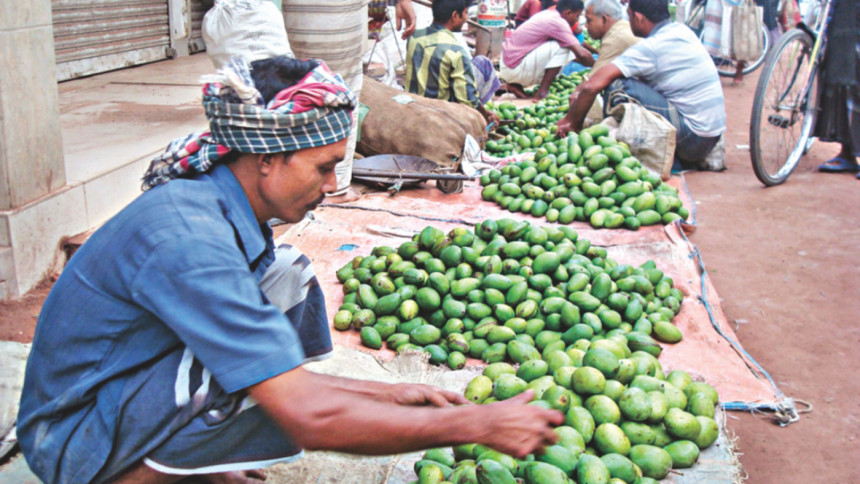 Mangoes have been falling off trees due to a prolonged drought-like situation in Chapainawabganj, the highest producer of the much-loved summer fruit in the country.
March-April is the peak time when the fruits grow out from buds to a sizeable shape before ripening but at the time of this year the country witnessed very low rainfall everywhere, including the district known as "mango capital" for producing as many as 350 high quality varieties.
Mango growers in Chapainawabganj fear that they will not meet the production target of 2.5 lakh tonnes this time due to lack of rainfall. 
However, rain at the beginning of this month brought some relief to growers and owners of mango orchards, who projected the loss to be somewhat less than what was feared before the rain. 
There are over 19 lakh mango trees on 24,470 hectares of land in Chapainawabganj, according to the Department of Agricultural Extension (DAE). 
Chapainawabganj DAE records show only 18 mm rainfall in the district in the last two months.
Hamim Reza, chief scientific officer of Regional Horticulture Research Centre, Chapainawabganj, linked mangoes' dropping-off phenomenon with the scanty rainfall. Immature fruits are not getting enough water as trees are consuming most of it, he explained.
Reza advised growers to sprinkle mangoes with water to help them grow.
DAE Deputy Director in Chapainawabganj Sazzadar Rahman said extreme dry weather condition and lack of moisture in soil were leading to a fall in the production in this session.
The production target might not be achieved, he said, adding that less rainfall also hampered natural growth of the fruits. 
Growers and traders predicted that any major slump in the output would make mangoes pricey this year.
Shamim Ali, a mango grower of Gorokhkhonathpur in sadar upazila, said he was fearing 20 percent fall in the production than that of last year.
Abul Kashem, of Nayalavanga village in Shibganj upazila, took lease of a mango orchard in the village.
He earned over Tk 1.5 lakh last year selling mangoes of 120 trees of the orchard but he is not so hopeful about this year's production.   The trade in mangoes is worth Tk 2 crore in the district, said Abdul Wahed, president of Chapainawabganj Chamber of Commerce and Industry.
The prospect of a good yield seems bleak this time, he added.
In Dhaka, Chittagong, Sylhet and other districts of the country, there is a high demand for the varieties grown in Chapainawabganj, including Fazli, Langra, Gopalbhog, Khirshapat, Khirshabhog, Lakhna, Bombai, Mohananda, Mohanbhog and Ashwina.
Traders set up markets in the last week of May at Puraton Bazar in Chapainawabganj town, Kansat Bazar in Shibganj upazila and Rohonpur Bazar in Gomostapur upazila to procure and sell mangoes.