Arms Smuggling: Just so easy
Criminals, terrorists rely on supplies from India through Chapainawabganj border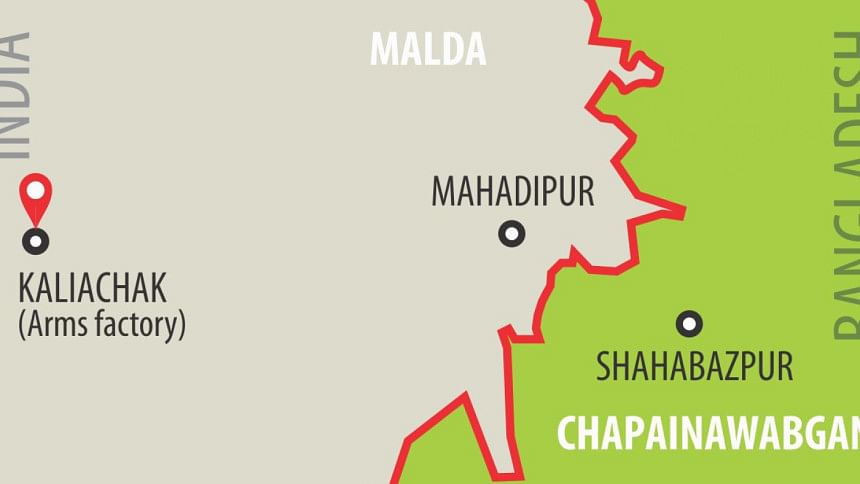 In recent years, the country's northwestern border in Chapainawabganj has emerged as a major route for smuggling in arms. It has of late become militants' most preferred point for collecting illegal firearms and explosives. This is the route through which terror outfit "Neo JMB" smuggled in the guns and bombs used in last year's Gulshan café attack. With such chilling information surfacing, Shariful Islam visits the zero line area of Indo-Bangla border in the district to investigate how the illicit trade goes on there so easily.
It's just a piece of cake for him. An inhabitant of a remote village in Shibganj upazila of Chapainawabganj, he has been involved in smuggling for one and a half decades.
Born and brought up in the village, Karim (not his real name) had frequented India since his boyhood without any valid documents until the border with Malda of West Bengal was fenced some 10 years back. His home is within one kilometre of the zero line.
The barbed-wire fence could not stop smuggling. In October last year, police raided a house in Chapainawabgabj town and recovered 22 foreign-made pistols, 45 magazines and 136 bullets -- all brought from India.
Karim, now 37, started with phensidyle at a very young age and turned to arms three to four years back as it fetches more money.
Once he gets an order, he makes a phone call to his counterpart in Malda with an Indian SIM card. He uses code words like Goru (cow) for 9mm pistol, Bokna (cow that has not calved) for 7.62mm pistol, Bachhur (calf) for 6mm pistol and capsule or bichi (seed) for bullets.
Once the person on the other side collects the items, he calls back using a Bangladeshi SIM card. The two then gather near the fence at an opportune moment and packages are lobbed from the Indian side across the fence, dodging the eyes of border guards.
When Karim uses Indian SIM, it is not possible for law enforcers in Bangladesh to track him. The same is true for his counterpart.   
In September, after over an hour's drive by a microbus from Chapainawabganj town and 10 minutes' walk, this correspondent reached the zero line in Shahabazpur union of Shibganj.
Paddy fields and bushes in the zero line area and on the other side of the barbed-wire fence facilate the consignment delivery without being noticed.
Apart from gunrunners and criminals, militants also use the border point to smuggle in firearms and explosives from India, investigators say.
"We just bring in arms when parties place orders. We do not know who is a criminal and who is a militant," Karim said, standing near the zero line on September 14.
He agreed to talk to this correspondent after being persuaded by a source on condition that his identity would not be disclosed.
Police and local sources said there are over a dozen professional arms smugglers in Chapainawabganj that shares 155km border with India's Malda and Murshidabad districts.
"Finding small firearms or bullets in the bordering areas of Malda and Murshidabad is no big deal," Karim said.
He added, "I just bring in the arms and hand those over to parties. There are people who would carry your arms if you pay them. After a certain distance, the goods change hands."
The parties sometimes assign labourers to take the consignment directly to the capital, Karim said, claiming that he has kept himself out of the racket these days as he is facing cases though not related to smuggling.  
Sometimes, cowboys while bringing cattle from India through corridors in different districts including Chapainawabganj also carry firearms and bullets.
The items often remain hidden inside goods-laden trucks entering Bangladesh through land ports, according to sources in law enforcement agencies.
Smuggling goes on also through several points of 4,096km porous border shared by Bangladesh and India.
Apart from firearms and explosives, phensidyle and heroin are smuggled in from India while counterfeit Indian currencies smuggled out from Bangladesh.
According to Karim, the price of a 6mm pistol is around Tk 20,000, 7.62mm pistol Tk 32,000 and 9mm pistol Tk 40,000 in India. Local smugglers pay the money through hundi, a method of illegal money transaction.
The 6mm, 7.62mm and 9mm pistols sell at around Tk 40,000, Tk 60,000 and Tk 76,000 respectively once they reach the capital. 
MILITANCY, MALDA & MUNGER
Nine firearms, including three AK-22 rifles, and grenades used by the "Neo JMB" militants in Gulshan café attack on July 1 last year were brought in through Chapainawabganj and Jessore borders. Those were manufactured in Munger of Bihar, investigators said.
On August 15 this year, the National Intelligence Agency of India along with local cops busted a house, used as an arms factory, in Devipur village under Kaliachak Police Station in Malda.  Kaliachak is just around 10km of Shahabazpur in Chapainawabganj.
The Devipur operation was conducted following information from Bangladesh police, said Md Moniruzzaman, assistant inspector general (intelligence and special affairs) at Police Headquarters.
During the raid, law enforcers seized 48 firearms, inlcuding 9mm and 7.62mm pistols, and arms manufacturing materials.
The firearms were made in Munger, known as a village of small arms makers. Mohammad Sayeed alias Mannai, the chief manufacturer, has been arrested. 
On September 6, cops arrested suspected "Neo JMB" member Touhidul Islam from Dhobrabazar of Shibganj with a pistol and four bullets.
Chapainawabganj police, BGB and Rab seized 75 firearms and over 33kg gunpowder and arrested 116 people in eight months till August.
Chapainawabganj Superintendent of Police ATM Mojahidul Islam, who played a key role in busting a number of militant dens in the district in recent months, said they, in close coordination with BGB and Rab, have been working to stop smuggling.
Lt Col SM Abul Ehsan, commanding officer of BGB 9, told The Daily Star on October 19 that they always stay alert to check smuggling.
The Border Gaurd Bangladesh (BGB) recovered a number of illegal arms in Chapainawabganj border area since last year, he mentioned, refusing to accept that this is an established route for smuggling.
Ahsan said there might have been some smuggling activities there in the recent past but the situation is now under control of border guards amid constant vigilance.
CTG CONNECTION
Smugglers also use Mizoram border to bring arms into the country apart from the sea route, said sources in agencies. Chittagong Hill Tracts borders the Indian state on the east.
The 22 foreign-made pistols and  bullets police seized in Chapianawabganj on October 24 last year were destined for Chittagong. One Osman Ali of Boalkhali upazila in Chittagong used a cowboy of Telkupi in Shibganj to smuggle in those.
In 2005, an NGO named Bangladesh Development Partnership Centre estimated that there were around 4 lakh illegal firearms in the country.
In the first six months of this year, police and different other agencies have recovered 1,128 illegal firearms across the country.
[Subrata Acharjee in Kolkata and Rabiul Hasan Dollar in Chapainawabganj contributed to this report]