500-yr-old mosque in danger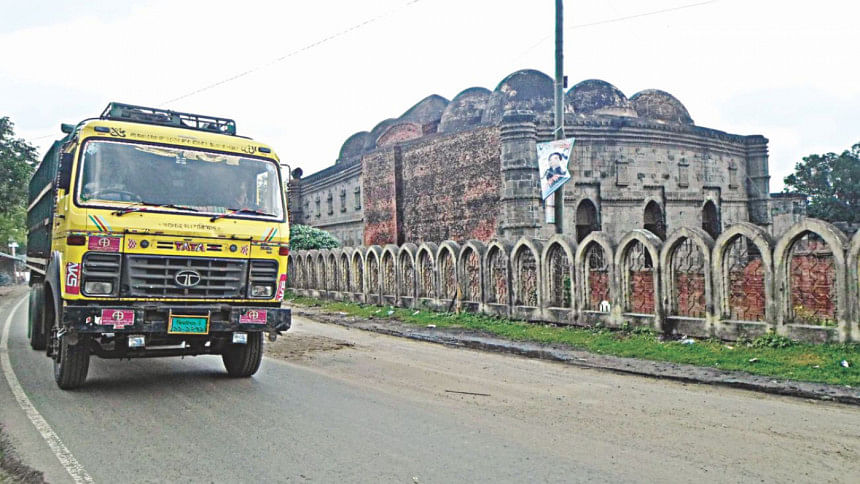 The Chhoto Sona Masjid in Shibanj upazila of Chapainawabganj has withstood the test of time. Built by Wali Muhammad during the reign of Sultan Alauddin Hussain Shah from 1493CE, the relatively well-preserved mosque is an iconic example of medieval Islamic architecture. But the mosque that has survived centuries now risks irreparable damage. The constant vibration of cargo trucks plying the adjacent trans-border highway is undermining its integrity.
Located some 36km from the district town, the mosque measuring 25 by 16 metres is an impressive jewel in the archaeological crown of sites on both sides of the Indian border that constitute the remnants of Bengal's ancient capital, Gaur.
Smaller than its namesake Golden Mosque across the border, the Chhoto Sona Masjid built of thin bricks with an outer layer of stonework and featuring eleven arched entrances and five ornate black stone mihrabs is perhaps the best-known Gaur-related site on Bangladeshi soil. The mosque includes a ladies' gallery in the northwest corner with a number of finely carved stone columns. It has four minarets and a fifteen-domed roof which was once gilded, hence the name 'golden'. Perhaps the mosque's main charm is its superb decoration. Walls feature flowers, rosettes, hanging chain bells and geometric designs on terracotta plaques. The floor once included beautiful glazed tile illustrations.
Sadly, the mosque is situated beside the busy highway leading from Chapainawabganj town to the Sonamasjid Land Port on the Indian border. Up to 400 cargo-laden trucks ply this route daily, and apart from the dust and noise, the vibration of so many vehicles adds significant stress to the foundations and walls of the mosque.
"A bypass road is urgently required to protect the mosque," says its Imam, Hizbullah.
"While ever the highway runs past it, the Chotto Sona Masjid is at risk of damage," agrees the deputy assistant director of the archaeology department in Chapainawabganj, Humayun Kabir. "Its days are numbered. Consequently we have asked the Roads and Highways Department to build a by-pass road away from the mosque."
The district's Roads and Highways Executive Engineer Sunity Chakma is aware of the problem. "The road from Rajshahi to the Sonamasjid Land Port will be widened eventually to four lanes," he says. "At that time we will construct a bypass to protect the historic mosque." It can only be hoped the new road is constructed soon, else it may be a case of too little, too late.