3 killed, 31 hurt in blasts outside Sylhet 'militant den'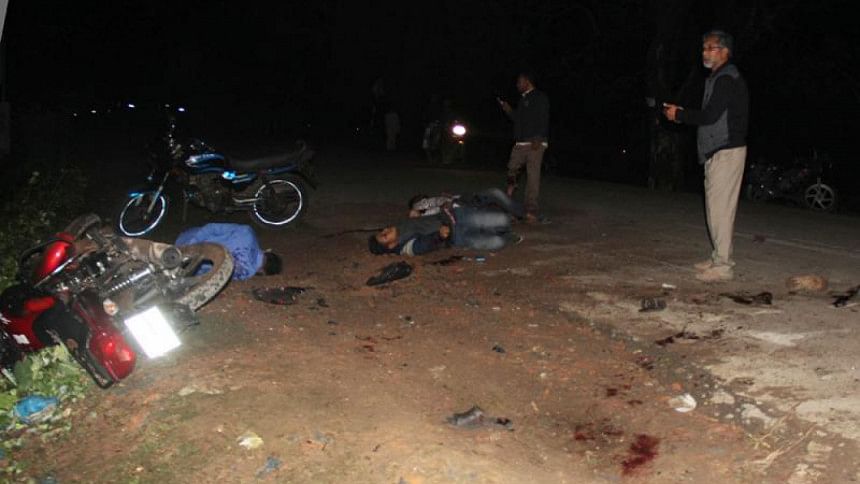 -- 2 civilians, one policeman killed

-- 5 cops among 31 people hurt

-- Sounds of explosion heard around 6:50pm

-- All tenants rescued

-- 'Militants' inside 5-storey building

-- Operation codenamed 'Twilight'

-- Army commandos, SWAT, cops taking part

-- Main gate blocked with refrigerator

-- Operation continues amid rain
At least two civilians and a policeman were killed and 31 people injured in two blasts outside the suspected militant den in Shibbari area of Sylhet city this evening.
"Two civilians and a policeman are killed in separate blasts outside the militant hideout," Golam Kibria, commissioner of Sylhet Metropolitan Police, told The Daily Star over phone. "Five of the injured are law enforcers."
READ more: Police raid Sylhet den
The two civilians were killed and 26 others injured in a blast that took place around 6:50pm on a road beside a madrasa, around 400 metres off the five-storey "Atia Mahal" where the paramilitary commandos along with police and SWAT were conducting an operation codenamed "Twilight".
Another blast took place in front the den around 8:00pm that left a policeman dead and five other law enforcers injured, our local correspondent reports quoting police.
All the injured were rushed to Sylhet MAG Osmani Medical College and Hospital, the SMP commissioner further said.
The identities of the victims could not be known immediately.
However, it is yet to be ascertained that who exploded the bombs targeting the civilians there. 
Following the blast, police asked the civilians, who thronged the surrounding areas of the military den, to leave the place for safety.
Also READ: Save my tenants first - Sylhet house owner
Earlier, sounds of heavy gunshots and explosions were heard from the spot, report our local correspondents.
A gunfight began after the joint forces entered the building with armoured vehicles breaking its boundary wall around 2:00pm where the suspected militants are believed to have been holding up explosives.
Before conducting the operation, the law enforcers have cordoned off the green-coloured house since early Friday.
Around 10:00am, sounds of two gunshots were heard immediately after joint forces led by army para commandos began the operation.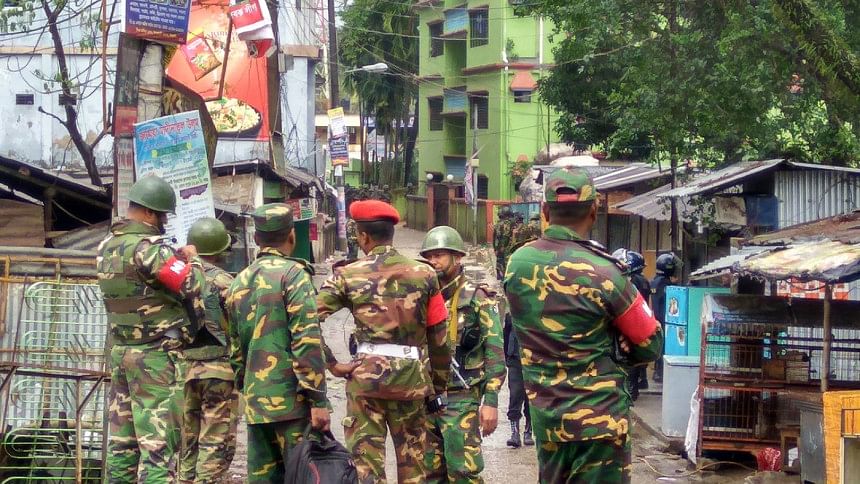 All tenants rescued safely
All tenants who were trapped inside the militant den were rescued safely, said Brig Gen Md Fakhrul Ahsan.
"We rescued a total of 78 tenants including 30 women and a child," Ahsan said while informing progress of the operation at a press briefing there this evening.  
Also READ: 4 militants killed in Ctg raid