Police raid Sylhet den
Militants hole up with explosives; 100 trapped inside building; SWAT from Dhaka joins raid
Law enforcers have cordoned off a five-storey building in Sylhet city where suspected militants are believed to have been holing up since yesterday morning with a huge cache of explosives.
Around 100 residents remained trapped inside the building, "Atia Villa", till last night, while police managed to evacuate 70 others from an adjacent four-storey building.
At least two suspected militants -- a male and a female -- were inside one of the six apartments on Atia Villa's ground floor in Pathanpara's Shibbari area, said police.
Law enforcers couldn't enter the building as the militant suspects blocked the entrance to the main building with a refrigerator.
"We saw the militants trying to attach grenades to the refrigerator," an official of the Counter Terrorism and Transnational Crime Unit of Dhaka Metropolitan Police, who was present at the spot, told The Daily Star.
Talking to reporters around 8:00pm, Sylhet Metropolitan Police Commissioner Golam Kibria said, "We called in an observation team of the army to assess how much explosives are inside the apartment … Those explosives could be powerful."
He said they would conduct the drive with extreme caution, keeping in mind the safety of the residents trapped inside the building.
In reply to a query, he claimed the situation was "under control", and hoped they would be able to convince the suspected militants to surrender.
Lt Col Mohammad Rashidul Hasan, director of Inter Services Public Relation Directorate (ISPR), told The Daily Star that an observation team from the army went to the scene to assess the situation.
The team would decide whether a Para Commando team was needed for carrying out a drive, he said.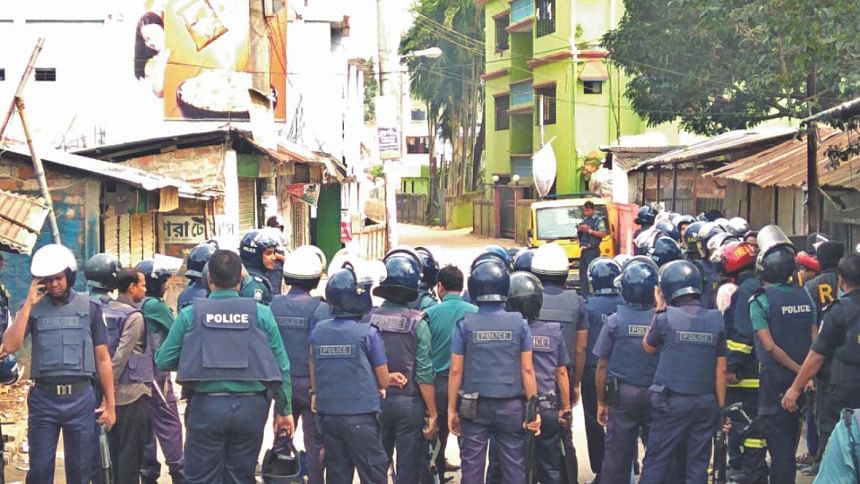 Talking to this newspaper over the phone, Nazrul Islam, one of the residents trapped on the building's second floor, said he heard gunshots around 5:30am and later learnt that suspected militants were hiding on the ground floor.
Nazrul said he and his three family members were passing time in fear.
Muhibur Rahman, sub-inspector of Jakiganj Police Station, said his family was also trapped inside the building.
Police tracked down the Sylhet hideout barely a week after they busted two militant dens in Chittagong.
Seeking anonymity, a high-up of Sylhet Metropolitan Police (SMP), said they increased surveillance in the city following information from counterterrorism officials, and found the hideout early yesterday.
Rokonuddin, additional police commissioner of the SMP, told reporters that they detected an anomaly in the tenant's information and finally tracked down the hideout.
 Mohibul Islam, deputy commissioner of CTTC Unit of the DMP, told this correspondent that they got information on the militant hideout in Sylhet while investigating the cases over the busting of the two "Neo JMB" dens in Chittagong's Sitakunda on March 15.
Basudeb Banik, deputy commissioner (south) of the SMP, said police cordoned off "Atia Villa" around 1:30am and disconnected the building's electricity connection around 5:30am.
About half-an-hour later, police, through a hand-mike, asked the militant suspects to surrender.
Around 6:30am, the suspected militants threw a grenade at police from the apartment on the ground floor. Police then fired blanks, said Basudeb. 
Later, the male militant suspect shouted, "Send forces."
Akhtar Hossain, officer-in-charge of Jalalabad Police Station, said, "Around 1:30pm, the female militant suspect yelled from a window of the apartment 'bring SWAT quickly because you [police] won't be able to do anything to us… We don't have much time."
A Special Weapons and Tactics (SWAT) team and a bomb disposal unit from the DMP arrived at the scene from the capital around 4:20pm.
On March 2, 2006, militant kingpin Abdur Rahman, his wife Nurjahan Begum Rupa, daughter Afifa Rahman, three sons and a grandson were arrested from a house in Shaplabagh area of Sylhet city.
HOUSE RENTED 3 MONTHS AGO
Ustar Ali, the owner of "Atia Villa", said a couple identifying themselves as Kawsar Ahmed and Marzina Begum rented the apartment three months back.
The couple provided all necessary documents, including copies of their national identity cards, said Ali, also proprietor of Atia Travels.
Ali's son Kawsar Rahman Ripon said Ahmed identified himself as an auditor of a private company.
Rahman also mentioned that he didn't notice anything suspicious in the couple's behaviour.
Earlier on March 8, police busted a "Neo JMB" hideout in Chittagong's Mirsharai and arrested two suspected militants. Twenty-nine grenades and huge quantity of bomb-making materials were also recovered.
Just a week later, two more "Neo JMB" hideouts were found in Chittagong's Sitakunda. Four militant suspects and a child were killed in a 10-hour drive at one den, while two suspected militants were arrested from the other.
At least 46 "Neo JMB militants" were killed in different drives by law enforcers across the country since the Gulshan café terror attack on July 1 last year.
[Our Correspondents in Sylhet and Moulvibazar contributed to this report.]