Ershad's body taken to Rangpur
To be buried at Banani military graveyard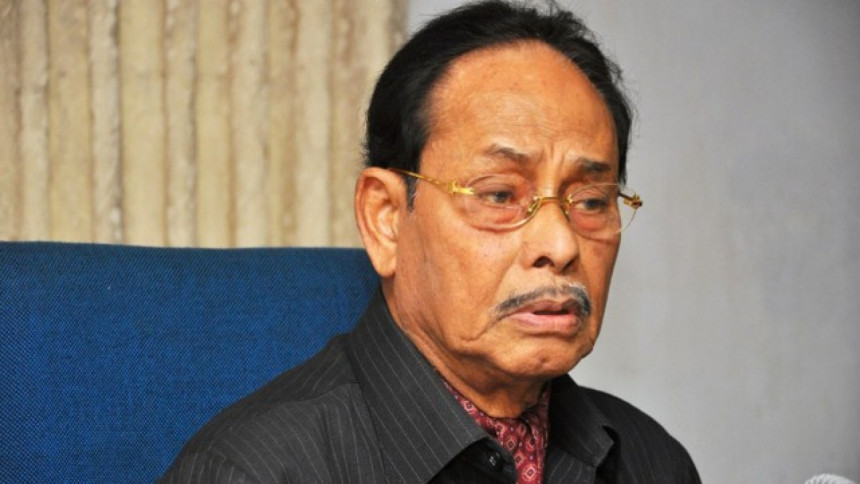 The body of Jatiya Party Chairman HM Ershad, who passed away in the capital on Sunday morning, was taken in Rangpur this morning for his fourth namaz-e-janaza.
A helicopter of Bangladesh Air Force carrying the coffin of the Jatiya Party chief landed at Rangpur Cantonment around 11:30am.
Jatiya Party acting Chairman GM Guader, Secretary General Moshiur Rahman Ranga, former Secretary General Ruhul Amin Hawlader and Ershad's son Rahgir Al Mahi Shad Ershad, among others, accompanied the body.
His fourth janaza will be held at Rangpur Eidgah after Zohr prayers and the body will be flown back to Dhaka for burial at the Banani Military Graveyard in Dhaka after Asr prayers.
Ershad, a former military strongman and five-time MP, breathed his last at 7:45am on Sunday while undergoing treatment at the Combined Military Hospital (CMH) in Dhaka.
His first janaza was held at the Army Central Mosque in Dhaka on Sunday while two other janazas were held on Monday.
Ershad's Qulkhwani will be held on Wednesday at Gulshan's Azad mosque in Dhaka.
The former military ruler had been shuttling between his home and hospital for the last few months as his health condition deteriorated.
He was admitted to the CMH on June 26 as he had been suffering from various old-age complications, including low haemoglobin, kidney and liver problem, high bilirubin and serious keen pain.