'Ershad's condition improved a bit, still not out of danger'
Says his brother GM Quader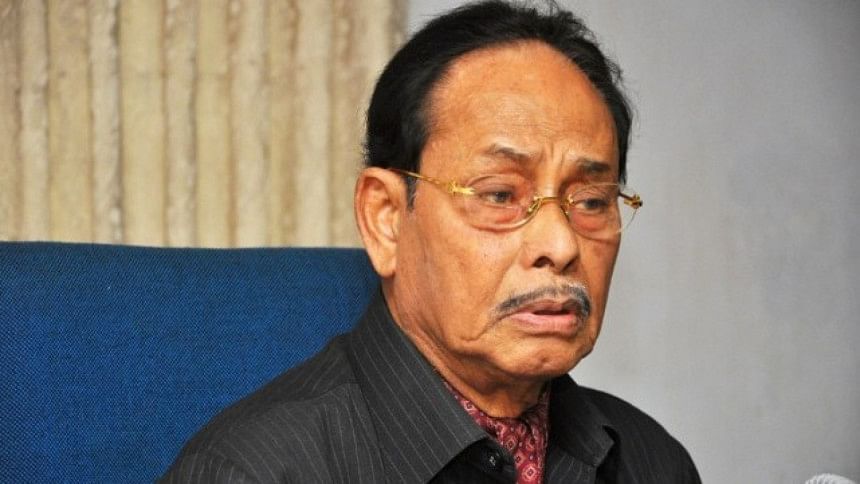 Ailing Jatiya Party Chairman HM Ershad's condition has improved a bit today, however, he is still not out of danger, his brother GM Quader said.
The former military ruler, aged 89, who is being treated at Combined Military Hospital (CMH) in Dhaka, has been put on life support since yesterday afternoon.
"Ershad's breathing has improved after he was put on artificial ventilation. Last night dialysis was conducted on him to remove around 200 milligrammes of excess water from his body," Quader told journalists after attending a munajat for recovery of Ershad's health at Baitul Mukarram Mosque after the Juma prayers this noon.
"So far Ershad has been given 28 bags of blood in the last seven days, including eight bags in last eight hours. Doctors are trying hard to increase the platelet count of his blood," he said.
"His condition seems better than yesterday, however, he is still not out of danger," said Quader, also the acting chairman of Jatiya Party.
"All medical documents of Ershad have been sent to doctors in Singapore and they have advised not to move him in his present physical condition. The doctors at CMH are doing everything for Ershad's proper treatment and speedy recovery. We are satisfied with the treatment provided to Ershad at CMH," he also said.
Ershad has been undergoing treatment at the CMH since June 26 and was kept on oxygen support since June 30 until yesterday, when his condition deteriorated and he was put on life support.
He has been suffering from various health-related issues over the last nine months.
No more blood needed for Ershad's treatment
No more blood is needed for the ailing JP Chairman HM Ershad, the party said today.
At present, more than enough blood has been collected for treatment of Ershad and no more blood is needed, according to his doctors, said Ershad's Deputy Press Secretary Khandaker Delwar Jalali.
Earlier today, JP urged donors to come forward to donate B+ blood for Ershad, who is being treated at the CMH.
Hundreds of people thronged the CMH, Ershad's Banani office and JP's Kakrail office to donate blood for the former president after the news floated in the media.
JP Acting Chairman GM Quader, Senior Co-Chairman Raushan Ershad, and Secretary General Mashiur Rahman Ranga have expressed their sincere gratitude to the people for their overwhelming response to the call for donating blood.