Ershad no more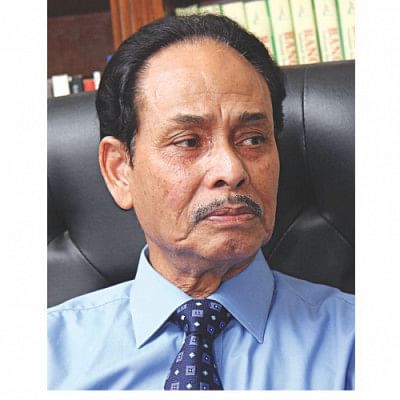 HM Ershad is dead.
But before his death at the age of 90, the longest serving autocrat managed to remain a formidable political force, especially in the politics of vote, even after his downfall in 1990.    
Ershad, also a military general, usurped state power by removing an elected government in 1982 through a bloodless coup. Having seized the state power, he quickly suspended the constitution and parliament. He also brought an end to the secular tone of the constitution, by introducing Islam as state religion in 1988.
His critics say he did so to gain political millage in a Muslim-majority country.  
He formed the Jatiya Party while holding the office of the chief of army staff and being at the helm of the government. He was forced to step down on December 6, 1990, in the wake of a mass movement, led mainly by students but also by all major political parties, includign the Awami League, BNP, Jamaat, and also left parties.
Before his death yesterday morning, he was the leader of the opposition in parliament. In the previous term, he was the special envoy of Prime Minister Sheikh Hasina.  
After his fall, he took advantage of weak political alliances and became a pivotal figure in politics.
Ershad, an unpredictable character, had introduced upazila system in 1984 to decentralise power and expanded the national highway system.He also tried to decentralise civil and judicial administration, but failed.
Ershad got commissioned in the Pakistan Army in 1952. In 1956, he married Raushon Ershad, with whom he had a son. The couple also adopted a daughter.
He was reportedly interned along with Bangalee officers stationed in West Pakistan during the Liberation War and returned to Bangladesh in 1973.
Ershad assumed power in March 1982 as the Chief Martial Law Administrator (CMLA) and three days later he installed Justice Abul Fazl Mohammad Ahsanuddin Chowdhury as president.
He took over the country's presidency in December 1983.
Despite opposition from two major alliances led by the Awami League and the BNP, Ershad managed to hold the upazila polls as well as a referendum on himself in 1985, a presidential election in 1986, and a parliamentary election the same year.
In the 1986 election, his newly floated Jatiya Party bagged majority of the seats. Almost all major political parties except the Awami League boycotted the polls.
In November 1987, a united protest against Ershad turned into a full-blown mass movement that put tremendous pressure on the autocratic ruler.
Despite the political turmoil, he held another parliamentary election in 1988.
Jatiya Party got yet another majority as both the major alliances had boycotted the polls. To cling to power, Ershad went tough on the protesters. Jafar, Dipali Saha, Zainal, Mozammel, Ayub Kanchan and several others were shot dead in 1983.
Selim and Kazi Delwar Hossain in 1984, Noor Hossain in 1987, Naziruddin Jehad and Shamsul Alam Khan Milon in 1990, faced the same fate while taking part in the anti-Ershad movement.
Noor Hossain with slogans "free democracy and exterminate autocracy", written on his chest and back, stands out as a symbol of the spirit of democracy.
Ershad on many occasions denied allegation of suppressing the opposition.
BNP chief Khaleda Zia and AL chief Sheikh Hasina were on house arrest several times during his tenure.
Artist Quamrul Hasan's depiction of Ershad as "Biswa Behaya", (most  shameless person of the world) for his controversial decisions after  usurping power, at the National Poetry Festival in February 1988 moved  the nation.
Ershad was finally forced to step down on December, 6, 1990. He was arrested in 1991 and was released on bail in January 1997.
He had over 33 cases filed against him. Ershad was convicted in two cases and acquitted and discharged in 25 cases during the BNP and AL tenures in power.
General Manzoor Murder case and a graft case against him were pending with courts. All proceedings of four other cases were stayed by the High Court on different dates.
While in jail, Ershad took part in the national elections of 1991 and 1996 and won all five constituencies he vied from. In 1996, Ershad extended support to the AL to form a coalition government.
In 2000, Ershad was sentenced in a corruption case and was released on bail in April 9, 2001. He could not run in the 2001 elections.
He was elected lawmakers in 2008, 2014, and 2018.
Ershad also faced criticism for having relationships with several women. 
His marriage to Bidisha in 2000 ended in divorce in 2005. He had made her party presidium member.
In April 2005, police arrested Bidisha as Ershad charged his second wife with cheating and theft. Newspapers were flooded with reports that the arrest was a bid of the then BNP-led government to put pressure on Jatiya Party to join their camp in the next general election.
Ershad has a son with Bidisha.
In 2006, he went into hiding following pressure from the then ruling BNP to join its alliance. In December that year, he reappeared at a Paltan Maidan rally organised by the AL, and announced his decision to join the AL-led alliance.
In June 2007 Ershad left the party chief post for about a year as part of his strategy to deal with the pressure from then military backed interim government.
Ershad stayed with the AL-led grand alliance to contest the national election in 2008 and when when another parliamentary election was in the offing five years later, he became the centre piece of a long-drawn political drama. He flip-flopped several times over running in the January 5, 2014, polls.
Announcing that the JP would not take part in the polls, he had asked his party's candidates to withdraw. However, a section of JP leaders led by Raushon decided to run. The BNP-led alliance and most other opposition parties boycotted that election. 
More confusions and rumours followed when he was taken to the CMH from his Baridhara home less than a month before the polls. Ershad was elected lawmaker in the polls as his candidature was not withdrawn.
From the hospital, where he had been staying for unknown illness, Ershad went directly to the Bangabhaban to attend the oath-taking ceremony of the prime minister and the cabinet members of the new government on January 12, 2014.
From the Bangabhaban, Ershad went home as special envoy to the prime minister with the status of a minister. Three of his party men were inducted into the council of ministers. Raushon was made opposition leader.
The Jatiya Party faced huge criticism as the party was in the opposition bench and in the cabinet at the same time between 2014 and 2018.
Ershad once again joined the December 30, 2018, national election as alliance partner of the AL.
Party leaders found Ershad, with his record of playing mysterious roles, unreachable for several days in mid-November, 2018, an important time ahead of the general election. 
In the first week of December 2018, Ershad removed Ruhul Amin Hawlader from the secretary general's post and replaced him with Moshiur Rahman Ranga.
In April 10, 2014, Ershad had ousted Hawlader from the post, which he had been holding since 2002, and appointed Ziauddin Ahmed Bablu to the post in recognition of his "significant role" in the party.
Around three years later, Ershad removed Bablu for "negligence" and reinstated Hawlader.
Ershad latest political was after the 2018 election.
On January 4, just a day after the JP Parliamentary Party decided to join the Awami League-led grand alliance government, Ershad decided that his party would be in the opposition bench.
He declared himself as the Leader of the Opposition and made his younger brother GM Quader Deputy Leader of the Opposition.
Ershad made Quader the party's acting chairman on January 17. He, in dramatic move, relieved Quader from the post on March 22.
On April 4, Ershad reinstated Quader to the co-chairman post and made him acting party chief in his absence.
On April 5, he again removed Quader from the post of Deputy Leader of the Opposition and appointed Raushan in his place.
On April 6, suffering from serious physical ailments, Ershad donated his all movable and immovable properties to a trust, in which his wife and brother were absent.
Ershad died at Combined  Military Hospital at 7:45am yesterday. He was 89.
He had been suffering from  various ailments including infection to his lungs and kidneys.Ershad  was admitted to CMH on June 26 and was kept at the Intensive Care Unit  (ICU). His condition later deteriorated.
He will be buried with state honours on Tuesday, under supervision of the Army, Inter Service Public Relations (ISPR) said.
The first namaz-e-janaza of Ershad was held after Johr prayers yesterday at Dhaka Cantonment's Central Mosque.
Almost  all top leaders of JP including its acting chairman and Ershad's  brother GM Quader, secretary general Moshiur Rahman Ranga, Dhaka North  City Corporation Mayor Md Atiqul Islam and Workers' President Party  Rashed Khan Menon, top army officials as well as activists of different  levels and people from all strata joined the janaza.
His second  namaz-e-janaza will be held at the South Plaza of Jatiya Sangsad at  10:30am today. Following that, his body will be kept at the party's  central office located in city's Kakrail area from noon to 3:00pm  for public.
Ershad's body will be kept at the CMH  mortuary following his third namaz- e-janaza at Baitul Mukarram National  Mosque after Asr prayers.
A  pall of gloom has descended over admirers and followers of Ershad  following the death as the death news spread. President Abdul Hamid,  Prime Minister Sheikh Hasina and Speaker Shirin Sharmin Chaudhury,  BNP  secretary general Mirza Fakhrul Islam Alamgir mourned Ershad's death and  prayed for the eternal peace of the departed soul.On Tuesday morning, his body will  be flown to his ancestral home in Rangpur where his  last namaz-e-janaza will be held at 10:30am on Eidgah ground.
Later, his body will be brought back to Dhaka for burial at the Banani army graveyard after Johr prayers.
Meanwhile,  local leaders of Jatiya Party in Rangpur have urged the party top  leaders to bury their party chief HM Ershad at his hometown Rangpur  instead of Dhaka, from a press conference held at the city's Central  Road's party office.