Kulaura Upazila in Moulvibazar
Good prices of string bean make farmers happy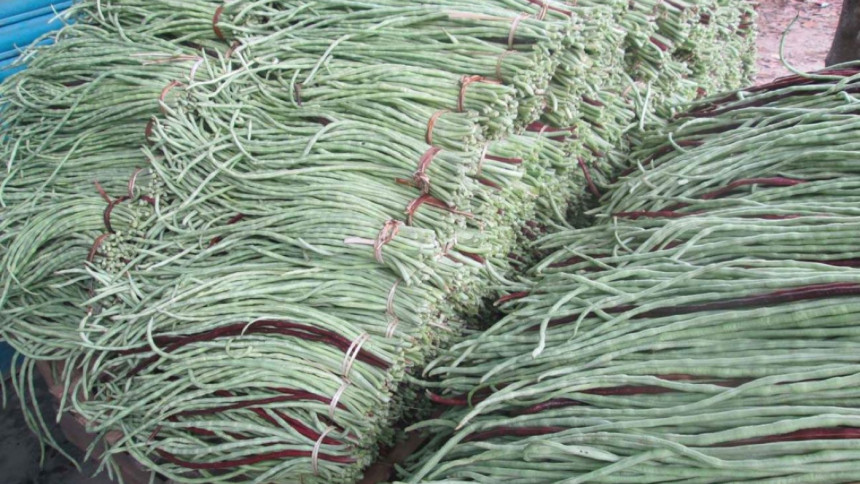 String bean farmers in Kulaura upazila of the district are happy with a bumper yield and good prices for the vegetable this season.
The bumper production of beans this season was due to favourable weather conditions and timely supply of necessary agro-inputs. A total of 200 hectares of land were brought under bean cultivation in the upazila this season.
Saffar Uddin, Kulaura upazila agriculture officer, said Bangladesh Agriculture Development Corporation (BADC) provided the farmers with high yielding varieties of seeds, organic fertilisers, insecticides and other inputs to make the programme a success.
Farmers have cultivated the vegetable on their cropland and fallow land as it has proved more profitable than traditional crops and can be cultivated easily.
Alamin Miah, 45, a farmer of Boromchal village said, "I am now self-reliant growing the vegetable instead of cultivating sugarcane or mustard."
Farmer Masuk Ahmed, 50, of Sripur village said, "Earlier financial hardship used to haunt me round the year. But now I am able to educate my children. Besides, I live in a brick-built house and use a sanitary latrine. This was possible because of profitable bean cultivation on my cropland."
Farmers are now growing the vegetable commercially to reap more profit. Wholesalers from Sylhet, Moulvibazar, Dhaka and other areas visit our local markets to purchase it. The crop here is sold at satisfactory prices, Masuk added.
Farmer Shafiqul Islam of the village said, "The Department of Agriculture Extension advises growers on how to cultivate the vegetable on their cropland successfully."
"I have cultivated 23 acres of land at a cost of Tk 12,000. I have already earned Tk 25,000 from the cropland," he added.