Flower-sellers gearing up for lucrative mid-February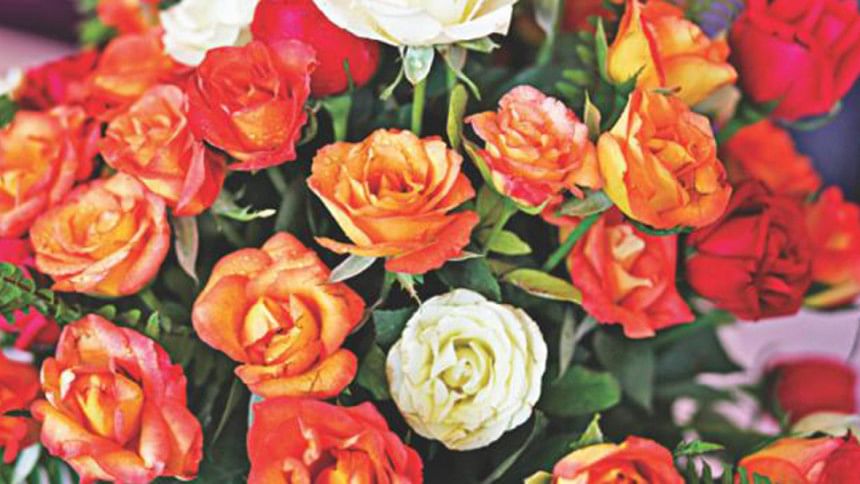 Flower farmers of Jhikargacha in Jessore district, one of the largest flower markets of the country, expect to sell flowers worth over Tk 30- 35 crore ahead of Pahela Falgun (February 13), Valentine's Day (Feb 14) and International Mother Language Day (Feb 21).
The farmers are now passing busy days in their fields.
Flower growers and traders make huge money every year in February, a month that sees huge sales of flowers as people celebrate three major events -- Pahela Falgun, Valentine's Day and International Mother Language Day.
The farmers of Godkhali, Panisara, Haria, Potuapara, Taora, Matikorma, Baisha, Kaoria villages of the upazila cultivated rose, gerbera, gladiolus, tuberose and marigold, Chrysanthemum on 1600 hectares of their land.
As ever, there has been a surge in sales of flowers at Godkhali in Jhikargacha upazila, the flower hub of the district and birthplace of the country's floral industry, said farmers and traders.
The wholesale flower market at Godkhali in Jhikargacha is the source of 70 percent of the entire flower supply of the country. The farmers started commercial flowers farming in the upazila since 1982.
The local cultivators said after meeting the local demand, the flowers of the upazila are supplied to at least 52 districts (out of 64) including capital city Dhaka.
Jhikargachcha Upazila Agricultural Officer Dipangkar Das said the farmers of the upazila earned at least Tk 30-35 crore selling flowers last year (2017).
This year the farmers are expecting sales will cross Tk 35 crore as the weather is favorable.
"We are providing all necessary technical assistance to the farmers," Das added.
Abdur Rahim, president of Bangladesh Flowers Society, said around 5-6000 farmers are involved in flower cultivation in Jessore district.
The flowers produced in Godkhali achieve international reputation on standard, comparable with India, Malaysia and United Arab Emirates.
He said the farmers earn lots of foreign currency exporting the flowers every year.
Emphasizing an upgrade transportation, he said that cultivators may earn more as remittance if the transport systems were repaired and storage upgraded as soon as possible.
Lots of flowers are damaged on the way to market. If we can reduce this damage the farmers will be benefited and government will receive revenue in the sector, Abdur Rahim added.