Refugees say it with flowers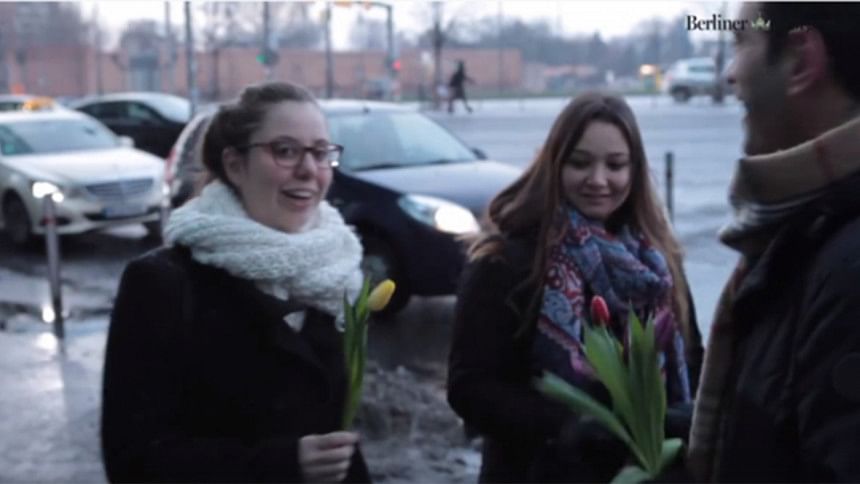 Refugees have been handing out flowers to try to challenge negative perceptions that have arisen following wave of sexual assaults on women in some German cities on New Year's Eve.
A group of male refugees decided to present individual tulips to German women to show that they share the national outrage at the attacks. They also meant the gesture to express their respect for women's rights and their gratitude to the country that has given them sanctuary.
Their initiative was filmed by the Berliner Morgenpost. The video, shot outside the central train station in Berlin, was posted on the newspaper's Facebook page amassing more than two million views and thousands of likes.
The floral demonstration was intended to counteract anti-refugee sentiment following the New Year attacks. After the mass assaults in Cologne more than 500 criminal complaints were filed by women and 45% were for sexual assault. Police revealed that most of the suspects they have identified so far are foreign nationals.
The government of German Chancellor Angela Merkel, whose policy of accepting a large number of refugees had irked anti-migration groups, then announced plans to speed up the deportation of refugees who commit crimes.
In the Berlin station video, the refugees are seen displaying placards distancing themselves from the perpetrators of the attacks. "The minority does not represent the whole community," one read.
The men are then seen individually approaching women to offer them tulips. One woman's perplexed expression changes to a smile when the refugee tells her "thank you Germany". The video shows one woman hugging a refugee and giving him a kiss on his cheek. It goes on to show other refugee men strongly condemning the attack. "We as refugees do not accept these kinds of acts", says one in English. "We cannot thank the German government and people enough", says another.
The video ends with one man, saying that "the thing that happened in Cologne is a criminal and savage act and does not relate to any religion".
This all follows a mass protest organised by right-wing groups headed by anti-Islamisation Pegida group. A Facebook user commenting on the video refers to the protest and says she was more concerned about the "violence" caused by radical German groups.
Other comments display a mixed reaction. Many of those who posted were supportive. One said the flower giving was a "sincere act". Others have been hostile with some saying the video was manipulative and patronising.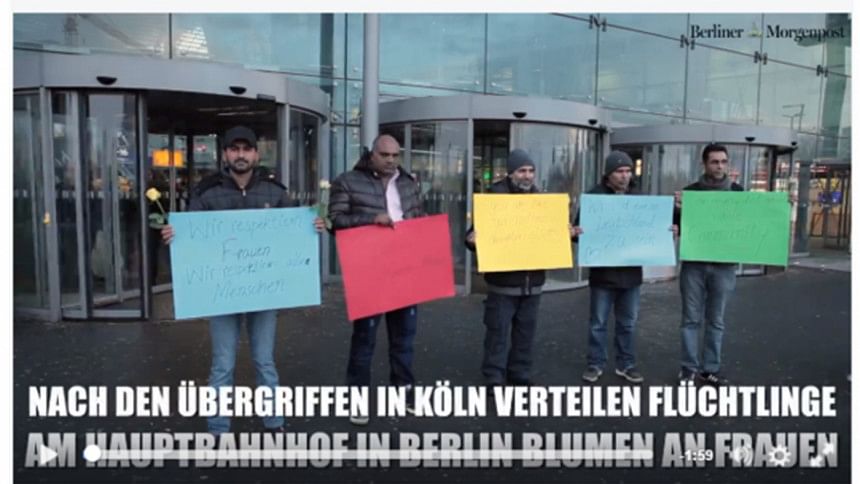 Migrants and refugees have also found other ways to show their abhorrence of the sex attacks
Syrian refugees have organised two independent events on 16 January outside the Cologne train station - where one of mass attacks happened. Syrians, who make up a large demographic among asylum seekers, say they want to show solidarity with the people in Germany. The events have been advertised on Facebook which have attracted thousands of likes and comments.
A statement on one of the Facebook pages reads: "These criminal attackers are representing JUST themselves, Regardless of their nationalities and religion, political affiliations. And they are not representing our values and culture which we raised on".
Although the move has received support, some have doubted the organisers' motivation.
"Now are you really against sexual assaults or fearing expulsion?????", one post says.
Another post appears to show how some foreigners feel they are being unfairly demonised following the attacks. A Middle Eastern man living in Germany, Nasym Yusph Mehmud, posted a photoshopped image of zombies surrounding a white woman who is labelled "Germany". The location is supposedly Cologne and the graphic is stamped with the campaign hashtag " Syrians against sexism" has been superimposed on the image.
Similar efforts are being seen in other parts of Germany as well.
A Tunisian refugee was spotted in Cologne earlier this week handing out fliers to people with a statement that condemns the sexual harassment of women.
Another Facebook page, which is run by a group of asylum seekers, is encouraging other refugees to join in to volunteer during the Cologne Carnival scheduled in early February. The page wants refugees to get familiar with the German culture, hoping that the initiative will lead to a peaceful atmosphere during the festival.