A riot of colours
It is indeed a fiesta of foliages and plants. A riot of colours; colours of flowers - that come in all shades and hues. 
A stroll through this year's National Tree Fair in the city's Agargaon is a welcome respite from the urban cacophony. This yearly carnival of nature greets all and sundry with its serene beauty - and visitors tend to appreciate the wide range of fruit plants, flowers and orchids this country now produces.
One can buy from an assortment of saplings of seasonal fruits to flowers, ornamental and medicinal plants, banana plants derived through tissue culture to bonsai with low-hanging mangoes, and from grubber to sprayer to many other farm implements.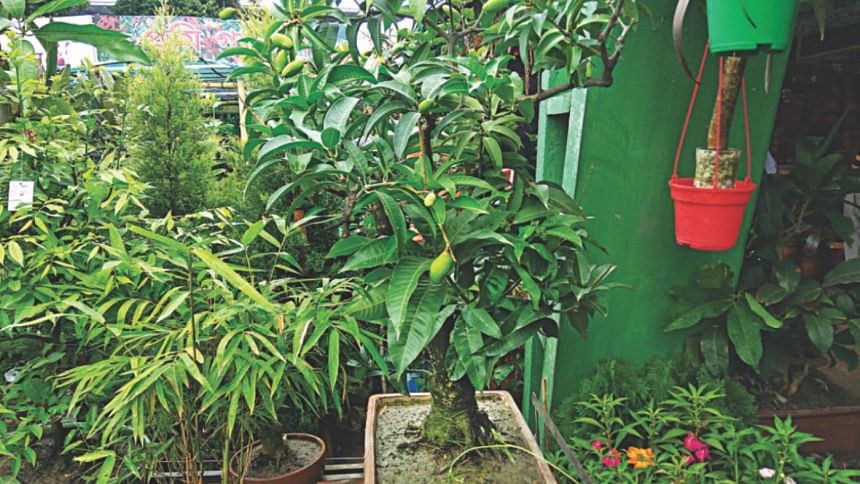 People numbering in their hundreds are visiting the annual fair, being held since 1993 at the Forest Department's behest, to have a fresh breath of the fragrances of homegrown and exotic fruit plants and soothe their eyes with the sight of a feast of flowers.
Around a 100 stalls are showcasing thousands of varieties of young trees. A month since the prime minister declared the fair open in early June, the extravaganza goes on. From the first day of the current month till now, the fair has fetched nearly Tk. 3.5 crores in revenue, with nurseries selling nearly a million pieces of saplings. 
The National Tree Fair 2017, which was set to draw to an end yesterday, has now been extended for 15 more days due to high enthusiasm shown from both sides - plant sellers and buyers.
Strolling about the fair, one can see many people admiring the bonsai, a Japanese art form using trees grown in containers. The fair boasts an array of bonsais of ficus benghalensis, ashvatha, cactuses and even mangoes. Living Art has been there for the past three decades developing skills and expertise in bonsai planting. It brought to the fair the bonsai version of the all-year-round mangoes. One can buy that at a price range of Tk. 3000 to 7000 depending on the size.
CEO of Living Art, K.M Sabuj, was away - his mother Shirin Begum, also a bonsai graduate, who was sitting inside the stall, told this correspondent that mangoes of sweet quality grow thrice a year in their bonsai version.
Outside the stall of Square Agro Development and Processing, visitors could be seen gazing at the display. A row of young banana trees neatly arranged in line drew one's attention. Square's agrobiotech division's senior executive, Nafisa Akhter Rouf, told The Daily Star that they've gone to great lengths with hi-quality banana sapling production through application of tissue culture. Demand is high as well, said Nafisa.
A visitor bought two packs of vermicompost - a worms-derived natural fertiliser - from the stall of Brac's nursery. Those two kilograms of vermicompost cost him Tk. 100. He said the product would help him grow his plants faster.
At Krishibid Upakaran Nursery, one can buy many small farm implements like grubber, sprayer, pruning hooks etc. Interestingly, not all are homemade though - some of these were indeed imported from China.
Likewise, there was an array of fruit and orchid saplings from Thailand and India - available in the fair. The local nurseries, however, said they've locally adapted many of the imported ornamental plants and fruit plants - which people grow in their gardens in Bangladesh now. These include, among others, Thai red guava, Forbidden Fruit (Thai jambura), Totapuri mango (from southern India), and Laily-Majnu (a croton species from India). There are other exotic trees of Dragon Fruit, Passion Fruit, and Avocado etc. 
A stall that goes by the name - Saudi Khejur Nursery - was selling a particular variety of date plants (Ajwa date, a Saudi delicacy) at Tk. 1 lakh a piece. Asked about the exorbitant price, an elderly staff present there advised, "You better go for Bari (Bangladesh Agricultural Research Institute) date saplings that we also sell here at Tk. 15,000."   
The fair is also a treasure trove for people who like to get themselves introduced to a wide range of plant varieties that we so fondly treasure. One can get to witness for the first time in their life how the plant of a river ebony (Gub) looks like or from where the saints collect seeds for their 'Ruddrakkher Mala' - the Ruddrakkhya tree (Elaeocarpus serratus).    
Without the initiatives of tree-loving individuals, this country would have been void of whatever greenery we are left with. And this fair has been a wonderful place for many to source their plants.
The forest department, which organises the fair each year under the Forestry and Environment Ministry, has command over 16 lakh hectares of forest land out of a total 26 lakh hectares. Sundarbans, the world's largest mangrove forest, constitutes 40 percent of that.