Floods in Jamalpur: Seven thousand fish farmers lose Tk 48 crore
Fish farming plays a vital role in meeting demand of protein for Jamalpur's 23 lakh inhabitants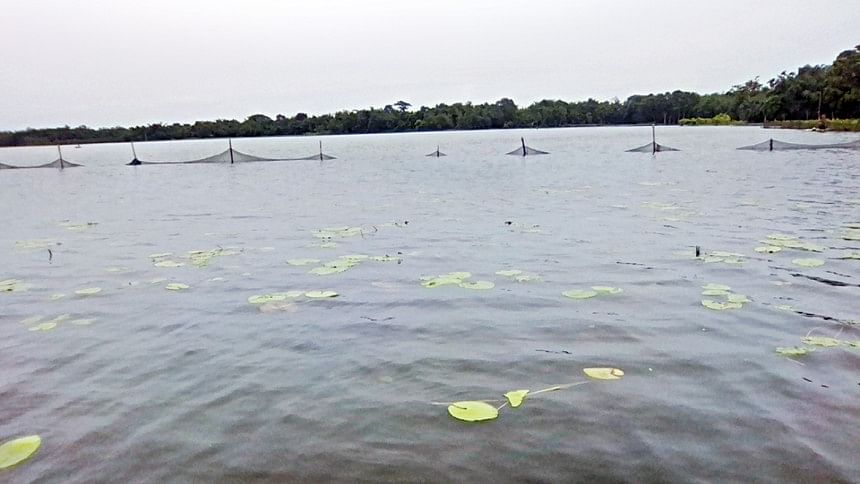 As many as seven thousand fish farmers in Jamalpur have suffered huge loss, estimated at around Tk 48 crore, in this year's floods that washed away their ponds.
After the floods inundated 9,032 ponds in the district, about 2,984.32 tonnes of fish from the ponds escaped into floodwaters, according to Fisheries Department in Jamalpur.  
Fisheries Officer Abdul Majid said the flood caused Tk 47.95 crore worth of damage to the fish farms and Tk 7.19 crore of it is infrastructural damage. The damage also includes Tk 3.47 crore worth of fingerlings or baby fish that the floodwater washed away.  
Fish farming plays a vital role in meeting demand of protein intake for Jamalpur's 23 lakh inhabitants as the local farms, run by 16,500 farmers, produce almost half of the fish required annually in the district, he also said. 
Many affected farmers said their loss was extensive this time since most of their ponds were stocked with a large quantity of fish.
While speaking with this correspondent, fish farmer Omar Faruk, from Kotamoni village in Sadar upazila, said this year he spent Tk 3.5 lakh on his five ponds, on 2.5 acres of land, and before getting flooded, the ponds had 40 to 50 maunds of fish, each weighing 500 to 600 grams.
"All the fish have been washed away by the floodwater. Otherwise, three months later, I could make Tk 7 to 8 lakh from the fish and 50 percent of it would be profit," he said.
Without assistance from the authorities concerned, especially without loans or subsidies, the fish farmers might not be able to recover the loss and stand up on their feet again, he also said. 
Humayun Kabir Jamali, another fish farmer from Sawnia village in the same upazila, said he invested Tk 7 lakh in a netted fish enclosure in an open waterbody. But he lost the entire investment due to the flood.
Now the fish farmers desperately need financial support from the government, he added.