Flash floods hit Sylhet and parts of north
Thousands suffer as heavy rains feed deluge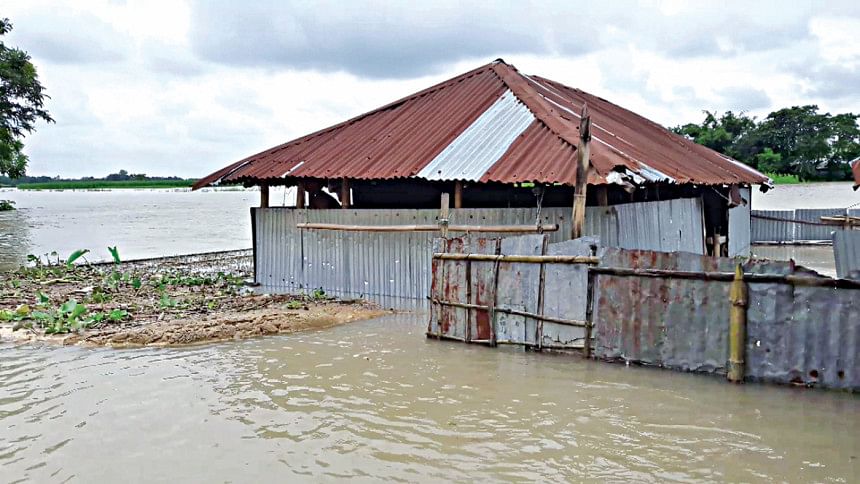 Flash floods triggered by heavy rains since Wednesday inundated parts of Sylhet division yesterday, while the overflowing water from Teesta and Dharla rivers submerged char areas in Lalmonirhat and Gaibandha, disrupting the daily life of tens of thousands of people.
Many people, along with their livestock, had to seek shelter on roads, Water Development Board dams and flood shelters in the areas.
"We took shelter on the road as floodwater from the Teesta entered our house on Friday night," said Nazrul Islam, 58, of Bagdora village in Lalmonirhat.
In Sylhet, six rivers were overflowing at seven points on Friday evening. Reduced rainfall, however, has resulted in the water level decreasing.
The river Surma was flowing 35cm above the danger level at Kanaighat point and 54cm at Sunamganj town yesterday. The old Surma river was overflowing 19cm above the danger level at Derai, according to the Flood Forecasting and Warning Centre (FFWC) of the Bangladesh Water Development Board.
Flash floods following heavy rains submerged Tahirpur, Derai and Sadar upazilas in Sunamganj, Habiganj Sadar upazila in Habiganj, Jaintapur, Kanaighat, Gowainghat and Companiganj upazilas in Sylhet and Rajnagar upazila
Flash floods hit Sylhet and parts of north in Moulvibazar.
People in many of the places were unable to go out as road communications were snapped.
Karuna Sindhu Chowdhury, chairman of Tahirpur upazila, said about 50 villages in the upazila had been affected by flash floods so far and the situation would worsen if the water did not recede.
Upazila Nirbahi Officer Bishwajit Kumar Paul of Jaintapur in Sylhet said the overflowing Sari and other rivers triggered Friday's flash flood.
FFWC sub-divisional Engineer Sardar Uday Raihan said the flood situation would improve in four to five days as no rain was forecasted for the next seven days.
Officials of the four district administrations said they had taken necessary steps, including giving out flood alerts and preparing relief materials.
In Lalmonirhat, overflowing water from the two main rivers -- Teesta and Dharla -- and of the 10 other small rivers inundated over 40 villages yesterday.
Low-lying areas in Teesta and Dharla river basin under five upazilas of the district were also inundated.
In Lalmonirhat alone, the flood has left 40,000 people marooned.
He said water in the two major rivers were flowing near the danger level, which could be crossed in the next 12 hours if the situation did not improve.
The floods have also resulted in an acute lack of drinking water in many of the affected areas.
Sirazul Islam, 52, of Balapara village in Aditmari upazila, said many tubewells were submerged, leaving the locals with a few sources of drinking water.
"We are living a subhuman life," he said.
Meanwhile, river erosion turned fiercer in some villages of Lalmonirhat Sadar, Aditmari, and Hatibandha upazilas.
Azahar Ali, 48, of Kurul village in Lalmonirhat Sadar upazila, said his four bigha arable land was devoured in the last four days.
Lalmonirhat Deputy Commissioner Abu Zafor said they were monitoring the flood situation and working to rehabilitate those affected.
WDB official Bajle Karim said temporary work would be done to primarily check erosion.
In Gaibandha's Sundarganj, char lands along the Teesta river basin in Kapasia, Belka, Haripur, Chandipur, Tarapur and Sripur unions were inundated.
Water started to rise on Thursday night, said Rafiqul Islam, ward member of Kapasia union, adding that if the trend continued, the char lands would be flooded in the next 24 hours.
Meanwhile, Haripur Union Parishad Chairman Rafiul Islam said some 700 families have been marooned in his union.
 [Our correspondents from Sylhet, Gaibandha and Lalmonirhat contributed to this report]