Fine for illegal parking to go up: Minister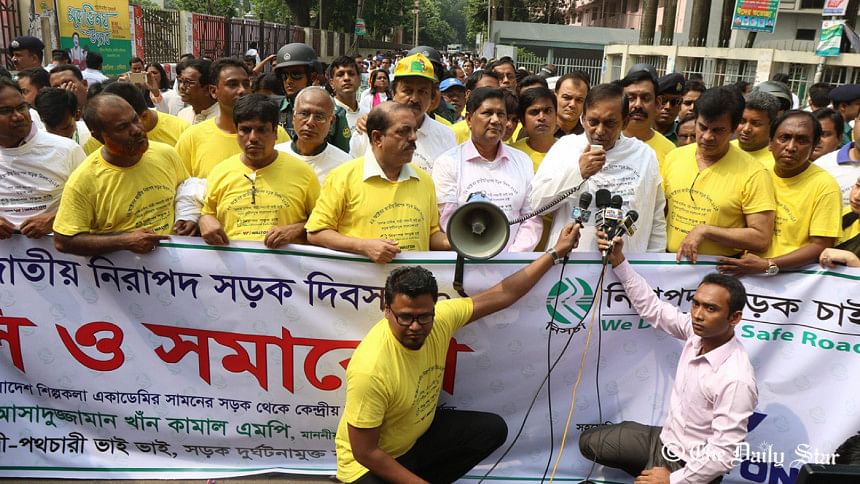 Home Minister Asaduzzaman Khan Kamal today said the fine for illegal parking and over speeding will be raised.
"The existing fine -- Tk 200 to Tk 300 -- is not enough and we are thinking of raising the amount. Once raised, drivers will think before speeding up vehicles beyond the limit and will also refrain from parking illegally," he said.
The home minister was speaking at a rally in Bangladesh Shilpakala Academy that was brought out demanding road safety in Dhaka.  
However, the minister did not mention when the fine will be raised or how they will check over speeding by vehicles.   
Despite huge limitation, law enforcers are working for safe roads, the home minister added at the event organised by "Nirapad Sarak Chai", a voluntary organisation working for safe and death free roads.
At the end of the procession at Central Shaheed Miner, film actor Ilias Kanchan, chairman of the organisation, said "I am delighted to see the discipline of people present here. If we remain disciplined and united, I believe we will be able to make our roads safe."
M Hamid, ex-director general of BTV, and Sohanur Rahman Sohan, renowned director of Bangla cinema, also spoke at the event.    
Film star Kanchan started the movement "We Demand Safe Road" after the death of his wife Jahanara Kanchan in a road accident 22 years ago. 
His organization observes October 22 as National Safe Road Day.